Table of Contents

[Hide]

[Show]
How to make healthy stuffing in six different ways to meet various dietary needs to perfectly complement your Thanksgiving and Holiday menu.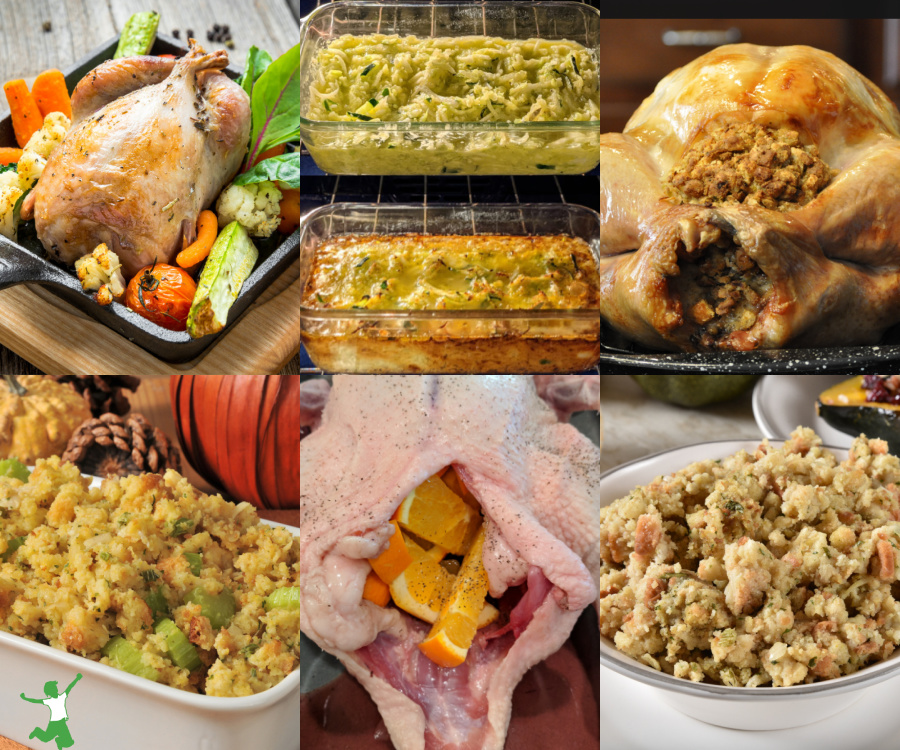 Besides turkey, stuffing is perhaps the quintessential Thanksgiving dish.
Ironically, it is also commonly viewed as a primary contributor (along with pumpkin pie and other rich desserts) to the post-holiday meal "coma on the couch".
Making stuffing more digestible combats sleepiness after The Big Meal very effectively.
More nourishing and carefully prepared food means eating less without feeling deprived, thereby reducing the chances of overeating and weight gain.
This Thanksgiving, why not try stuffing that is more traditionally minded and gauge the healthy results on both your digestion and waistline!
If you don't have recipes in mind that meet these criteria, I've listed six healthy stuffing recipes we've used in our home over the decades.
We typically make two of the six below…a grain-based stuffing and a low-carb, fresh herb or fruit stuffing for guests that may be following a restricted diet.
I hope one or more of these work for your Thanksgiving menu this year!
Sourdough Stuffing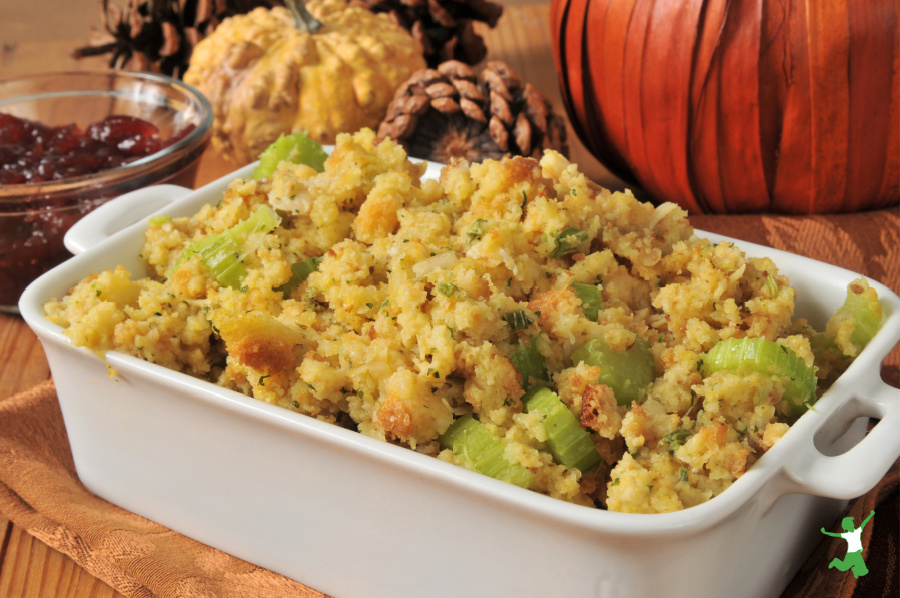 This sourdough stuffing recipe is traditional, healthy, and easy to digest.
Just be sure to get real sourdough bread…and beware…there are MANY fake sourdough brands on the market.
The family bakery I patronize ships freshly baked bread to your door. Several types of sourdough are available at very reasonable prices.
See the full line of authentic sourdough bread here.
Rustic sourdough (our family's favorite)
Oat sourdough
Rye sourdough
Spelt sourdough
Whole wheat sourdough
Turmeric sourdough
Sprouted sourdough
Sprouted oatmeal sourdough
Sprouted spelt sourdough
Once you have your sourdough bread on hand, making nourishing stuffing with a loaf is a snap!
Sprouted Stuffing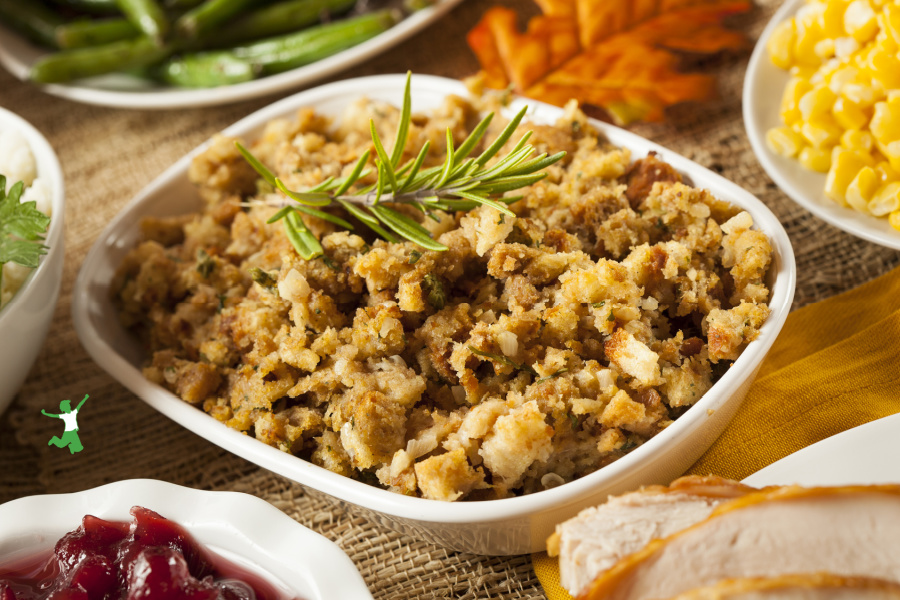 Not crazy about the texture and flavor of sourdough bread? Then try this sprouted stuffing recipe instead.
Digestible and nourishing, stuffing made with sprouted bread is in accordance with traditional practices.
Sprouted stuffing is perhaps the closest healthy version in taste and texture to conventional stuffing recipes made with refined bread.
Beware that most sprouted bread brands at the store are not healthy! They either include sprouted soy (which is more unhealthy than regular soy) or contain vital wheat gluten (aka "seitan") as an additive which defeats the purpose of using sprouted flour in the first place.
This brand of sprouted bread is one of the few that is acceptable. The one downside is that the ingredients include honey which is a no-no for baking.
Grain-free, Nut-free Stuffing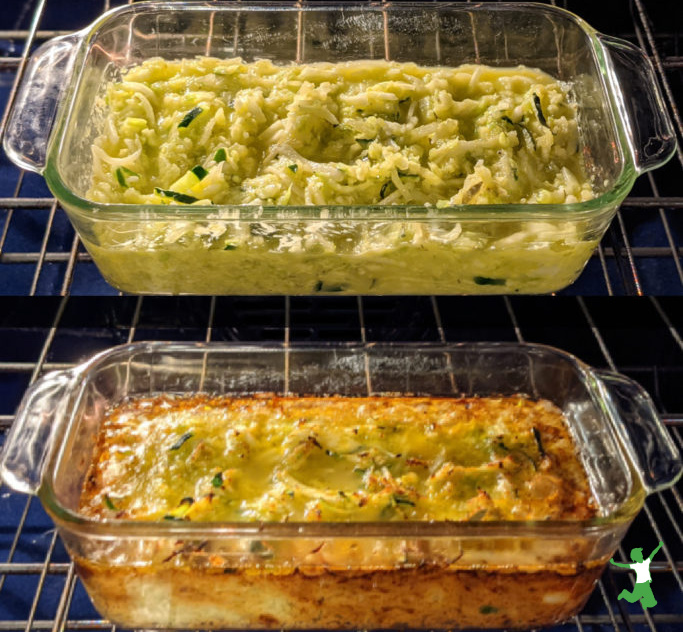 This easy and delicious recipe for grain-free, nut-free stuffing is perfect for those on a low-carb or keto diet who are sensitive to nuts.
My husband came up with this creative version that uses zucchini noodles to achieve the characteristic texture of stuffing without the nuts or nut flour so widely used in keto dishes.
If you've been missing stuffing because you are grain-free and also sensitive to nuts, try it!
Low-Carb Keto Stuffing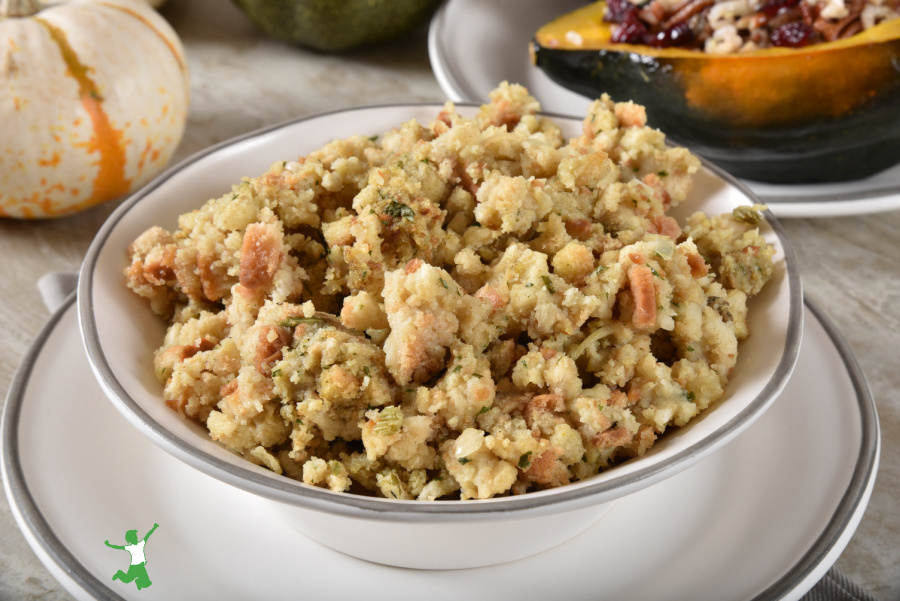 This easy and delicious keto stuffing recipe is my husband's favorite.
It is not only grain-free and suitable for those following the keto diet, but it is also legal for those that are on any type of gut-healing protocol such as GAPS or the Specific Carbohydrate Diet.
It uses nuts as the base, however, so if you are sensitive or on a low oxalate diet, try the nut-free low-carb stuffing described above.
Fresh Herb Stuffing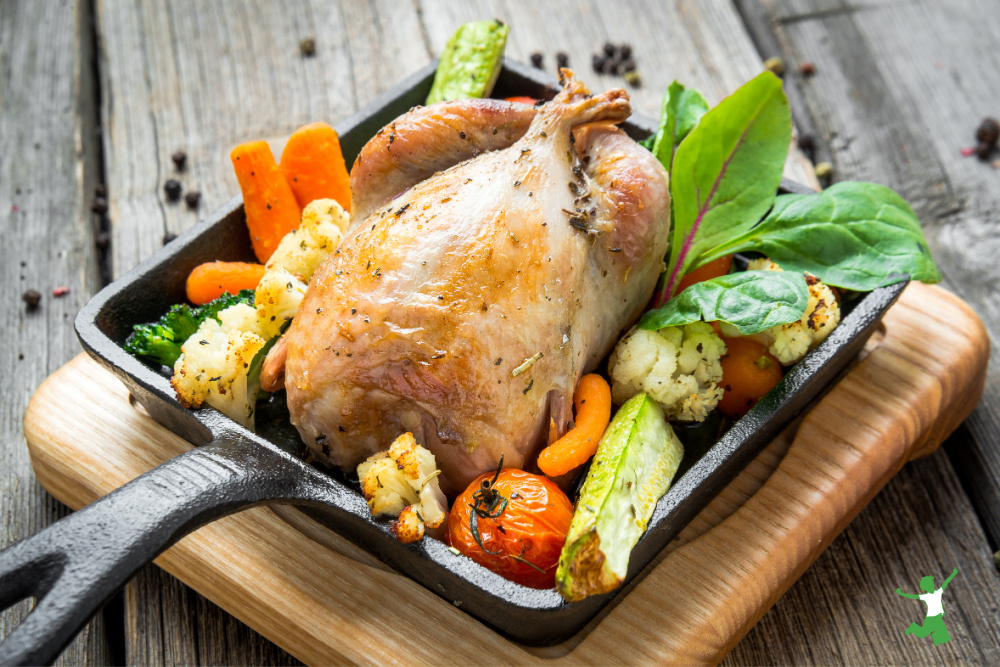 Another option for healthy stuffing is to use fresh herbs.
This recipe for roast pheasant uses a stuffing of fresh rosemary and thyme sprigs blended with garlic, ghee, sea salt, and pepper for a light and tasty dish that takes a minimal amount of preparation.
Dried herbs do not work well for stuffing, so be sure to plan ahead for a trip to the farmer's market to source them freshly picked for the best flavor and nutrition.
Fruit Stuffing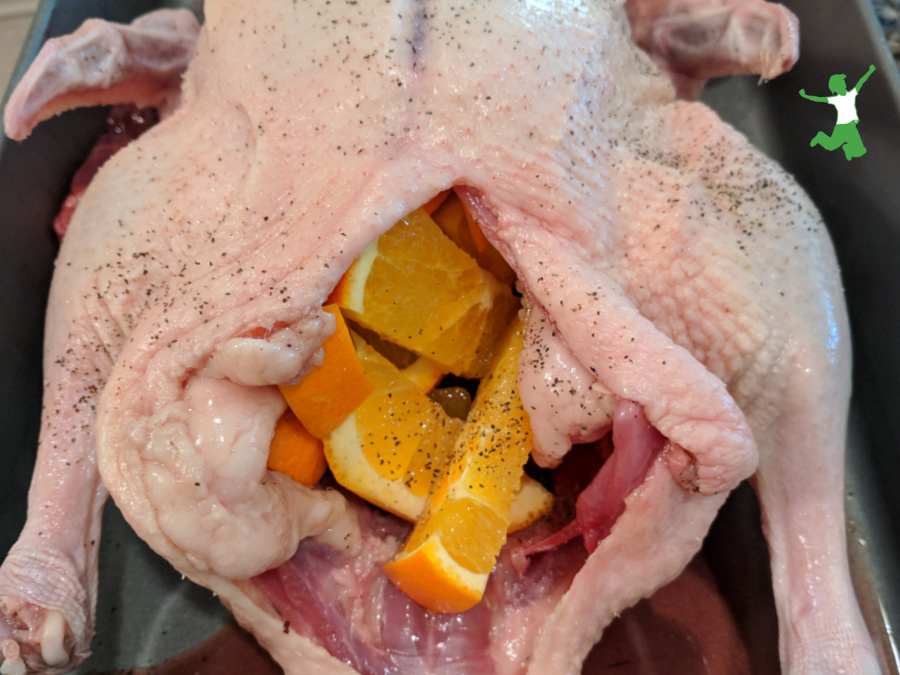 For stuffing a duck or goose, both of which are very high in fat, a bread-based stuffing does not work well.
This is because the bread absorbs so much fat as the bird is cooking that it becomes a mushy mess.
The best way to make stuffing in this situation is to use dried fruits and/or fresh oranges or apples.
Because healthy dried fruit is expensive, I don't suggest using that alone. Instead, I suggest using sliced oranges or apples with the skin left on as the base.
Then, select a complementary flavor in the dried fruit of your choice in smaller quantities to mix in.
Our favorite blend is fresh orange slices and dried cherries.
For a 6-7 pound bird, use 2 cups organic oranges (chopped with the skin left on) and 1/2 cup dried cherries (preferably organic with no sugar added).
Remove the giblets, sprinkle the cavity with sea salt and pepper, stuff with fruit blend, and bake as directed.