Table of Contents

[Hide]

[Show]
Healthy recipe for dairy-free pumpkin pie that tastes the same as conventional recipes. Even better, this easy nondairy version uses less sugar than those using canned evaporated milk!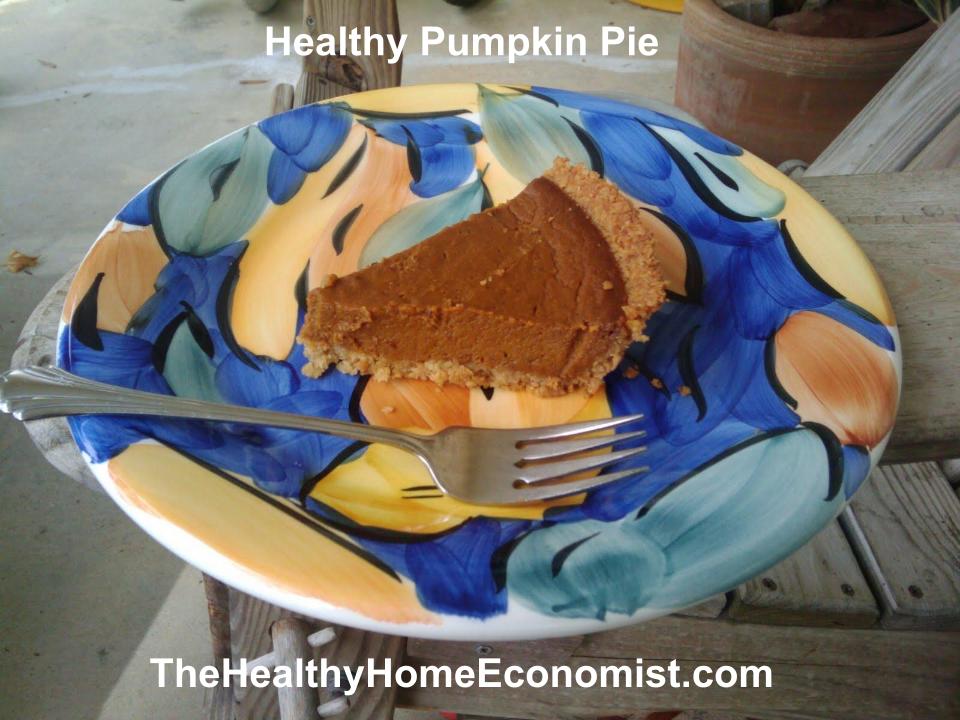 If there's one thing I can't stand, it's cheap food. I admit it. I'm a dedicated Food Snob. Perhaps it's my French heritage. Perhaps it is all those years I actually ate cheap food and suffered the inevitable consequences of dodgy health and a crabby disposition much of the time.
Truth be told, I would rather go hungry than actually stoop to eating fast food – even in a pinch. I've found through painful experience, that it is infinitely better to drink some water, chew gum or whatever I have to do to get to a decent restaurant. Better yet, simply go home and get something quality to eat.
Either of these options is far better than succumbing to the temptation of the drive-through. The result of such a decision is suffering the inevitable stomach ache, headache or worse a few hours later.
I've found very few places that beat my own kitchen for quality, lip-smacking, "wow, that was amazing" food. It's just not worth it to settle for less. The really ironic and highly amusing part of my Food Snob confession is that I couldn't even boil an egg when I first got married.
My husband was the chef; he was and still is, an excellent cook. He taught me the basics, and when the kids came along, I determined to learn everything the best that I could so that my kids would really learn to appreciate, and love quality food. It is, after all, one of the finer things of life!
That being said, with Thanksgiving right around the corner, you can imagine my dismay at all the processed versions of the classic dishes that abound in the grocery store. Most folks just don't seem to get the concept of "homemade" anymore. A can of Libby's pumpkin pie filling is not a satisfactory stand-in for a fresh from the field, seasonal pumpkin, baked in your own oven, and pureed to the perfect degree of smoothness in your food processor.
Most standard pumpkin pie recipes also call for a can of evaporated milk. What is that stuff anyway? Brace yourselves. Evaporated milk, "also known as dehydrated milk, is a shelf-stable canned milk product with about 60% of the water removed from fresh milk.
This commercial dairy creation is even more processed than pasteurized, homogenized milk if that's possible. Evaporated milk is processed at such a high temperature that the final product is sterilized to the point where the canned version is shelf-stable for months or even years. Could one take canned, evaporated milk, add back the appropriate amount of water, add yogurt cultures and ferment into yogurt?
Absolutely not! The stuff is DEAD. It is a nutritionless, highly allergenic version of the fresh from the cow variety. Avoiding it in your Thanksgiving pumpkin pie recipe would be a favor to both you and your guests, to say the least. Incidentally, commercial sweetened condensed milk is just as bad! In that case, you make homemade sweetened condensed milk instead.
Perfect Nondairy Pumpkin Pie!
You're probably now thinking that making a decent quality pumpkin pie would take at least a week and cost the equivalent of what you're spending on the turkey. Not at all! Quality can always be convenient and taste fantastic too. Try this pumpkin pie recipe on for size.
By the way, if you prefer a crustless pumpkin pie, click over to the provided link for a recipe to make pumpkin pudding.
I filmed the short video included with the recipe on how to make pumpkin pie for the Today Show on News Channel 8 here in Tampa!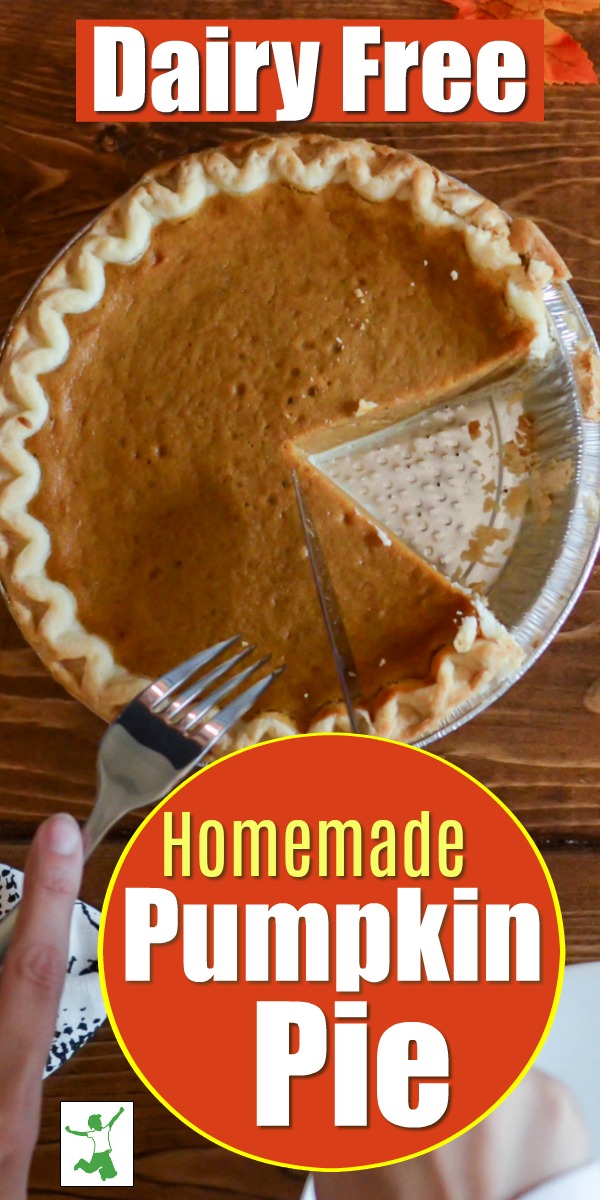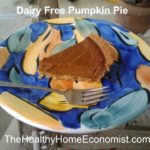 Dairy Free Pumpkin Pie Recipe
This easy recipe for pumpkin pie ditches the nasty evaporated milk and uses a far healthier option that results in a dairy-free dessert that all can enjoy.

Instructions
The best way to bake a pumpkin is to first, cut it in half, then remove the seeds and bake, skin side up, in a glass pan filled with 1 inch of filtered water at 400F for one hour). Scoop out the thoroughly softened pumpkin and puree in a food processor. Do this a few days in advance and store in the refrigerator, so making the pie on Thanksgiving morning is a 5-minute snap. Make enough so that you already have enough pumpkin puree for Christmas too. Freeze in 1 pint or quart containers for easy thawing/baking later.

Here's a video on how to make pumpkin puree if you are a more visual learner.

Whip together pumpkin puree, sugar, coconut milk and spices in a large, glass bowl with a whisk. Add lightly beaten eggs. Mix until just combined.

Pour into 2 standard pie crust shells.

Bake in a 375 F/ 190 C oven for about 50 minutes or until a knife inserted in the middle comes out clean.
Recipe Video
Recipe Notes
To source the best, most flavorful pumpkin, check your local Farmer's Markets. Pumpkin is a Fall crop and you can get one fresh from the field if you just ask. Any variety will do. Really. Don't get hung up on the color or type of pumpkin. They all work fine in my experience.
Whole coconut milk is a wonderful, healthy stand-in for evaporated milk. Your pie will NOT taste coconut-y at all. Use only the thick white portion of the coconut milk and not the coconut water.
1/3 – 1/2 cup sugar and 4-6 drops of stevia may be substituted to make a lower sugar recipe if desired.
More Healthy Pumpkin Recipes
If you enjoy using pumpkin for baking, try these other traditionally inspired recipes: