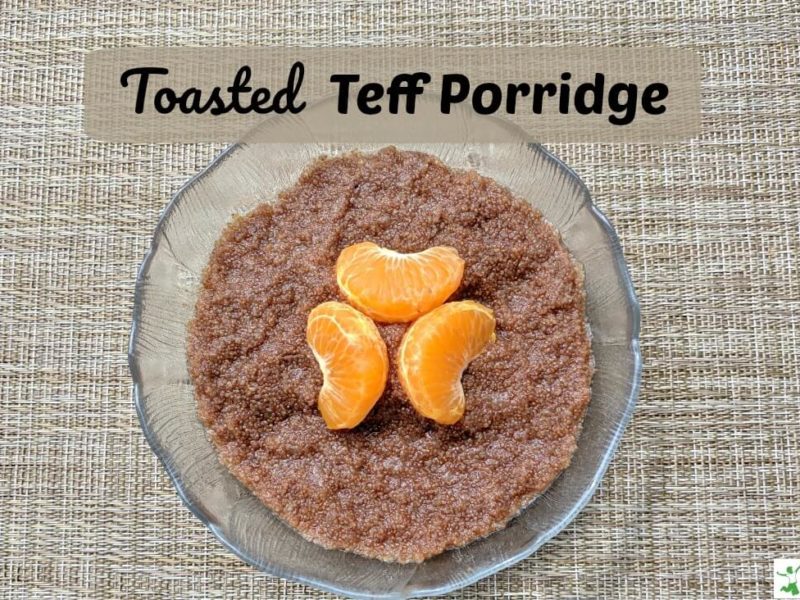 Teff is a nutritious gluten-free cereal grain that makes an excellent bowl of porridge! Native to Africa, this tiniest of cereal seeds is becoming popular in the West due to the explosion of those with gluten sensitivity in recent years.
If you've discovered that the gluten-like protein avenin in oatmeal aggravates your Celiac symptoms, then teff is a good choice for a switch.
You can prepare teff porridge in one of two ways:
Toasted teff porridge as described in the recipe below, enhances the natural nutty flavor and is my personal favorite method.
If you have a particularly sensitive stomach, I would suggest soaking it overnight first. This will enhance digestibility a bit, although teff is not particularly high in anti-nutrients when compared to other cereal grains.
Overnight Teff Porridge

When soaking teff before cooking, follow the method below.
Place 1 cup dry teff grain, 3 cups filtered water, and a bit of sea salt in a pot, mix well and cover. Let sit overnight.
In the morning, add optional 1/4 teaspoon cloves and cook for about 10 minutes until the water is absorbed and the porridge is of desired consistency. As you can see from the picture, cooked teff looks very similar to Cream of Wheat, just a darker color.
Serve with your favorite whole sweetener (I prefer seasonal raw honey) and/or fruits and nuts of choice.
I have just finished a bowl of teff porridge as I type this. It makes a great afternoon snack as well as a hot breakfast.
Already love teff porridge? Other delicious gluten-free cereal options are soaked and cooked pearl millet or amaranth porridge.
Amaranth is a slightly nutty-tasting cereal grain similar in flavor to teff that also offers an excellent protein profile.
Quinoa and cream of buckwheat are other Celiac safe alternatives that are a bit milder in flavor.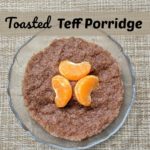 Toasted Teff Porridge
Classical recipe for teff porridge best enjoyed for breakfast hot in a bowl with your choice of healthy fat, whole sweetener and nuts or fruit topping.
Instructions
Heat a large saucepan over medium heat, add sprouted (or unsprouted) teff grains and toast, stirring frequently until the grains begin to pop which takes just a few minutes.

Add the water, sea salt, butter and optional cloves.

Bring to a boil, cover and cook for 8-10 minutes stirring occasionally. Remove promptly from the heat at 10 minutes even if it looks like it should cook a bit longer. The porridge firms up a lot when it cools slightly.


Serve warm with choice of healthy fat and whole sweetener or fruit of choice.
Nutrition Facts
Toasted Teff Porridge
Amount Per Serving
Calories 205
Calories from Fat 34
% Daily Value*
Fat 3.75g6%
Cholesterol 8mg3%
Sodium 26mg1%
Carbohydrates 37g12%
Protein 7g14%
Calcium 100mg10%
Iron 3.6mg20%
* Percent Daily Values are based on a 2000 calorie diet.