Simple, healthy fruit stuffing for roast duck that is starch-free and keto diet friendly. This stuffing is also legal for gut healing diets and is helpful for ease of digestion.
One of the wonderful things about roasting a duck is that you render several cups of nutritious fat that is useful for cooking for months afterward! All of this fat presents a challenge when it comes to making stuffing, however!
If you choose bread, rice or any starchy type food as the base for the stuffing, it will absorb so much fat that it becomes unfit to eat!
This is the case whether you choose pastured duck from a local farm or more conventional birds from the supermarket.
The only appropriate option for duck stuffing is dried fruits and/or fresh oranges or apples.
Because quality dried fruit is expensive, I don't suggest using that alone. Instead, I suggest using sliced oranges or apples with the skin left on as the base.
Then, select a complementary flavor in the dried fruit of your choice in smaller quantities to mix in.
Our favorite blend is sliced oranges and dried cherries.
This fruit blend, in particular, is helpful for digesting duck meat, which is far more fatty than other types of poultry.
Here is my recipe to try if you choose roast duck for the holidays or any other celebratory meal!
Need more ideas?
Here is my comprehensive article with 6 healthy stuffing recipes for every type of meat.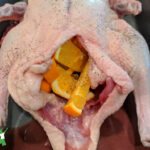 Roast Duck Stuffing
Simple, healthy fruit stuffing for roast duck that is starch-free and keto diet friendly. Helpful for ease of digestion too!
Ingredients
Instructions
Remove the giblets and neck from the duck. Set aside and use with the roasted duck drippings to make gravy.

Rinse duck with clean filtered water and pat dry. Sprinkle cavity with salt and pepper.

Stuff the cavity with dried cherries and chopped oranges. Truss the duck if you like, but I never do!

Roast in the oven as directed.

Remove the roast duck from the oven and let rest on the counter while you make the gravy.

Remove the fruit from the cavity and discard. It will be too mushy to serve as the flavor and other healthful properties are now infused into the duck meat. Slice and serve.