This easy and delicious low carb stuffing recipe is grain-free and suitable for those following the the Keto diet or a restrictive gut-healing protocol.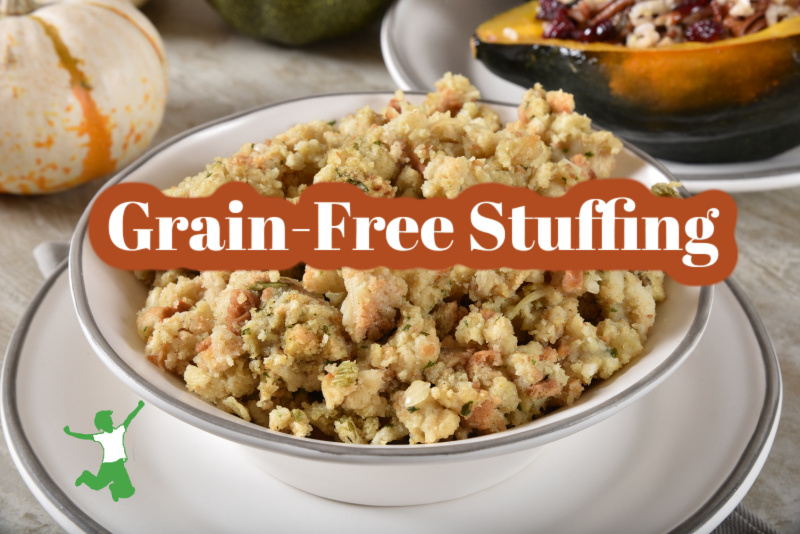 Stuffing is a dish that low carb or keto dieters avoid during the holidays.
The fact that grains are the key ingredient of this traditional dish puts it in the "off-limits" category no matter if the grains are sprouted, sour leavened or soaked.
In our home, my husband devised an excellent workaround for this problem.
Grain-Free Stuffing – Yes it's Possible!
A number of years ago, hubby came up with a delicious grain-free stuffing recipe. It is legal for any type of low carb diet, even those of the gut-healing variety such as GAPS, AIP or SCD.
We make two types of stuffing in our home as a result. Low carb stuffing along with sprouted stuffing, which is much more digestible and nutritious than conventional recipes made with quick rise bread. Everyone gets to eat stuffing this way, no matter who shows up for the big meal!
My husband eats the grain-free stuffing and the kids eat the sprouted stuffing. I eat whatever works for me at the time as I enjoy them both!
If you've been missing stuffing during holiday meals because you are grain-free, try making this low carb stuffing recipe below. My husband has made it for many years in our home, and I am delighted to share it with all of you!
Keto Stuffing vs Dressing
While I call the recipe below "Keto Stuffing", technically it is keto dressing.
According to most culinary authorities, stuffing (or "filling" as my friends from Pennsylvania call it) is a mixture used to stuff another food, usually turkey. The stuffing then cooks at the same time as the poultry.
Dressing, on the other hand, is cooked in a pan outside of the turkey, duck or goose cavity.
So while technically this dish is low carb turkey dressing, we call it stuffing in our home. We serve and enjoy it in exactly the same way at the table.
Call it what you like. It is yummy and will fill that void at the table that only stuffing can fill!
The Best Low Carb Flour to Use

It is important to not use blanched almond flour for this recipe.
Use coarse almond flour or almond meal made with the skins which achieve the best grain-like texture.
The most nutritious almond flour is made from soaked/dehydrated almonds that are freshly ground.
Sprouted almonds that you freshly grind yourself are also a more nutritious option to store-bought, pre-ground almond flour.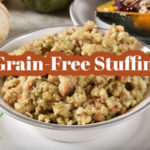 Low Carb (Keto) Stuffing Recipe
This easy and delicious low carb stuffing recipe is grain-free and suitable for those following the Keto diet or any type of gut-healing protocol such as GAPS, AIP or SCD.

Instructions
Preheat the oven to 375 F/ 190 C


Mix all the dry ingredients (flour, salt, and spices) with the chopped onion and celery in a glass mixing bowl.


Pour melted butter over the ingredients and mix well with a large serving spoon until a dough-like consistency.


Place in a small baking dish (we use a small glass loaf pan which achieves the perfect depth which is about two inches) and bake for 30 minutes or until the stuffing is slightly browned on top and of a bread-like consistency.


Serve with or without gravy exactly as you would a grain-based stuffing.


Refrigerate leftovers and reheat as desired. Lasts for 5 days refrigerated.

Recipe Notes
If you wish to make this keto turkey dressing and use it to stuff a turkey instead of bake separately in a pan, then double the recipe.
Use ghee or coconut oil if you have a butter sensitivity or are on a gut healing diet.
Nutrition Facts
Low Carb (Keto) Stuffing Recipe
Amount Per Serving (0.25 cup)
Calories 192
Calories from Fat 162
% Daily Value*
Fat 18g28%
Cholesterol 30mg10%
Sodium 15mg1%
Potassium 55mg2%
Carbohydrates 4g1%
Protein 3g6%
Vitamin A 400IU8%
Vitamin C 0.8mg1%
Calcium 40mg4%
Iron 0.5mg3%
* Percent Daily Values are based on a 2000 calorie diet.