Table of Contents

[Hide]

[Show]
Classic recipe for sourdough stuffing that is easy and nourishing with significantly more digestibility and nutrition for your Holiday menu.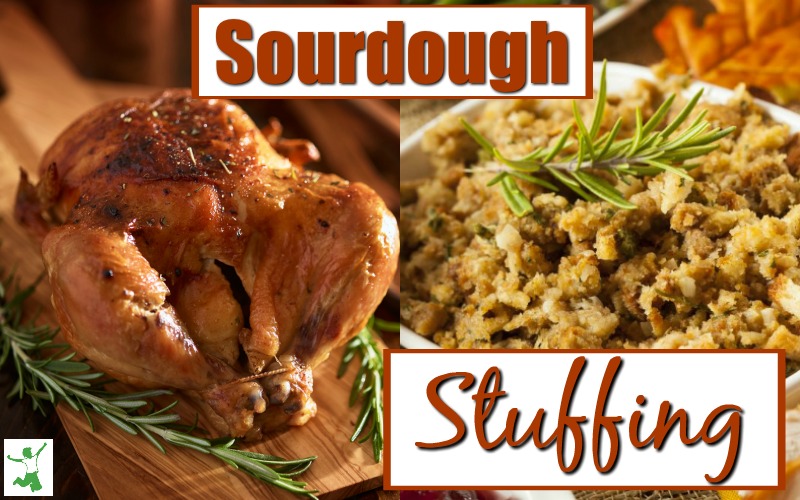 Sourdough stuffing is one way to easily upgrade the digestibility of the holiday menu. Best of all, it won't require drastic changes on your part that take extra time and preparation.
I can virtually guarantee that your family and guests will barely notice the difference as the taste of the final dish is so similar to conventional recipes.
Free Weekly Newsletter + Report on Secrets of Strong Immunity
YOU will notice, though, because a more digestible meal means a higher likelihood that there will be at least a few takers for clean-up duty given that the entire group won't be zonked out on the couch!
Ah yes. There is a method to the Traditional Cooking madness after all 🙂
Where to Find the Best Sourdough for Stuffing
Hands down, homemade sourdough bread makes the best traditionally-minded stuffing.
If you prefer to buy, beware as most commercially made sourdough bread is not authentic!
The good news is that there are small, family bakeries that will ship freshly baked, real sourdough bread right to your front door!
The small bakery I patronize that ships freshly baked bread to your door has several types of sourdough available at very reasonable prices.
The rustic sourdough is our family's favorite.
Once you have your sourdough bread on hand, making the stuffing recipe below is a snap!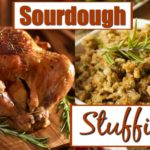 Sourdough Stuffing Recipe
A classic recipe for sourdough stuffing that is as easy as conventional recipes but significantly more digestible adding more nutrition to your holiday menu.
Instructions
Melt butter in a small saucepan at low heat. Crumble bread into breadcrumbs or use a food processor (this is the one I have).

Mix all dry ingredients together in a large mixing bowl. Thoroughly mix in onion, garlic, celery. Add melted butter and mix to completely distribute butter throughout.

You may use this mixture either as stuffing (inside the turkey) or as dressing (in a pan cooked separately).

Stuffing: Firmly pack handfuls of the mixture into turkey cavity and enclose and cook inside turkey until turkey is done. While turkey is resting after roasting, remove stuffing from cavity and place on serving dish.

Dressing: Fill bread pan with the mixture and press down firmly with hands to create an inch or two of a gap between the top of the dressing and top of the bread pan. Bake with or without turkey for 60 minutes (preferably at 325F/160C) and remove. It should be golden brown on top and moist but not wet inside.