Easy three bean salad recipe that uses soaked chickpeas and kidney beans for the most nutritious and digestible dish possible with no gas issues later!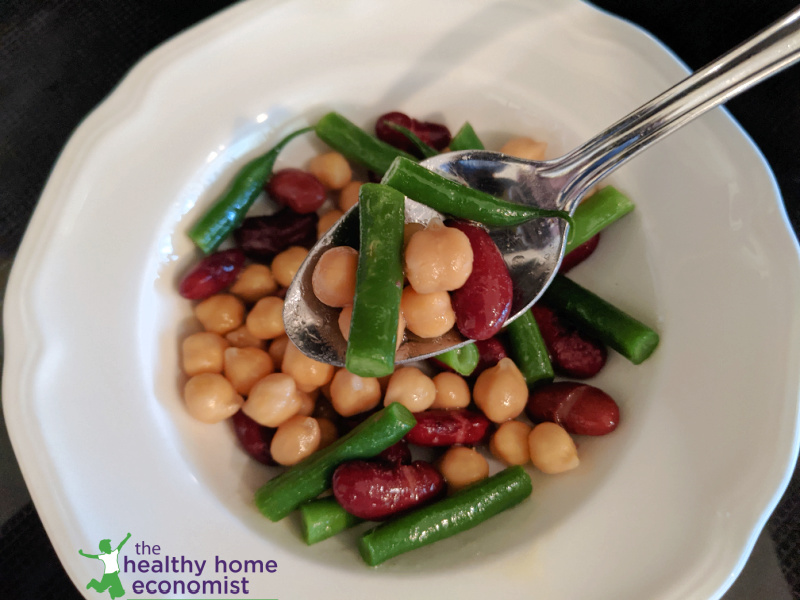 Three bean salad is one of my all-time favorite side dishes. When it comes to enjoying it at a restaurant or salad bar, however, I take a pass. This is because the beans are not cooked properly in commercially made versions.
Using canned or quick-cooked dried beans results in a three-bean salad that causes indigestion and bloating for many people.
Beans and other legumes are loaded with lectins and other anti-nutrients. As a result, they require careful preparation using the wise methods of traditional cultures.
Soaking and thoroughly cooking after refreshing the water is the best way to transform beans into a food that is easily digested with all the nutrients easily absorbed.
Bean Salad in Minutes!

It is very straightforward to learn the process of soaking beans before cooking. While easy, it does take time, something those of us who cook at home seem to be perpetually short of!
Hence, I would recommend considering the presoaked and cooked organic beans from Jovial Foods as a way to make the process convenient.
Even better, Jovial's beans are packaged in glass jars.
Glass is much better for food storage than cans. This is because the thin plastic lining of cans can leach toxins into food. This occurs when the boiling hot beans are poured into the cans followed by airtight sealing for sterilization purposes.
Thus, if you've been avoiding three-bean salad because it is time-consuming to soak, cook and then cool the beans first, I would suggest giving Jovial Foods' beans a try as a way to make this dish quickly with no compromise in nutrition and safety.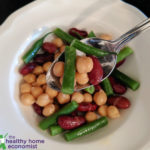 Soaked Three Bean Salad
Fast and easy recipe for three bean salad made with beans that are presoaked and cooked for maximum nutrient absorption and digestibility.
Instructions
Trim off the ends of the green beans and rinse thoroughly in filtered water.

Cut the green beans into quarters or pieces about 1" each.

Place the green beans in a medium pot and add one cup of filtered water. Bring to a boil, cover, and continue to boil on medium heat for 5 minutes. Remove promptly from the heat, drain, and set aside with cover off to cool.

Place chickpeas and kidney beans in a strainer and rinse thoroughly. Pat dry with a clean, cotton towel and place in a large bowl.

Mix in the cooled green beans and add a pinch of sea salt if desired.

Drizzle in the extra virgin olive oil and vinegar. Stir with a large spoon to mix thoroughly. Serve immediately. Refrigerate leftovers for up to four days in a sealed container.
Recipe Notes
If you don't even have enough time to cook the green beans briefly on the stovetop, then you can substitute another type of bean instead. I recommend Jovial's cannellini beans that are presoaked, cooked, and packed in glass jars.
Raw apple cider vinegar may be substituted for the rice vinegar. However, the taste of the salad will be more tart as rice vinegar has more sweetness.
I highly recommend spending the extra money to buy organic green beans, as this crop is highly sprayed and usually makes the "dirty dozen" list put out annually by the Environmental Working Group.
Nutrition Facts
Soaked Three Bean Salad
Amount Per Serving (0.5 cup)
Calories 160
Calories from Fat 81
% Daily Value*
Fat 9g14%
Sodium 150mg6%
Potassium 145mg4%
Carbohydrates 14g5%
Protein 5g10%
Vitamin A 50IU1%
Vitamin C 3mg4%
Calcium 16mg2%
Iron 0.75mg4%
* Percent Daily Values are based on a 2000 calorie diet.