Table of Contents

[Hide]

[Show]
No-bake recipe for bacon wrapped dates that preserves nutrition and enzymes in the dates for a sweet sour appetizer with incomparable flavor.
One of my most favorite comfort foods is bacon-wrapped dates. The intensity of flavor is divine when the saltiness of the bacon combines with the natural sweetness of the dates!
If you are a bacon lover…and many of you who read this blog are…then I suggest you try this recipe immediately if you haven't ever tasted this unlikely food combination before!
At first glance, making bacon-wrapped dates may seem like a rather easy dish to whip up.
However, be aware that not all bacon is made the same. And, there are several different types of dates to choose from.
Best Dates to Use
There are over a dozen types of dates available around the world. Here in North America, Deglet Noor and Medjool dates are the varieties most easily found at supermarkets and health food stores.
Deglet Noor is best for making date sugar as they are semi-dry and easily granulated.
Medjool dates are sweet and soft and the perfect size for wrapping in bacon.
I'm sure other types of dates that are of softer texture would work well for this dish too. However, since Medjool dates are most easily procured at a good price, I recommend sticking with them for simplicity purposes.
It is best to buy organic dates too. The use of pesticides on date palms is rather indiscriminate and since many dates come from overseas, it is a gamble what type of residues might be present. (1,2)
Sugar-Free Bacon
It is a good idea to use sugar-free bacon for this dish, as there is plenty of natural sugar in the dates already.
Many people do not realize that the vast majority of bacon…even organic brands…contain sugar!
And, if the bacon is not organic, that sugar is almost certainly of genetically modified origin. It's probably white beet sugar too since that is a much cheaper ingredient than cane sugar.
Cooking sugar free bacon is a bit different than regular bacon, so take heed from the tips in the linked article.
There are only a few sugar-free, pastured bacon brands on the market, so read labels carefully!
Why is there sugar in bacon anyway?
You see, a little bit of sugar added to bacon helps it cook more easily without sticking to the pan. It also tends to brown more evenly. So, be prepared to have to flip the bacon more often as you are cooking it when you go sugar-free!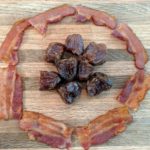 Bacon Wrapped Dates Recipe
Bacon wrapped dates is a divine dish best made with a certain type of bacon and dates for an appetizer or snack that is incomparable in sweet/salty flavor.
Instructions
Cut the bacon slices in half.

Fry up the slices all together in a large frypan, turning frequently until cooked but not too crispy.

While the bacon is cooking, make a small cut in the middle of each date.

Remove the pit from each date and discard.

After the pits are removed, cut each date in half.

When the bacon is cooked through but still slightly soft and not too crispy, remove from heat and let cool on a plate.

Arrange the dates and bacon together on a plate. When ready to serve, each person can take a half date/bacon slice, wrap and eat immediately! I find this easier than wrapping the dates in bacon and using a toothpick to secure.
Nutrition Facts
Bacon Wrapped Dates Recipe
Amount Per Serving (1 piece)
Calories 45
Calories from Fat 12
% Daily Value*
Fat 1.3g2%
Cholesterol 3mg1%
Sodium 78mg3%
Potassium 78mg2%
Carbohydrates 7.3g2%
Protein 1.8g4%
Calcium 5mg1%
Iron 0.1mg1%
* Percent Daily Values are based on a 2000 calorie diet.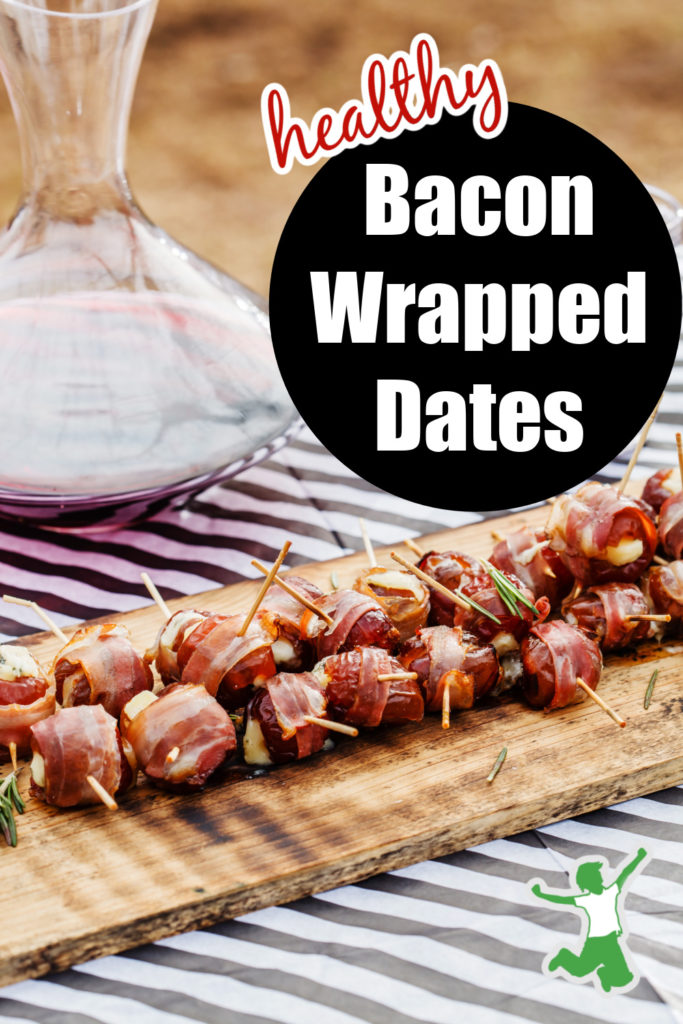 References
(1) Pesticide Residue Analysis of Date Palm Fruits
(2) Kingdom's Date Industry Hooked on Dangerous Pesticides