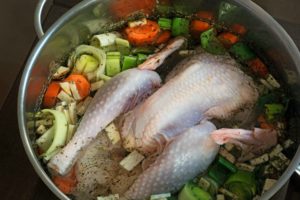 10 Recipes
Turkey recipes are popular in our household all year long. Why serve this delicious meat, especially if pastured, primarily for the holidays?
The truth is, pastured turkey is much more affordable during other times of the year anyway. So why not take advantage? Contact some local farms in your area and place an order!
I hope you find these recipes for cooking turkey helpful as you wean yourself off highly processed supermarket birds artificially plumped with water. Their growth is also artificially augmented with hormones and antibiotic feed.
Start purchasing from small, local farms that take great care to raise a quality product in the most humane and environmentally responsible way possible.