by Sarah TheHealthyHomeEconomist
November 18, 2011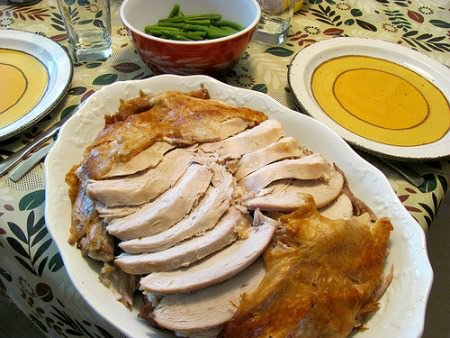 Can you believe it?  Thanksgiving is next week!
Do you have enough healthy Thanksgiving recipes to make and share?  If not, I have plenty for you to consider for incorporation into your Holiday meal below.
Thanksgiving is a special holiday for this blog, as it marks the anniversary of filming and posting videos of how to incorporate Traditional Cooking techniques in your home.
The very first video I posted was of me making turkey stock with my leftover Thanksgiving turkey bones!
That video was a total lark but folks responded so positively that I decided to start doing them regularly!
I thought it might be nice to round up all the healthy Thanksgiving recipes into one place including any videos.   I hope you find something in this list that makes your Thanksgiving hosting duties next week a bit more manageable … and healthy!
Healthy Thanksgiving Recipes
Video: How to Make Turkey Stock:  Don't laugh – this was my VERY FIRST video for this blog about 2 years ago.  The info is great but I am a serious dweeb on camera!   I've hopefully improved a bit since then.
Video:  Fermented Potatoes:  If you have trouble with mashed potatoes, try this recipe.  It makes all that starch a lot more digestible with the bonus of enzymes and probiotics from the fermentation process.
Video: How to Make Gravy:  My hubby gets into the act and shows you his awesome gravy making skills in this video!
Pumpkin Pie:  What is Thanksgiving without pumpkin pie?   This recipe shows you how to make the best tasting pumpkin pie without that nasty evaporated milk from the supermarket!
Pumpkin Cookies (Grain Free):   If pumpkin pie is not your thing, try these festive pumpkin cookies instead!  Or hey, make both.  Your guests will be happy I'm sure.
Pumpkin Bread:  Anything pumpkin is a go for Thanksgiving, so if you have some leftover pumpkin puree from making the pies or cookies, try this pumpkin bread recipe.
Get Creative with Leftover Turkey:  This post is a recipe for my homemade turkey salad.
Oh, and don't forget ….
If you're flying to your Thanksgiving destination next week, remember to insist on an opt out of the naked body scanners even if TSA agents tell you that they don't do any pat downs!    It is your fundamental right, and they can't deny your request.  Don't be a lemming like me and go through the machine by mistake!
I hope you get to enjoy at least 1 or 2 of these healthy Thanksgiving recipes during your holiday celebrations.
Bon appetit!
Sarah, The Healthy Home Economist