Table of Contents

[Hide]

[Show]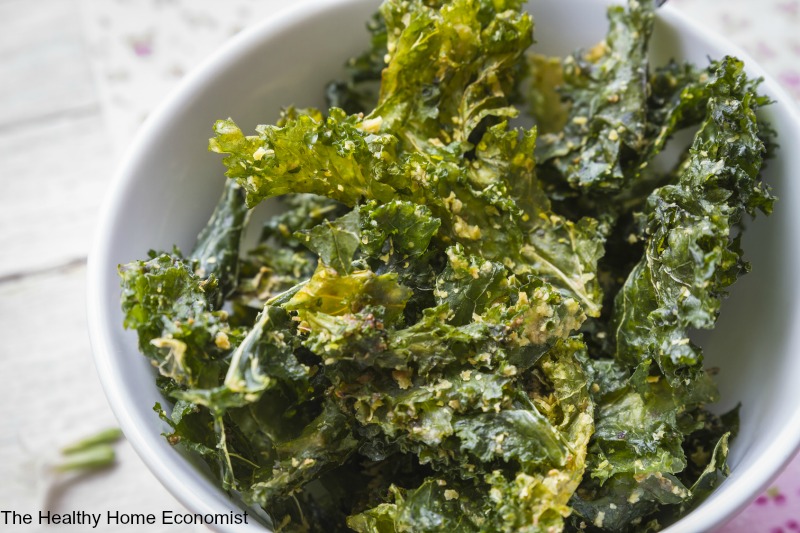 Several friends have been raving to me lately about homemade kale chips, a delicious way to enjoy your leafy greens. While you can buy them at the health food store too, they are WAY tastier not to mention FAR less expensive if you take a few minutes and make them yourself!
In particular, kale chips really satisfy as a low carb snack when you are craving a crunch but don't want to eat any type of starchy chip.
Why It's Best to Cook Your Kale
Making kale chips basically involves breaking up an entire bunch into 2-inch pieces, mixing them with olive oil, vinegar, and salt and then drying them out to a crisp in a warm oven for about 30 minutes. That's it!
Why are we even taking the time to make kale chips, you may ask? Isn't kale far better to eat raw in a green smoothie?
Actually, the answer is no, kale is not a good choice for eating raw. Kale is a cruciferous vegetable, and as such, contains goitrogens that actively suppress the thyroid gland. Contrary to popular belief, however, it is not high in oxalic acid, which can be a risk for the kidneys.
The good news is that gentle cooking above 212 F /100 C will significantly reduce the goitrogens, so you can enjoy your kale with reduced downside risk. (1)
If you already suffer from thyroid disorders, you may choose to avoid cruciferous veggies altogether, and that is, of course, your choice based on your personal situation.
However, in the context of a traditional, iodine-rich diet, cooked cruciferous veggies like kale are a healthy choice.
I realize that there are people reading this who will scoff at the recommendation to cook kale. I would suggest to those who are really into the green smoothie fad that blowing out your thyroid is not a great idea. Whatever small amounts of nutrition are lost by the gentle cooking of kale is more than made up for in the additional protection to this delicate, butterfly-shaped gland in your neck.
You don't want to do ANYTHING that messes with your thyroid. This little gland is very hard to fix once it goes on the fritz. Protect it at all costs!
Homemade Kale Chips
I should mention that I was skeptical of this recipe at first, as I really do not like kale much at all. I must say that after trying them myself, the verdict is that they are truly delicious!
They make a good crunchy substitute for croutons on salads if you are low-carbing it.
Another great thing about this kale chips recipe is that it uses olive oil. Fat eaten with your veggies increases nutrient absorption considerably. If you're worried about cooking with olive oil, the linked article explains why this isn't a problem. The recipe turns out better with olive oil than using coconut oil or even avocado oil, in my opinion.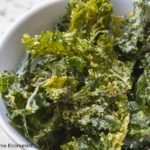 Homemade Kale Chips Recipe
Easy recipe for homemade kale chips that preserves the nutrients and reduces the potential for thyroid damage from the goitrogenic substances in this popular leafy green vegetable.
Instructions
Strip leaves from stems in approximately 2 inch pieces. Rinse and dry thoroughly.


Place kale pieces in a large ziplock bag and pour dressing over them. Close bag tightly. Massage dressing into the kale pieces for 1-2 minutes.

Place on parchment paper lined cookie sheets and bake at 300 F/ 149 C for 20-30 minutes. Turn the kale pieces for the last 10 minutes to make sure both sides are thoroughly dried out and crisp.

Yum! The crunchiness is what makes this recipe, in my opinion. Kale chips would be an awesome, grain free addition to salads for that bit of crunchiness without any croutons!

Recipe Notes
I used red kale for this recipe, but any type of kale works great!
Nutrition Facts
Homemade Kale Chips Recipe
Amount Per Serving
Calories 20
Calories from Fat 15
% Daily Value*
Fat 1.65g3%
Carbohydrates 1g0%
Protein 0.5g1%
* Percent Daily Values are based on a 2000 calorie diet.