Easy recipe for sweet potato casserole that contains no added sugar with no loss of taste and overall deliciousness! Perfect as a holiday side dish or even as a healthy baby food.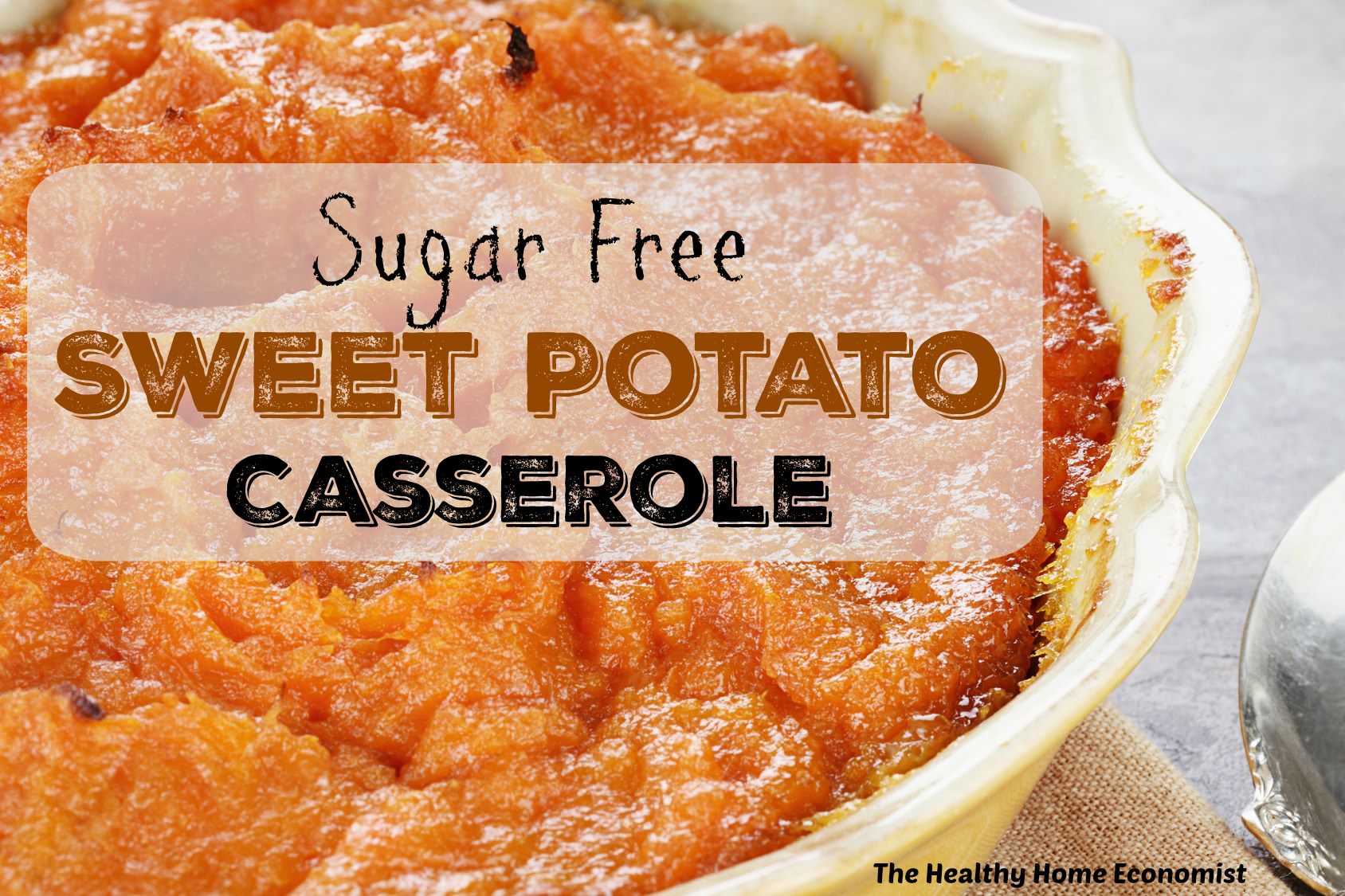 When my first child was a young toddler, I didn't know about the importance of serving wholesome fats with vegetables. Science has shown that doing this significantly improves nutrient absorption. A healthy fat mashed in with baby food also greatly improves satisfaction from the meal. This means the child feels full much longer.
Consequently, when I made baby food, I simply steamed the organic vegetables in a bit of filtered water. Then I pureed them with a small amount of bone broth without adding anything else before serving.
The problem with this approach is that my son didn't seem to get filled up very well. He was always hungry again within a very short time. He also ended up eating way too much – so much so that he developed carotenaemia. This condition is an orange coloration of the skin from excessive beta carotene in the diet.
Doctors say that carotenaemia is a benign condition that resolves on its own. Fortunately, my son didn't seem to suffer any ill effects from it. He just looked like he spent a lot of time in the sun which was a very strange look for a young child! But it did seem to indicate very clearly to me that large amounts of organic baby food were less than ideal.
By the time my second child was born and ready for homemade baby food, I had learned all about ancestral diet and Traditional Foods. This primarily involved adding generous amounts of healthy fats to my family's diet.
I noticed that my second son, who also was capable of eating large amounts of my homemade baby food, ate much less when I included these healthy fats in the veggie puree.  He never came close to eating the massive amounts of veggies that my first son did at the same age and he stayed full between meals and was much more satisfied after eating too.
To my great relief, he never developed carotenaemia either! You can learn more about the beta carotene Vitamin A myth in the linked article.
Sweet Potato Casserole
Below is the sweet potato casserole recipe which was my second son's favorite baby food dish.  It is made with organic sweet potato and loads of healthy fats.  Ensuring that homemade baby food always includes some healthy fats is very important so that baby can absorb all those wonderful nutrients and stay happy and full afterward until the next mealtime rolls around!
Love sweet potato?  Check out this recipe for sweet potato pasta too!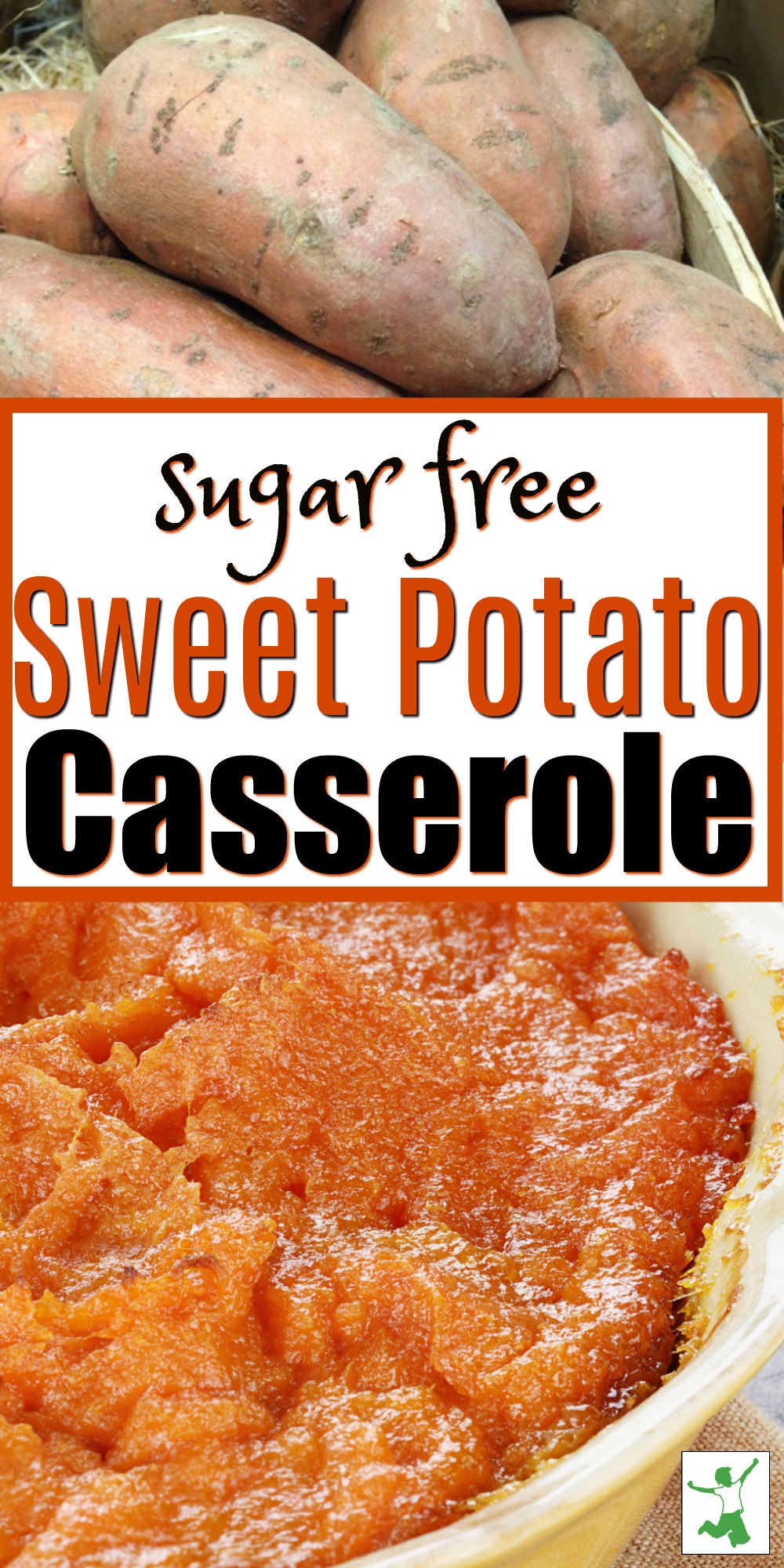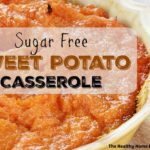 Sweet Potato Casserole Recipe
Sugar-free recipe for sweet potato casserole that is wholesomely sweetened with healthy fats and makes an ideal holiday side dish. It is perfect for baby food too!
Instructions
Bake (do not microwave) or boil sweet potato until tender and peel while hot. Place in a casserole dish and mash until smooth. Melt coconut cream and butter together over low heat on the stove.

Mix butter/coconut mixture, cream, egg yolks and optional spices with mashed sweet potato in the casserole dish. Whip until mixed well. Sprinkle sweet potato casserole with additional freshly ground Ceylon cinnamon on top if desired.

Place sweet potato casserole in a preheated 350 F/ 177 C degree oven for 30 minutes or until bubbly on top.

Cool for 10 minutes on the counter and then serve. Refrigerate leftovers. Reheat as needed for later meals.
Recipe Notes
You may use sour raw cream in place of the fresh cream if desired.