This easy turkey salad recipe is so smooth and gourmet tasting that no one will mind that it is made with holiday leftovers. Use for sandwiches or to add a boost of protein to salads.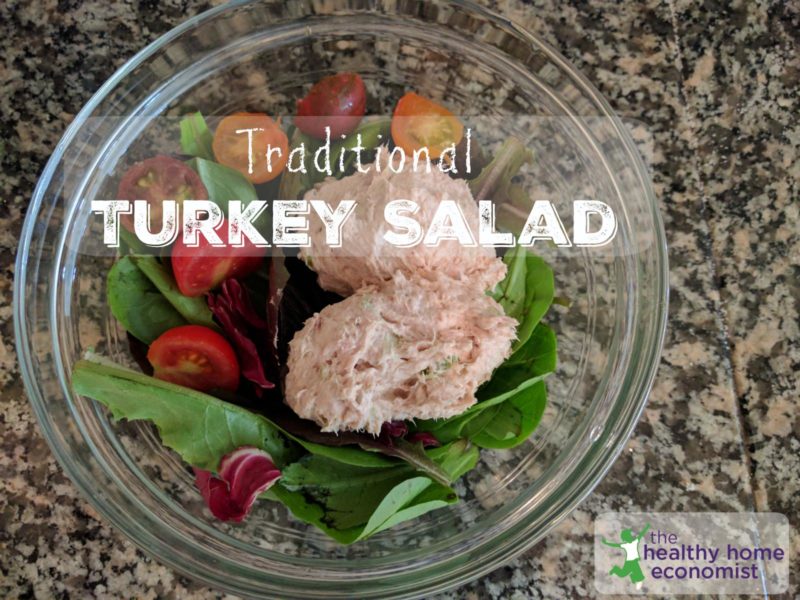 What to do with all the leftover turkey meat? I'm quite sure this question has crossed the minds of many folks as the lure of holiday leftovers fades away and the reality of the Monday morning routine comes ever closer. While I have no answers for the impending dread of getting up at 6 am after a long, relaxing, and fun-filled holiday break, I can offer a yummy recipe for turkey salad to use up all that turkey meat to pack those lunchboxes easily!
Homemade Turkey Salad
I made turkey salad sandwiches for dinner tonight, using homemade mayo. The turkey salad was served on slices of authentic sourdough sandwich bread. There is no stealthily added vital gluten unlike Ezekiel and other so-called traditional bread on the market.
I slathered organic cranberry jelly on one slice of warmed bread and turkey salad on the other. Brought together, they make what we call a Thanksgiving Day Sandwich.
The sandwich is served with a salad of organic baby greens on the side. This meal is both yummy and light on the stomach, a guarantee of a good night's sleep afterward!
Now you know what to do with all that leftover turkey. Be sure to make turkey stock with the leftover bones too!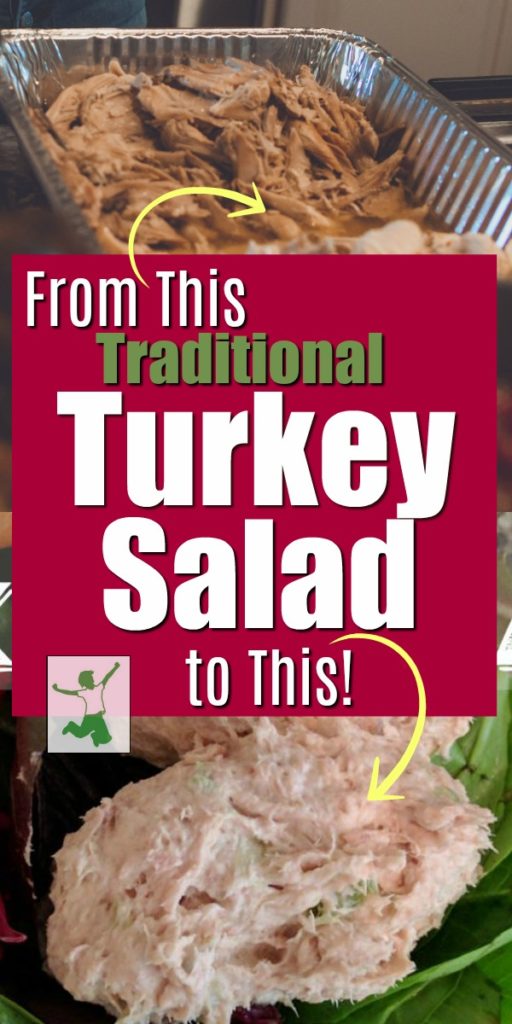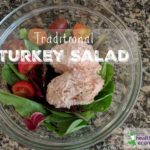 Traditional Turkey Salad Recipe
Delicious and healthy recipe for turkey salad that is awesome to use after the holidays to quickly use up all the leftover turkey meat.
Instructions
Combine all ingredients in a large glass bowl. Blend with a handheld blender if you like your turkey salad ultra smooth.

Freeze what you will not use in 2-3 days.
Recipe Notes
3 tablespoons finely chopped fresh cilantro may be substituted for the dried cilantro.
Homemade mayo is best for this recipe, but in a pinch, this brand of mayo is fine to use instead.