Table of Contents

[Hide]

[Show]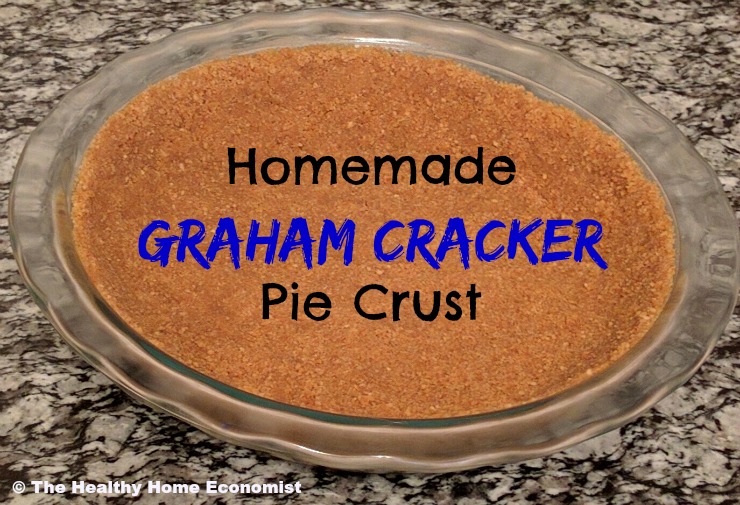 I made this graham cracker pie crust you see pictured above for the very first time to use with a no bake cheesecake recipe that my husband loves. A family friend developed it and generously shared it with me. She lives in Australia and uses Granita biscuits (cookies) to make the crust instead.
Graham crackers seemed to be the closest thing to Granita biscuits where I live, so that is what I used as a substitute and it turned out great! In fact, I liked this homemade graham cracker crust much better than any of the pre-made ones that are available at the store, probably because mine is made with deep yellow, grassfed butter that adds a richness of flavor that is hard to beat.
When making a graham cracker pie crust at home, clearly the most important choice (besides using butter!) is the type of graham crackers you will use.
It is exciting that there are so many quality brands on the market these days. I used to make graham crackers myself, but stopped doing that awhile back when organic graham crackers became available. This brand is what I've used in the past, but there are several others that are good quality too. Which ones do you use?
If you are gluten free, I would suggest checking out this brand which has good ingredients .. not perfect, but certainly very good and they are nonGMO to boot. Unfortunately, most gluten free graham crackers I checked have pretty awful ingredients. If you have a good recipe for homemade gluten free graham crackers, please share in the comments section!
What Exactly is Graham Flour?
If you are a label reader like I am, you've probably noticed that the main ingredient of traditional graham crackers is graham flour. This unique type of flour is named after Sylvester Graham, a nineteenth century pastor who was quick to recognize the dangers of refined white flour to human health in the early days of the Industrial Revolution. He ingeniously devised a method for grinding wheat flour in a manner that rivaled the easy baking and long shelf life of refined flours while still retaining all the nutrients.
Rather than grinding the entire wheat kernel at the same time to produce whole wheat flour, the production of graham flour instead separates the three parts of the wheat – bran, germ, and endosperm – with each component ground separately. The endosperm is finely ground creating a fresh, unbleached white flour. The bran and the germ are coarsely ground together. The fine and coarse flours are then recombined which results in a semi-coarse flour with an enjoyable texture along with excellent taste, shelf life, and bake-ability.
Homemade Graham Cracker Pie Crust
If you would like to make your own graham crackers from scratch, this recipe from my friend Kristen is wonderful! It uses (sprouted) einkorn flour, which is far and away my favorite flour for baking.
If you prefer the unique texture of traditional graham crackers, feel free to substitute organic graham flour instead. One other tweak. I would suggest using organic brown sugar or coconut palm sugar instead of honey for this recipe. The reason? Cooking with honey is ideally to be avoided according to traditional Ayurveda as it inadvertently creates toxins.
If you love the taste of honey with your graham crackers, simply brush it on after the graham crackers are baked. Using this approach, the raw honey isn't cooked or heated excessively.
That's a lot of information about graham crackers! Hopefully, it will help you think through your options to choose which approach works best to make your own healthy, delicious graham cracker pie crust!
*Love this recipe but want a richer tasting crust? This link to my chocolate cookie pie crust recipe is a good alternative if needed.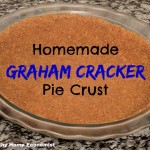 Graham Cracker Pie Crust Recipe
A delicious recipe for a graham cracker pie crust made with only 3 ingredients that is perfect for any homemade pie creations that are your specialty.
Instructions
Lightly grease a pie plate with softened coconut oil.

Break up graham crackers and process in food processor until finely chopped. Add melted butter and pulse until combined.

Use a spoon or clean hands to press the graham cracker mixture evenly over the base of the pie plate and up the sides to form a uniform crust.

Refrigerate for an hour or so until firm and then add filling of choice.
Recipe Notes
You will need this equipment to make this recipe:
1 / 8-9.5 inch/ 20-24 cm glass pie plate. I don't recommend aluminum pie plates unless you plan to line them with unbleached parchment paper so the pie crust does not come into contact with the aluminum. This is especially important when you are cutting the pie as scratching the aluminum is what releases it into the food.
Food processor (I use this one)