Making homemade gravy is arguably one of the most important tasks when creating a delicious holiday meal for your family. With the holidays upon us soon, I thought it would be helpful to show how to make gravy the old fashioned and traditional way by using all the mineral-rich drippings.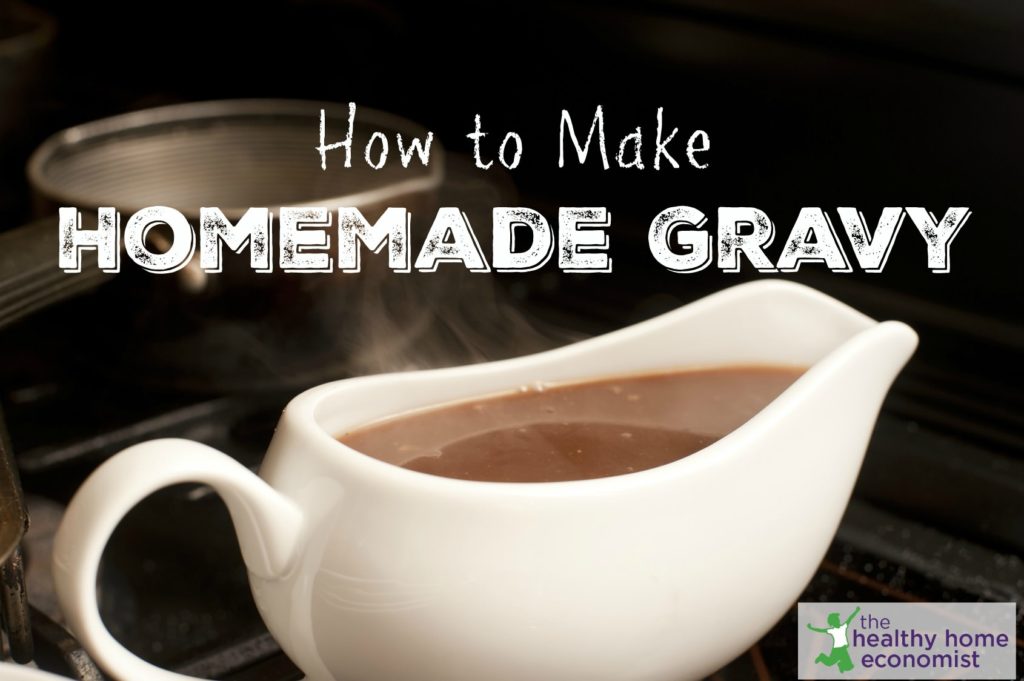 My husband is the chief gravy maker in our home and he is incredible at it! He is so good at making smooth, tantalizing gravy that when my enormous family gets together for the holidays, he is designated gravy maker for the entire brood of 30 or so people. He also makes the dressing too and uses this sprouted stuffing recipe that everyone enjoys and easily digests.
If you need a grain-free option, check out this keto low carb stuffing recipe.
I also thought it would be important to show that men cook Real Food too to inspire all the husbands and boyfriends to get into the kitchen and make some awesome, yummy dishes for your sweetie! There is nothing more romantic, I can assure you! I remember when Richard and I were dating, one of the things that really got my attention was that he was such a fantastic cook! So, teach your sons how to cook ladies and your future daughters-in-law will thank you!
Homemade Gravy the Old Fashioned Way
The Traditional, Welsh gravy making method Richard uses in this video requires the use of soaked flour in order to reduce the phytic acid content of the wheat and thereby improve the digestibility and nutrient absorption of the gravy considerably. You will find that using soaked flour improves the smoothness of the gravy's flavor. The gravy is also considerably lighter on the stomach when made this way.
You may also use sprouted flour instead of soaked in this recipe, but in Richard's experience, the soaked flour leads to a better result.
Making gravy is more of an art than a science and does not lend itself well to a written recipe. That said, I have attempted to quantify the process in the gravy recipe below.
Generally speaking, use this rule of thumb. For every 2 cups of meat juice, you will need 1 cup of freshly ground flour soaked overnight in 1 cup of plain yogurt. For example, if you get 5 cups of juice from your Thanksgiving turkey, you will need to mix/soak 2 1/2 cups of flour with 2 1/2 cups plain yogurt the night before. Then, the soaked mixture is ready on Thanksgiving morning to make gravy when the turkey comes out of the oven.
Use the Giblets to Add Extra Flavor
I would recommend that you simmer the giblets on a low heat stovetop with some grass-fed butter. Do this in a separate pan while the turkey is roasting. Then, when it comes time to make the gravy using the turkey juices, simply blend in the meat juice from the giblet pan. It will add an extra boost of flavor and nutrition to the gravy!
In the recipe video below, my husband Richard demonstrates the process of making homemade gravy. He uses the drippings from a Thanksgiving turkey. If you use another bird such as duck or roast goose, the process is basically the same.
This recipe plus video on how to thicken gravy takes the video below a step further by demonstrating that process as well.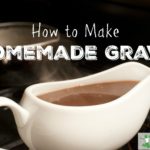 Homemade Gravy Recipe
How to make homemade gravy the old fashioned way with the drippings that is so rich and thick that Grandma would be very proud.
Instructions
Blend flour and yogurt thoroughly in a bowl. Cover and leave on the counter overnight.

The next day, use this mixture to thicken and make the gravy with the meat drippings from your Thanksgiving turkey.

Pour meat juices including all the fat into a large frypan. Place on a burner on the stove and turn on to medium heat.

Add soaked flour mixture to fill a mason jar to about half to at most two-thirds full. Pour in whole milk until the flour mixture is just covered.

Fasten mason jar lid tightly and shake vigorously until the mixture is smooth. This may take a few minutes.

Pour milk/flour mixture into the warm juices in the frypan and stir until well blended. If any lumps remain, press them out immediately with a wooden spoon.

Bring the meat juice mixture slowly to a boil stirring constantly to prevent lumps from forming. This will take about 6-8 minutes of stirring at medium heat.

Once a few bubbles start to form on top indicating that the mixture is boiling, turn the heat down to medium-low heat and continue to stir and cook for another 5 minutes until thickened.

If the mixture becomes too thick, add some filtered water or more whole milk to thin it down to the desired consistency.

Add sea salt and pepper to taste.

Serve immediately and refrigerate any leftovers once cooled to room temperature.
Recipe Video
Recipe Notes
Sprouted flour may be used instead of plain flour which eliminates the soaking step above (sources).