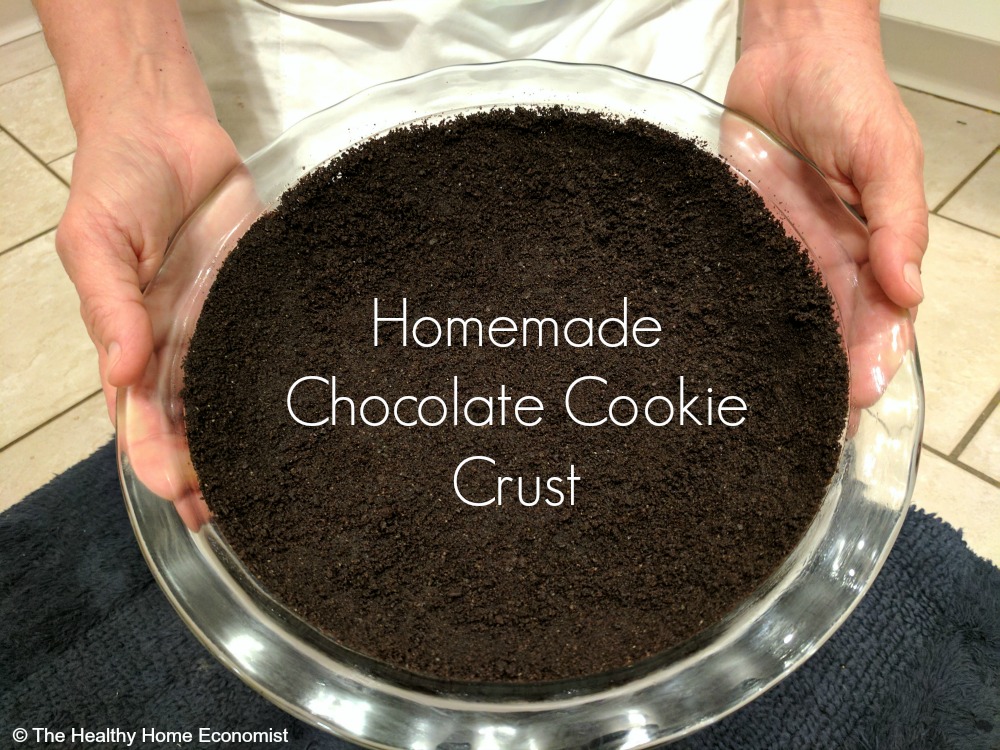 I consider a chocolate cookie pie crust essential for making certain types of confections. In particular, key lime pie and cream pies turn out absolutely delicious using this type of pastry crust.
I used to purchase an organic chocolate cookie crust that was made with palm oil. It was tasty, very convenient to use, and had quality ingredients. Unfortunately, I haven't been able to find this brand or a similar one for a number of years.
The first time I couldn't find the organic chocolate cookie pie crust, I succumbed to using a (gasp!) oreo cookie crust from the supermarket. Check out the ingredients. What in the world was I thinking?
Enriched Flour (Wheat Flour, Niacin [Synthetic], Reduced Iron, Thiamine Mononitrate [Synthetic], Riboflavin [Synthetic], Folic Acid [Synthetic]), [GMO] Sugar, Partially Hydrogenated Soybean Oil [GMO transfat], Cocoa (Processed With Alkali), High Fructose Corn Syrup [GMO], Corn Flour [GMO], Whey, Baking Soda, Salt, Soy Lecithin (GMO Emulsifier), Cornstarch [GMO], Chocolate, Vanillin-an Artificial Flavor, Bha, Tbhq and Citric Acid (GMO Preservative).
GMOs, synthetic vitamins, additives, and artificial flavors galore. Possibly the worst ingredient is the partially hydrogenated soybean oil which is both GMO and a transfat!
Even though the ingredients I filled that oreo pie shell with were organic and wholesome, that nasty crust just ruined the whole thing. On top of that, I needed to use my trusted sore throat remedy literally within an hour of eating a slice of that pie. I have no doubt the horrible ingredients in the pie crust were the culprit.
As farmers sometimes like to say, it just doesn't work to put lipstick on a pig.
Settling for a garbage pie shell is sure to ruin an otherwise wholesome and delicious pie.
After that kitchen fail, I resolved to make my own chocolate cookie pie crust going forward. It is very easy to do and is a similar process to making a homemade graham cracker crust. Not sure why I didn't do this from the get go.
Below is the recipe I've come up with that is quick, easy, tasty and wholesome. It also does not require any pre-baking. Enjoy!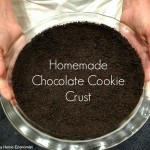 Chocolate Cookie Crust
This easy chocolate cookie pie crust recipe is ready in 10 minutes and does not require any pre-baking before using the pie filling of your choice. Makes 1 standard size pie crust
Instructions
Place filling-free chocolate cookies in food processor and pulse until only crumbs remain.


Use a large spoon or clean hands to press the chocolate cookie mixture evenly over the base of the pie plate and up the sides to form a uniform crust.


Put in the freezer for an hour or so until firm and then add filling of choice.
Recipe Notes
I don't recommend aluminum pie plates unless you plan to line them with unbleached parchment paper so the pie crust does not come into contact with the aluminum. This is especially important when you are cutting the pie as scratching the aluminum is what releases it into the food.
Sarah, The Healthy Home Economist