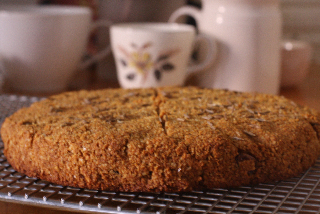 Irish soda bread is a traditional quick bread used in a number of cuisines where baking soda is used as the raising agent instead of yeast. 
In its home country of Ireland, soda bread is typically made using wheat flour, baking soda, salt, and buttermilk.
What if you have gluten issues or are grain free for a period of time while healing your gut? Must the pleasure of consuming Irish soda bread be avoided completely?
Fortunately, no!
Emily Duff, New York City Chef and writer of all things Real Food related, shares with us how to make delicious Irish soda bread using blanched almond flour instead of wheat in the recipe below.
Chef Emily used the Irish Soda Bread recipe from Elana's Pantry as her inspiration for this unique grain free version.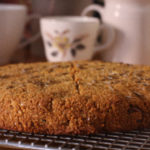 Irish Soda Bread Recipe (grain free)
Delicious, grain free Irish soda bread recipe that will satisfy your yearnings for bread without the carbs using nourishing, whole ingredients.
Instructions
In a large bowl combine almond flour, salt, baking soda and raisins.

In a smaller bowl combine eggs, honey and apple cider vinegar.


Mix wet ingredients into dry.

Form dough into a large, flat circle that is roughly 7 inches across and 1 ½ inches tall.

Using a serrated knife, score top of dough about an inch deep in shape of a cross.

Sprinkle top of the dough with caraway seeds.

Bake at 350° F/177 C for 20 minutes, then turn off oven and leave bread in the oven for 10 more minutes.

Cool Irish soda bread for ½ hour then slice and serve with lots of raw butter (and jam if desired).
Recipe Notes
Heating honey isn't ideal for baking. If you would prefer not to cook this raw sweetener, use date syrup instead.