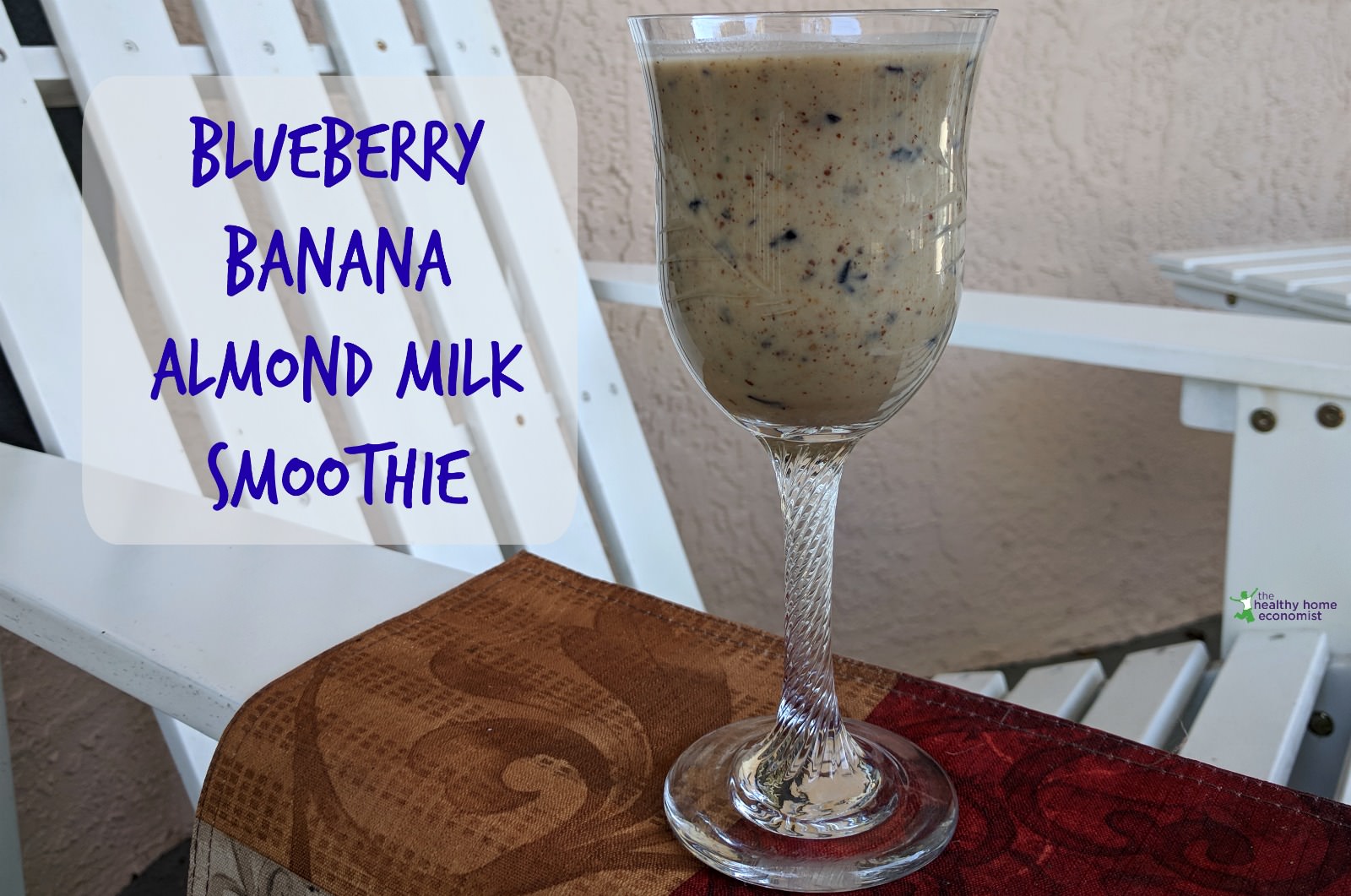 Although we do enjoy grassfed unpasteurized dairy in our home and have for nearly 2 decades, I like to mix things up by using other non-dairy beverages such as almond milk, rice milk and coconut milk too. I do the same thing with the types of flour I use for baking. Variety is one of your best weapons against the development of food allergies!
Almond Milk Smoothie
These milk substitutes are not just enjoyable on their own. They are also perfect as the base for a breakfast smoothie. Almond milk smoothies are my latest fave, naturally sweetened with a small amount of fruit and a boost of protein from nut butter.
Those of you who have been reading this blog for awhile may remember that I warned you about the dangers of commercial almond milk in shelf stable cartons. Synthetic vitamins, dangerous additives like carrageenan and toxic packaging are the biggest issues with this factory food.
However, I am happy to report that there are now decent brands of organic almond milk that you can buy if you are unable to make your own. They are available in bottles in the refrigerated section of the healthfood store. The unsweetened one I use when I run out of homemade almond milk is organic and contains only almonds, water, acacia gum (used for centuries) and sea salt.
Be sure to read labels carefully, though. Not all of the refrigerated, bottled almond milks at the store are worthy of your food dollars!
Feel free to adjust the quantities of the smoothie ingredients below to suit your personal taste.
One more idea – I didn't include this in the recipe, but if you are really adventurous, try adding a very small amount of organic green banana flour or potato starch (better than potato flour). One-half teaspoon is a good place to start for most people. This provides a healthy dose of prebiotic resistant starch to start your day too!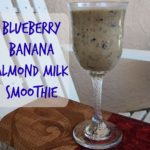 Blueberry Banana Almond Milk Smoothie
Easy recipe for a blueberry banana almond milk smoothie using only 6 ingredients.
Instructions
Mix ingredients together in a quart size, wide mouth mason jar.

Serve immediately. Refrigerate leftovers.
Recipe Notes
If you are not able to source sprouted or soaked almond butter where you live, at least choose a quality brand of organic roasted almond butter. 
Do not buy raw almond butter as it is difficult to digest and causes gastrointestinal distress for some people.
Nutrition Facts
Blueberry Banana Almond Milk Smoothie
Amount Per Serving (2 cups)
Calories 566
Calories from Fat 315
% Daily Value*
Fat 35g54%
Protein 31g62%
* Percent Daily Values are based on a 2000 calorie diet.
Sarah, The Healthy Home Economist