How to make green chimichurri sauce from scratch with whole food ingredients that is a taste sensation drizzled over fish, steak, chicken, eggs or any other dish you fancy!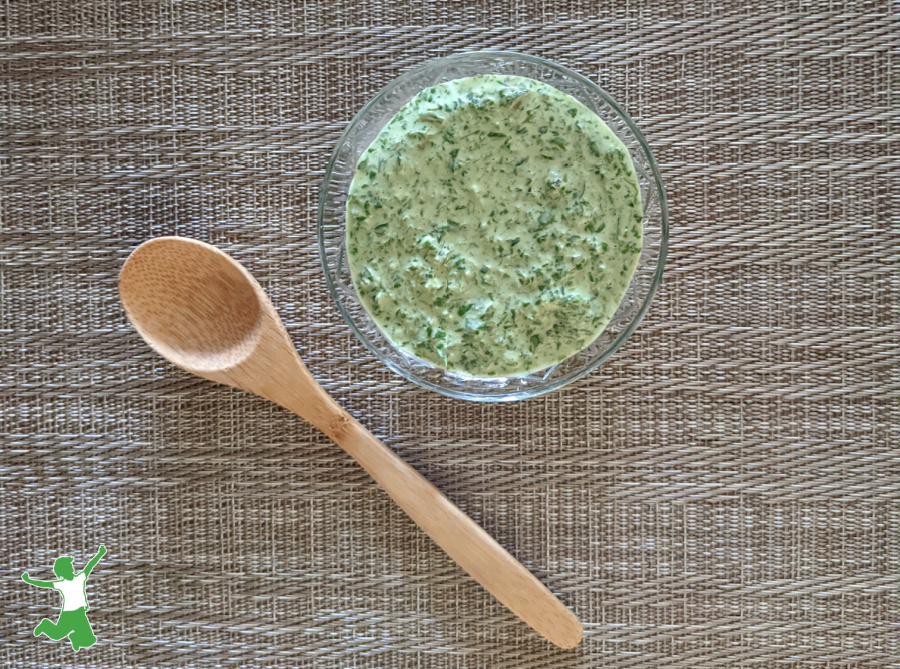 I was first introduced to chimichurri sauce at a locally-owned Argentinian restaurant in my community many years ago.
Chimichurri is an uncooked sauce that goes well with so many dishes. Steak or fish is a typical pairing.
The sauce is prepared one of two ways: chimichurri verde (green) or chimichurri rojo (red).
I recently enjoyed a dish at The Floridian in St. Augustine which offers aioli-style green chimichurri sauce drizzled over blackened flounder and cornbread as a signature menu item.
Below is a picture of this amazing dish with a side of in-house fermented pickles!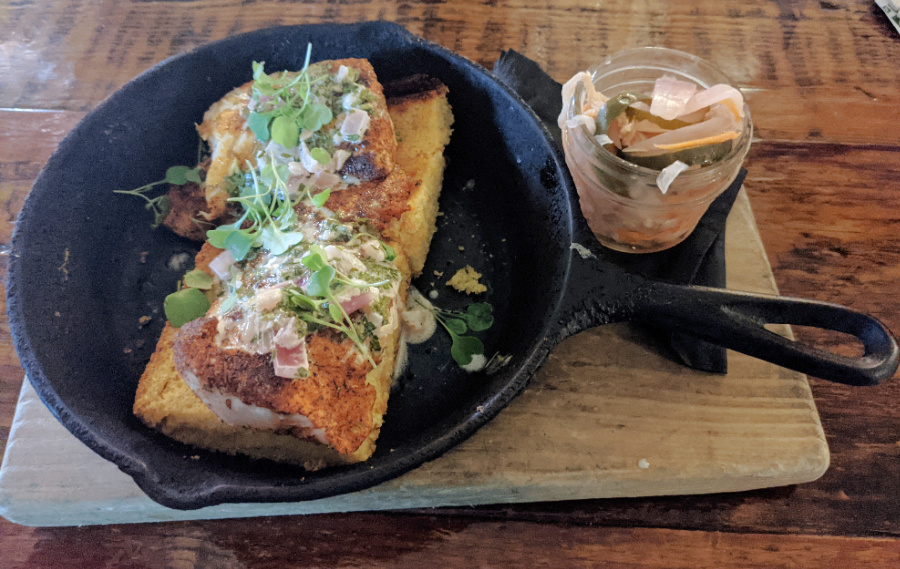 I adored this unique dish so much that I resolved to learn to make green chimichurri sauce myself. This way, I could enjoy it at home and not just occasionally when eating out.
Below is the recipe I blend as my own personal version. I came up with this after some research into the history of chimichurri and a bit of trial and error.
Ancestral recipes in Argentinian and Uruguayan cuisine typically use red wine vinegar. However, I prefer raw apple cider vinegar instead as it gives the sauce extra kick.
I also use both parsley and cilantro for extra flavor even though the most common method uses parsley alone. Another reason is because I grow both of these herbs in my garden!
The recipe below is blendable in two ways.
First, you can make it with olive oil only as the base (most traditional).
Or, you can blend a more modern aioli chimichurri using mayonnaise and olive oil.
My husband loves it so much that he topped his scrambled eggs with it for breakfast the other day!
Want to try chimichurri first before going to the effort of making it?
This brand is a good one to try that is authentic with no scary ingredients.
If you wish to buy, beware as several commercial versions I examined contained preservatives or GMO citric acid. Some also contained water as the very first ingredient with unknown "spices" to cover for the low quality.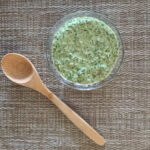 Green Chimichurri Sauce
How to make chimichurri sauce from scratch with whole food ingredients that is a taste sensation drizzled over fish, steak, chicken or any other dish you fancy!
Instructions
Coarsely chop parsley and cilantro.

Pulse greens in the food processor with all the remaining ingredients except the mayonnaise until finely chopped.

Place the chimichurri sauce in a glass bowl and stir in the optional mayo until well mixed.

Refrigerate glass bowl with the finished sauce for an hour to allow the flavors to blend.

Serve as desired as a condiment for steak, fish, chicken and even eggs.

Keep leftover sauce refrigerated in a covered glass container for up to 4 days.
Nutrition Facts
Green Chimichurri Sauce
Amount Per Serving (1 Tbl)
Calories 178
Calories from Fat 162
% Daily Value*
Fat 18g28%
Sodium 180mg8%
Carbohydrates 3g1%
Protein 1g2%
* Percent Daily Values are based on a 2000 calorie diet.