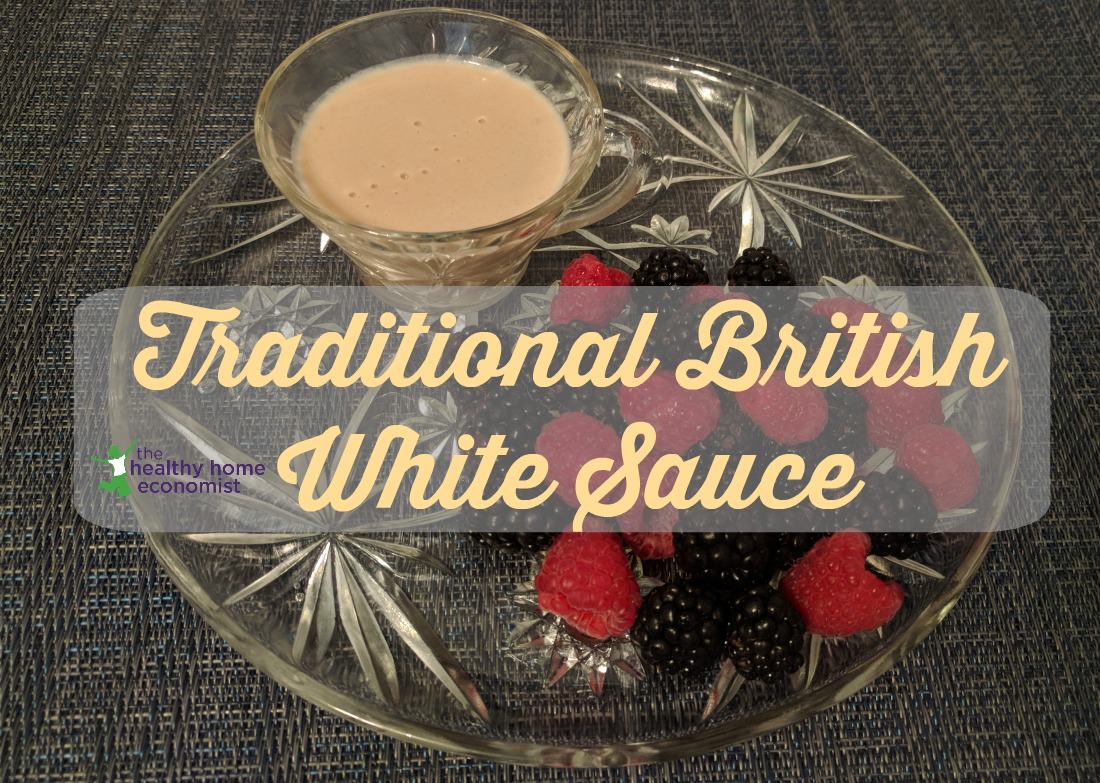 If you want to really wow your family or guests when you serve dessert, try making this scrumptious white sauce and drizzling it on top. It is my Mother-in-Law's traditional British recipe, which has been handed down for generations within her family in Wales.
THIS is what people made before tubs of chemical Cool Whip and cans of fake whipped cream took over the scene.
It is perfect atop any fruit, pie, or cobbler dishes. Or, you can just put some in a bowl and eat it straight. Yes, it's THAT good.
White sauce is traditionally made with unpasteurized milk that has slightly soured or clabbered. Sour raw milk isn't fresh for drinking any longer but is still healthy to consume due to the protection of enzymes and probiotics. Hence, though tangy tasting like yogurt, it is still excellent for cooking.
Of course, pasteurized milk that is sour is another matter entirely. This stuff is putrid and should be thrown out after the use-by date has passed!
This sauce will take you only minutes to prepare and it sure beats nasty chemical Cool Whip or canned toppings from the supermarket in taste as well as nutrition. Can you believe that some folks spray canned whipped cream directly into their mouths? I had a roommate once who did that nearly every single day for her sugar/chemical mid-afternoon energy boost. This is an unhealthy habit that is actually rather common, and very sad considering how simple it is to make homemade whipped cream (takes about 3 minutes!).
8 Dessert Ideas to Pare with White Sauce
I really enjoy this white sauce pared with a piece of pumpkin pie made with freshly baked and pureed organic pumpkin. Other recipes that go very well with it include:
If you prefer to keep it very simple, just drizzle some on a bowl of fresh fruit.
I hope you enjoy it as much as my family 🙂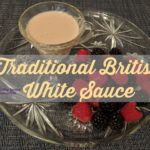 Traditional British White Sauce Recipe
This recipe for traditional British white sauce is easy to make and only contains 6 ingredients. Perfect atop a bowl of fresh fruit or drizzled on pies, cobblers and cakes. Mildly sweet and packed with flavor!
Instructions
Gently heat 1 1/2 cups of whole milk (fresh or soured) over medium heat but do not allow to boil.


Mix sucanat and flour together in a small bowl.

Add remaining 1/2 cup of cold whole milk to sucanat/flour mixture to make a paste.

Mix this paste with the heated milk and cook for 5-7 minutes, stirring constantly.

Add a bit of cold, soured milk after sauce is cooked to keep skin from forming on top. The sauce will thicken slightly while cooking and more as it cools. It will have the consistency of a thick syrup.

Notice in the picture above how the finished "white sauce" is actually more beige in color due to the inclusion of butter, brandy, sucanat and flour!
Recipe Notes
Substitute sucanat with date syrup for a fruit sweetened only white sauce. Do not use date sugar as it does not dissolve well. Do not use honey as cooked honey is not beneficial.
Use banana flour instead of grain flour to thicken the sauce if desired. Use only 1.5 tablespoons instead of 2 tablespoons.
I don't suggest arrowroot powder, as it tends to lose some of its thickening ability when cooked.
If you do not want to use real brandy, this brandy flavoring can be used instead. I would recommend real brandy in the recipe above as the healthier option as the alcohol cooks away during simmering.
Nutrition Facts
Traditional British White Sauce Recipe
Amount Per Serving (1 cup)
Calories 265
Calories from Fat 144
% Daily Value*
Fat 16g25%
Carbohydrates 23g8%
Protein 7g14%
* Percent Daily Values are based on a 2000 calorie diet.
Sarah, The Healthy Home Economist