I prefer to make homemade whipped cream using heavy grassfed cream from my local farm. For those who prefer a nondairy whipped topping because you are low carbing it or for those times when you are out of dairy cream, coconut cream makes an excellent and delicious stand-in!
It is a more budget friendly option too, as heavy grassfed cream can run you fifteen dollars or more per quart in some areas of the United States!
Homemade Whipped Cream
It is shockingly easy to make whipped topping using coconut cream. It is certainly as simple and easy to make as homemade sour cream.
If you've been buying whipped cream in a can or Cool Whip in a tub, consider this recipe your Get Out of Jail Free card. Once you try making whipped cream yourself, you won't need to ever use the convenience crutch of fake processed toppings loaded with GMOs, additives and chemicals ever again.
The method I recommend makes use of the fact that the healthy medium chain triglycerides (MCTs) in coconut fat solidify at cooler temperatures.
Simply getting the coconut cream nice and cold in the refrigerator (not freezer) before you start the whipping process makes the topping very easy to make.
If you are checking out this nondairy whipped cream recipe in the cooler months and consistently keep your home at less than 70 F/ 21 C, then you can probably use the coconut cream right out of the pantry as it will be solidified already.
However, if you want to be sure the texture turns out right, follow the whipped cream recipe below as is to ensure the most consistent results.
Making dairy free whipped cream is one of the easiest ways to get healthy fats into your children. Serve a dollop in a bowl with some fresh fruit and watch them gobble it up!
Note from the nutritional information below that this whipped cream recipe is extremely low in carbs per serving. Hence, it is a great topping for those on a low carb/high fat or keto diet.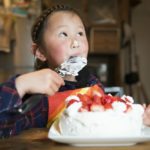 Homemade Whipped Cream Recipe (nondairy)
This recipe for homemade whipped cream is nondairy and quick to make as a delicious topping for any dessert. It is sugar free too! Each serving is loaded with healthy medium chain fats that help boost metabolism and increase energy with no carbs.

Instructions
Place can of coconut cream in the refrigerator for a few hours.

Open the can and spoon the very firm coconut cream into a medium sized glass bowl (I use these).

Using a hand mixer, whip the coconut cream for 3-5 minutes. Start on low speed and gradually increase to high speed as the coconut cream thickens into whipped cream.

Add vanilla and optional stevia. Whip for another 10 seconds to blend.

Refrigerate leftovers and use up within 3-5 days.
Recipe Notes
Feel free to substitute plain, whole coconut milk (I use this brand with no additives or guar gum) instead of whole coconut cream. The only difference is that you will need to be careful to scoop out only the coconut cream as there will be coconut water at the bottom of the can after refrigerating.
You may substitute a few drops of vanilla stevia instead of the vanilla extract and plain stevia, although the two separate ingredients taste the best in my opinion.
I do not recommend using blocks of creamed coconut for this recipe. It does not turn out as smooth and is very difficult to whip.
Nutrition Facts
Homemade Whipped Cream Recipe (nondairy)
Amount Per Serving (35.5 ml)
Calories 76.5
Calories from Fat 68
% Daily Value*
Fat 7.5g12%
Sodium 7.5mg0%
Carbohydrates 1.63g1%
* Percent Daily Values are based on a 2000 calorie diet.
Sarah, The Healthy Home Economist