Table of Contents

[Hide]

[Show]
This traditional recipe for bread and butter pudding is a delicious and frugal British dessert best known for using up leftover bread crusts so nothing goes to waste.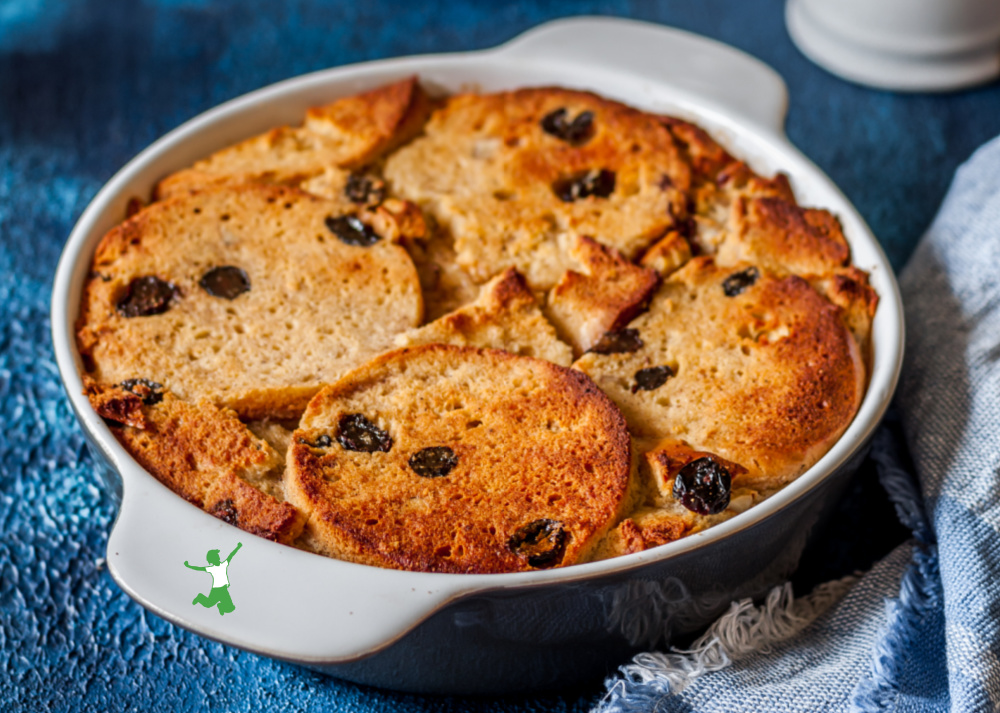 Bread and butter pudding is a traditional sweet that is frugal as well as delicious!
It easily uses up all the bread crusts from several loaves that can stack up fast especially in families with children.
When you spend good money on excellent quality sourdough or sprouted bread, you don't want to waste a single slice!
This includes those from loaves you make yourself. Wasting even a bit is very distasteful, particularly for a Traditional Cook!
Another dish that uses up bread crusts is sourdough French toast casserole, a tasty morning treat.
My husband likes to whip up this version of traditional bread and butter pudding recipe for family movie nights.
It is a working-class, British dessert.
The taste and texture are very similar to bread pudding, but different in that a sauce is typically served with it.
His mother made it for the family frequently while he was growing up. This recipe has passed from generation to generation due to its brilliant frugality and unmatched flavor.
Serving Suggestions
I recommend avoiding whipped butter for this recipe. Commercial butter tub spreads typically are blended with margarine or have other undesirable additives.
For the topping, my husband made a lemon sauce to drizzle over the top after the pudding was baked and crispy on top which proved to be absolutely divine.
A British white sauce is also delicious if preferred to the more sour lemon.
You could even spoon homemade vanilla pudding on top as yet another variation.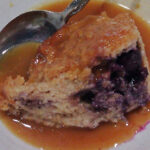 Homemade Bread and Butter Pudding Recipe
Traditional recipe for bread and butter pudding with a zesty lemon sauce that brings out the flavor and lends a delectable and mild sweet/sour tang to this hearty dessert.
Cook Time
1
hour
30
minutes
Total Time
1
hour
40
minutes
Instructions
Bread and Butter Pudding
Heavily butter one side of each bread crust.

Mash bananas with a fork in a bowl.

Stack all bread crusts except for 4 pieces butter side down in a glass casserole dish. The bread should stack 3 layers deep. If it doesn't, use a smaller sized dish.

Beat the eggs in a bowl. Add the milk and sucanat and mix well.

Pour egg/milk mixture over the stacked bread in the casserole dish until just covered with liquid.

Place mashed bananas and raisins or blueberries on the top of the soaked bread and gently fork the fruit through until evenly distributed.

Place the 4 reserved bread crusts on top of the soaked bread and fruit – butter side up. Sprinkle the butter side up bread crusts with a small amount of additional sucanat.

Bake bread and butter pudding in the oven preheated to 350 °F/177 °C for 90 minutes and until brown and crispy on top.
Lemon Sauce
Grate the rind of one lemon very finely.

Juice the grated lemon plus the other lemon and set aside. Saute the grated lemon rind in butter for 3 minutes.

Add sugar with a very small amount of water to the rind mixture until it dissolves while still sauteing the rind. In a cup, mix the water and arrowroot and mix well ensuring there are no lumps.

Pour water/arrowroot mixture into the pan with the rind/sugar and keep stirring until it begins to simmer and slightly thickens. Add the juice of 1-2 lemons, stir and remove from heat.

Serve sauce immediately drizzled on bowls of the cooked bread and butter pudding.
Nutrition Facts
Homemade Bread and Butter Pudding Recipe
Amount Per Serving
Calories 258
Calories from Fat 90
% Daily Value*
Fat 10g15%
Carbohydrates 35g12%
Protein 7g14%
* Percent Daily Values are based on a 2000 calorie diet.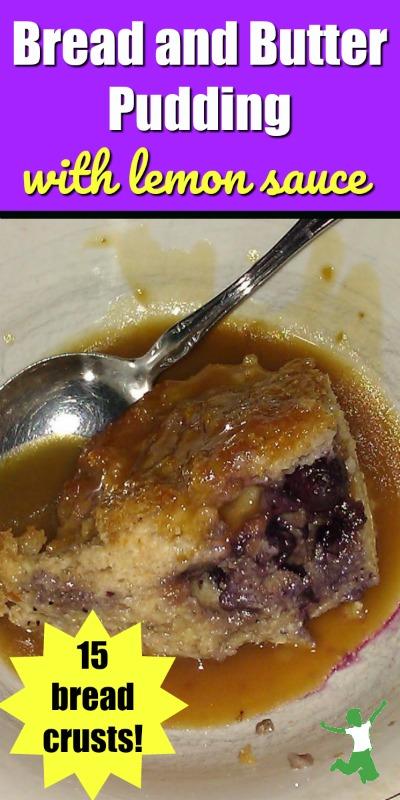 More Healthy Pudding Recipes
Here are more healthy pudding ideas made only with whole, natural ingredients.