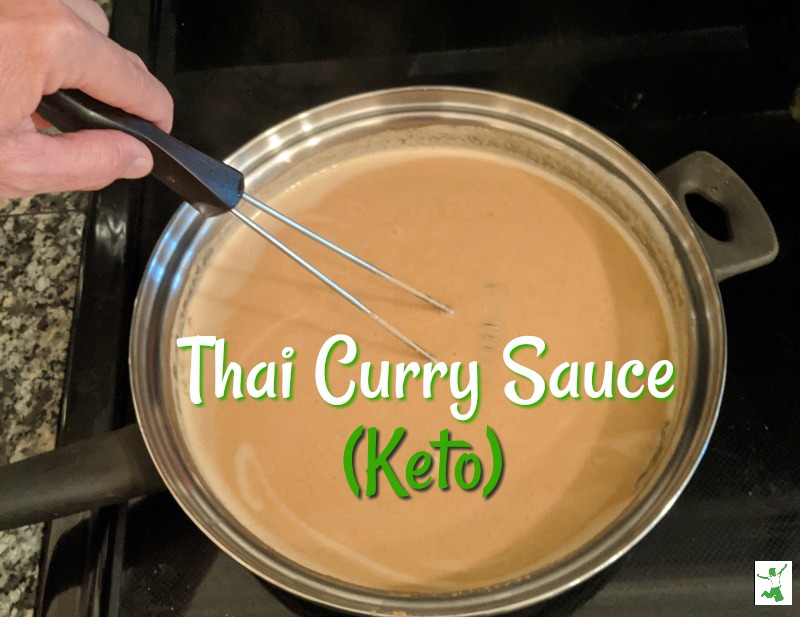 Most Asian food fans do not realize that Thai sauces made at a restaurant are typically thickened with GMO cornstarch and sweetened with GMO white sugar. If you love the flavor of Thai food, the solution is to make them at home, which, fortunately, is not as hard as it might seem! Panang curry made with Real Food ingredients is especially easy.
But what if you want a low carb version?
Keto Thai Panang!
I was experimenting over the weekend to find a solution to this very dilemma!
You see, my husband no longer eats at any disaccharide sugars and hasn't for a couple of years now. I eat them rarely…even maple syrup and unrefined cane sugar like sucanat. We have found that these complex sweeteners no longer agree with us like when we were younger. We prefer to consume only fruit, 100% fruit sweeteners, and raw honey, which are much easier to digest.
The kids are fine with the more difficult to digest disaccharide sweeteners, however. So I was experimenting to come up with a Panang curry sauce that everyone in the family could eat.
And…I came up with one! The interesting thing is that the kids like this keto style Panang sauce even better than the one I used to thicken with sprouted flour and sweeten with sucanat!
If you love Thai food, try this sauce for yourself and see what you think. You can pour it over sliced beef or chicken or even seafood (wild shrimp is best in my opinion). Serve over soaked rice with a steamed or sauteed vegetable medley of your choice.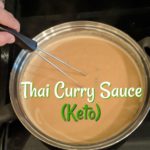 Thai Panang Curry Sauce (Keto Style)
Easy recipe for Thai Panang curry using whole food ingredients that are low carb and Keto Diet friendly.
Instructions
Mix the broth and the coconut milk in a large saucepan and bring to just below a boil.

Add peanut butter, red curry paste, and date syrup and whisk until smooth and blended with broth/coconut milk mixture.  

Add the fish sauce and bay leaves.

Simmer for 5 minutes or until slightly bubbly.

Taste the sauce and adjust to your liking. For example, if you want it a bit spicier, add more red curry paste.

Once you have the Panang curry sauce tasting like you want it, whisk the egg yolks in a medium-sized bowl and slowly ladle in about a cup of sauce while whisking vigorously.

Pour the egg yolk/sauce mixture into the pan with the rest of the sauce and blend. Cook for an additional 2-3 minutes.

Taste again and sea salt to taste.

Serve sauce immediately over rice and meat/veggie medley of choice.

Cool and refrigerate leftovers in a glass bowl with a lid. The sauce is good for reheating as leftovers for 4 days.
Nutrition Facts
Thai Panang Curry Sauce (Keto Style)
Amount Per Serving (4 ounces)
Calories 206
Calories from Fat 153
% Daily Value*
Fat 17g26%
Cholesterol 70mg23%
Sodium 281mg12%
Carbohydrates 6g2%
Protein 7g14%
* Percent Daily Values are based on a 2000 calorie diet.