Easy, no-cook, homemade pizza sauce made in one minute with simple, whole ingredients you probably already have in your pantry.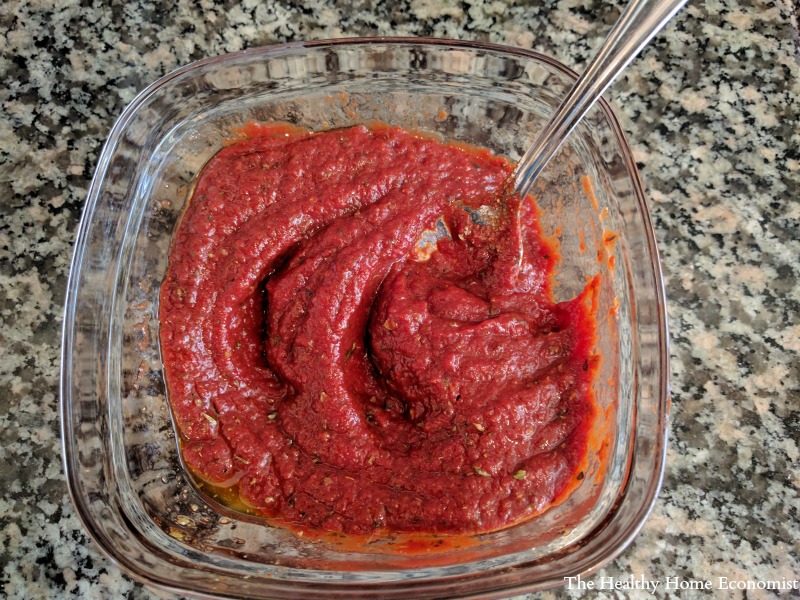 I don't buy pizza sauce from the store anymore and haven't for some time now as I have discovered how easy it is to make a no-cook, homemade pizza sauce. Making it yourself also tastes far better and only takes about 1 minute to make!
Red sauce takes a bit longer at 10 minutes if you prefer a marinara.
My reasons for avoiding organic pizza sauce in cans is very clear cut. The BPA issue with cans is a big one. A recent study has demonstrated that exposure to BPA, a known endocrine-disrupting chemical, from canned foods may be a whole lot higher than even drinking water from plastic bottles!
Even BPA free cans have health issues.
My reason for avoiding organic pizza sauce even if in glass jars is because that nasty ingredient citric acid seems to be in every single brand of pizza sauce I've ever examined! Some brands even add sugar.
Citric acid is a hidden source of MSG and I do whatever I can to avoid this dangerous additive for myself and my family. MSG damages the hypothalamus part of the brain stem. (1)
The hypothalamus is the Master Controller of the endocrine system. You don't want anything messing with your hypothalamus as this can cause serious metabolism issues. Rats fed MSG get morbidly obese, for example.
From a frugality standpoint, buying pizza sauce doesn't make sense either. Why pay the premium for pizza sauce when you can make your own in a matter of seconds? Making your own tastes fresher too and is an easy cooking step that your kids can do for you while you are preparing the rest of the family meal.
Homemade Pizza Sauce
Below is the homemade pizza sauce recipe I use when I'm in a hurry. It is no-cook, which makes it even faster and easier.
Prep Tip
The key to this homemade pizza sauce recipe is excellent quality olive oil. If you are less than satisfied with the taste of yours, check my Resources page for suggested brands of healthy fats for where to source a light, buttery olive oil for all your homemade sauces and dressings.
This is a great cooking lesson for an elementary school-age child to attempt. Learning to measure the right amount of ingredients for the homemade pizza sauce and simple mixing is all that it takes!
Lunchbox Idea
Spread this easy homemade pizza sauce on sourdough English muffins or sourdough bagels and melt some mozzarella or provolone cheese on top for a fast and nutritious lunch.
Try on a Homemade Crust
Here are four pizza crust recipe suggestions to try with this homemade sauce once you've whipped some up.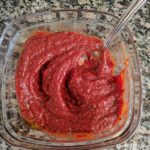 Easy One-Minute Pizza Sauce
One minute, no cook pizza sauce that can be whipped up with whole ingredients you probably already have in your pantry.
Instructions
Mix all the ingredients together in a small bowl. That's it! You're done

Refrigerate any leftovers. This easy pizza sauce will last a week in the refrigerator.
Nutrition Facts
Easy One-Minute Pizza Sauce
Amount Per Serving (0.25 cup)
Calories 55
Calories from Fat 27
% Daily Value*
Fat 3g5%
Sodium 250mg10%
Potassium 300mg9%
Carbohydrates 6g2%
Protein 1g2%
Vitamin A 75IU2%
Vitamin C 25mg30%
Iron 0.7mg4%
* Percent Daily Values are based on a 2000 calorie diet.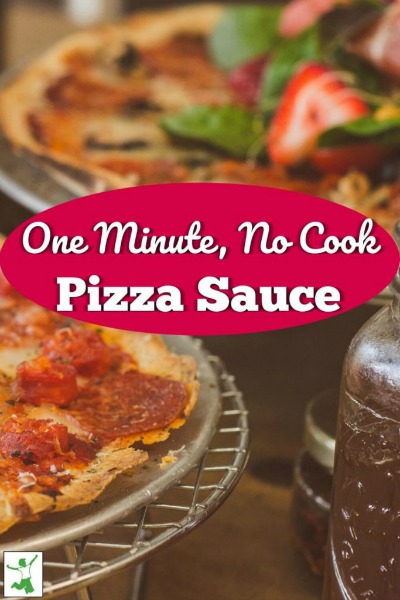 Related Recipes
Homemade Marinara Sauce
Homemade Chicken Barbecue Sauce
Eating Canned Soup Risks Major Health Problems