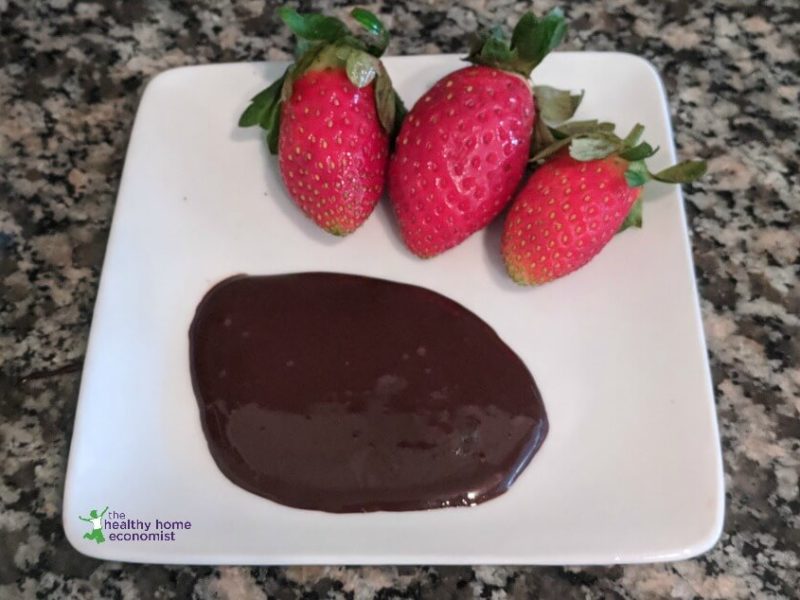 One of the most popular New Year's resolutions is to wean off sugar or at least do a temporary sugar detox.
While an admirable health goal that will absolutely improve your health in every way, it is quite difficult to accomplish in our sugar-saturated society.
Having a little trick up your sleeve that tastes like a treat without any sort of compromise can be a very valuable tool on the road to success.
This is especially true when children are involved and sugar elimination is necessary to help resolve autoimmune diseases via the GAPS, AIP, or SCD diet.
For those days when a little something sweet would be a godsend, try this fruit sweetened chocolate syrup recipe.
I suggest making a single serving at a time so that you only eat it occasionally.
You can, of course, make a lot, put it in a jar, and store in the refrigerator. But, I think you would end up eating a lot more than you intend this way!
I enjoy it with three or four sliced strawberries (not hydroponically grown!) or mixed with an equal amount of organic peanut butter.
If you have a preference to buy rather than make your own, this sugarfree, fruit-sweetened organic chocolate syrup is an excellent option too.
If you enjoy making your own sauces as I do, check out this complete list of the homemade sauce recipes I use in my home including strawberry syrup, white sauce, and butterscotch!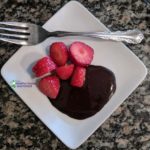 Homemade Sugar-free Chocolate Syrup
Simple, 4 ingredient recipe for chocolate syrup that is sweetened only with fruit. No sugar, sugar alcohols, stevia or artificial anything.

Instructions
Mix all the ingredients together in a small bowl.


Enjoy on sliced fruit, homemade ice cream, mixed with an equal amount of nut butter or straight off the spoon.

Recipe Notes
I don't recommend raw cacao powder for this recipe as it is extremely high in phytic acid. This substance can cause digestive distress in those with a sensitive stomach or unbalanced gut environment. Worse, phytates block mineral absorption.
Roasted cocoa powder is a better option as it is much lower in anti-nutrients. Some nutrients are lost in the roasting process, but the gains in digestibility more than offset this.
Either raw cacao butter or cocoa butter is fine for the healthy fat portion of this recipe.
Nutrition Facts
Homemade Sugar-free Chocolate Syrup
Amount Per Serving (1 Tbl)
Calories 25
% Daily Value*
Carbohydrates 6g2%
* Percent Daily Values are based on a 2000 calorie diet.