Real, authentic, simple to make butterscotch recipe that uses only five whole ingredients and whipped together quickly and easily on the stovetop just like Grandma!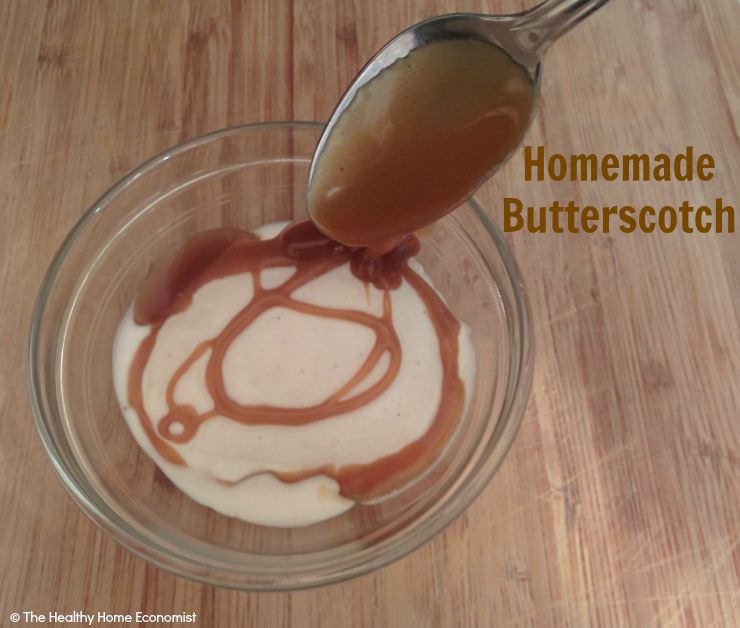 Butterscotch is a delicious whole food confectionary that gained widespread popularity starting around the mid-1800s as a flavoring for puddings, cookies, and other desserts like ice cream.
Unfortunately, because one of the main ingredients of authentic butterscotch is, of course, butter, its popularity declined precipitously and in lockstep with other full fat foods as the hysterical and misguided fat phobia grabbed the Western world by the waistline throat around the time of Ancel Keys' infamous debut on the January 13, 1961 cover of Time magazine.
This marked the beginning of the modern and very misguided war on cholesterol and saturated fat.
Real butterscotch was summarily replaced with synthetically flavored, nonfat, high sugar alternatives which persist to this day. While authentic butterscotch contains only a few ingredients, check out the ingredients list of Smucker's butterscotch syrup, one of the most familiar brands on the market. With the exception of salt, every single ingredient is either genetically modified (GMO), a preservative, additive or some other type of chemical!
(GMO) Corn Syrup, (GMO) High Fructose Corn Syrup, (GMO) Nonfat Milk, (GMO) Fructose, (GMO) Corn Starch Modified, Contains 2% OR LESS OF: (GMO) Whey Protein Concentrate (from (GMO) Milk), Salt, Natural Flavor, Potassium Sorbate (PRESERVATIVE), Polysorbate 60, Sodium Citrate, Disodium Phosphate, Yellow 5, Yellow 6.
Even if you are lucky enough to find an organic butterscotch syrup, the ingredients still aren't authentic. Take a look at the ingredient label of Newport Flavors Organic Butterscotch Syrup as an example:
Organic cane sugar, water, natural flavors, organic caramel & annatto (for color), and organic lemon juice concentrate.
Ahem, where is the butter? It is called butterscotch after all!
It seems that fat phobia still surrounds the idea of butterscotch (even though butter sales are making a strong comeback with consumers), so much so that if you want to enjoy butterscotch on a bowl of ice cream or make butterscotch pudding, an authentic and real version must be made in your own kitchen. Fortunately, such a task is a snap as you will see below!
I absolutely adore butterscotch. As a high school student, I would frequently stop on the way home at the Tastee Freez and pick up a large butterscotch shake. No doubt about it … the butterscotch in that shake was certainly not a good thing to be putting in my growing body at the time. It was certainly nothing but sugar, artificial flavors and preservatives with no butter to be found! At least there were no GMOs then!
These days, when I enjoy butterscotch and use it in recipes to serve my family, it is made the right way with a handful of real ingredients starting first and foremost with deep yellow, nutrient rich grassfed butter!
Homemade Butterscotch
If you love butterscotch as much as I do, you will be excited to learn just how easy it is to make a small jar to keep in the refrigerator for all your dessert and ice cream drizzling needs.
When you first look at the recipe, you might think, "Why this is nothing but cooked butter and brown sugar! How can this possibly taste like butterscotch?" The transformation from a relatively bland sugar/butter flavor into the amazing, complex flavor of butterscotch surprisingly comes from the salt and the vanilla! If this seems impossible, be sure to try the sauce before and after the salt and vanilla are added. You will be amazed!
Need sugar free butterscotch? Check out the linked recipe instead!
Caramel vs Butterscotch
Note that the butterscotch recipe below is not the same as salted caramel.
Caramel and butterscotch are similar and frequently confused. While butterscotch and caramel are both cooked sugars, caramel is made with white granulated sugar and butterscotch with brown cane sugar. This recipe uses sucanat which is brown sugar in completely unrefined form.
Whatever you do, don't use honey in a butterscotch or caramel recipe. Cooking honey is very mucous forming, according to traditional Ayurvedic cooking and destroys its natural antibiotic properties and valuable enzymes. This article on the dangers of cooked honey has more details.
Suggestion: Make a pan of homemade butterscotch pudding once you've made the recipe below!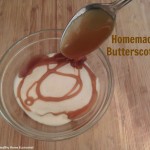 Homemade Butterscotch Recipe (5 ingredients!)
Real, authentic, simple to make butterscotch recipe that uses only a handful of whole ingredients and whipped together quickly and easily on the stovetop just like Grandma!
Instructions
In a small saucepan over medium heat, add the butter. When butter is melted, stir in the sugar and whisk for a minute or so until well blended.

Next, whisk in half of the cream (1/4 cup). Bring to a boil and then turn down the heat to medium-low and cook for 3-4 minutes. The mixture should be stirred frequently with a whisk, and you will probably notice that the texture will change slightly as the mixture cooks with the butterscotch starting to pull slightly away from the sides of the pan.

Turn off heat and remove the pot from the stove. Stir in the remaining 1/4 cup heavy cream. Follow with the vanilla extract, sea salt, and optional stevia drops.

Notice that the butterscotch color is a dark brown when made with whole, unrefined cane sugar.

Immediately pour the butterscotch sauce into a small glass jar. It is best not to scrape the sides of the pan as there might be some overcooked mixture that would compromise the butterscotch taste.

Butterscotch is amazing eaten hot! Try some right away off the spoon. Yum!

Use it while still warm as a topping for your favorite dessert or ice cream sundae.

When the butterscotch has thoroughly cooled, screw on the lid and refrigerate. Freeze what you will not use in two weeks.
Recipe Notes
Substitute coconut cream for dairy cream if desired.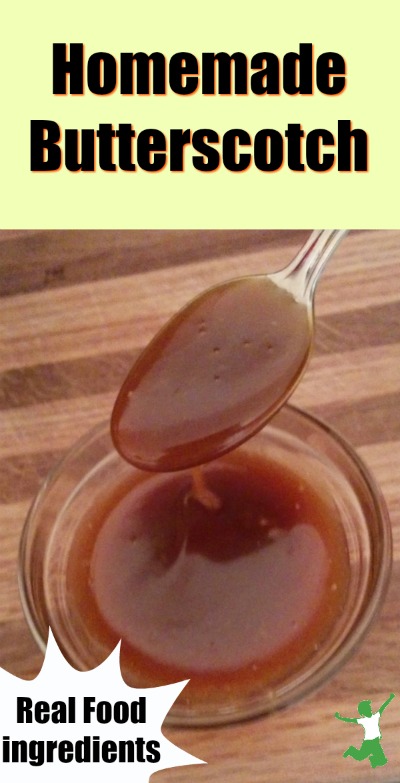 Other Syrup Recipes You May Enjoy
Homemade Chocolate Syrup (sugar free)
Homemade Strawberry Syrup
Elderberry Syrup Recipe to Boost Immunity (or Drizzle on Pancakes!)