This fast, easy and nutritious recipe for keto gravy is thickened without the use of starch or grain-based flour. It takes only 10 minutes to make and contains only 3 carbs per serving.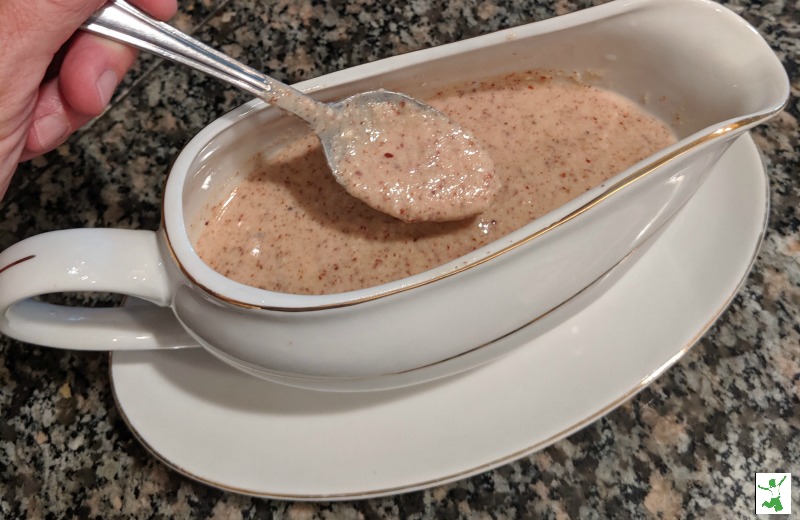 Several of you emailed after Thanksgiving to rave about how much you loved my low carb stuffing/dressing, so I thought I would share our family's easy, five-ingredient recipe for keto gravy too!
The problem with making low carb gravy is that it needs to be thickened.
If you don't use flour to do the job as is customary because you are grain-free, then another type of thickener is necessary.
For those that are gluten-free, organic cornstarch works fine.
For those that are paleo, arrowroot, tapioca or cassava flour are acceptable and get the job done.
However, keto diet fans need another alternative, as even the paleo options are too starchy. Those on the gut-healing GAPS protocol or the Specific Carbohydrate Diet require a no-starch thickener as well.
Even agar, a thickener derived from red algae is off-limits as it consists of over 90% carbs.
You can try using a third-party lab tested, glyphosate-free gelatin, but the texture isn't quite right, in my opinion, even if you let it cool a bit to solidify.
Since the essence of thickening involves starch of some kind, what to do?
Thickening Gravy without Starch
In my experience, the solution is to simply thicken gravy with almond flour. Almonds are very low carb with a mild, fairly neutral flavor. Hence, it does not overpower the umami flavor of the meat drippings, which form the base of the gravy.
Even better, this starch-free approach to making gravy is fast. No standing over the stove and constantly stirring while it cooks for 10-15 minutes. You simply blend and warm up the ingredients for instant homemade gravy.
While you can use either commercial or DIY almond flour for this recipe, the most nutritious keto gravy is made using freshly ground sprouted almonds. I use an electric spice/coffee grinder to easily and quickly make mine.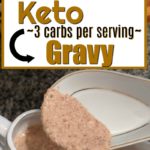 Thick and Rich Keto Gravy
Nutritious recipe for keto gravy that is thick and rich without the use of starch or grain-based flour. Only 3 carbs per serving and 10 minutes to make!
Instructions
Pour hot drippings from meat roasting pan into a medium-sized pot. Add bay leaves and simmer on medium heat for 5 minutes.

While meat drippings are simmering, quickly grind sprouted almond flour. If you are using commercial almond flour, skip this step.

Slowly stir in the almond flour and then the cream.

Warm until hot but not boiling. About 3-5 minutes on medium heat.

Taste and add sea salt and pepper as needed. Serve immediately.

Refrigerate leftovers after cooling to room temperature. Keto gravy will last 4-5 days refrigerated. Freeze what you won't use in that period of time.
Nutrition Facts
Thick and Rich Keto Gravy
Amount Per Serving (0.25 cup)
Calories 342
Calories from Fat 315
% Daily Value*
Fat 35g54%
Cholesterol 44mg15%
Sodium 160mg7%
Potassium 11mg0%
Carbohydrates 3g1%
Protein 4g8%
Vitamin A 219IU4%
Calcium 1mg0%
* Percent Daily Values are based on a 2000 calorie diet.