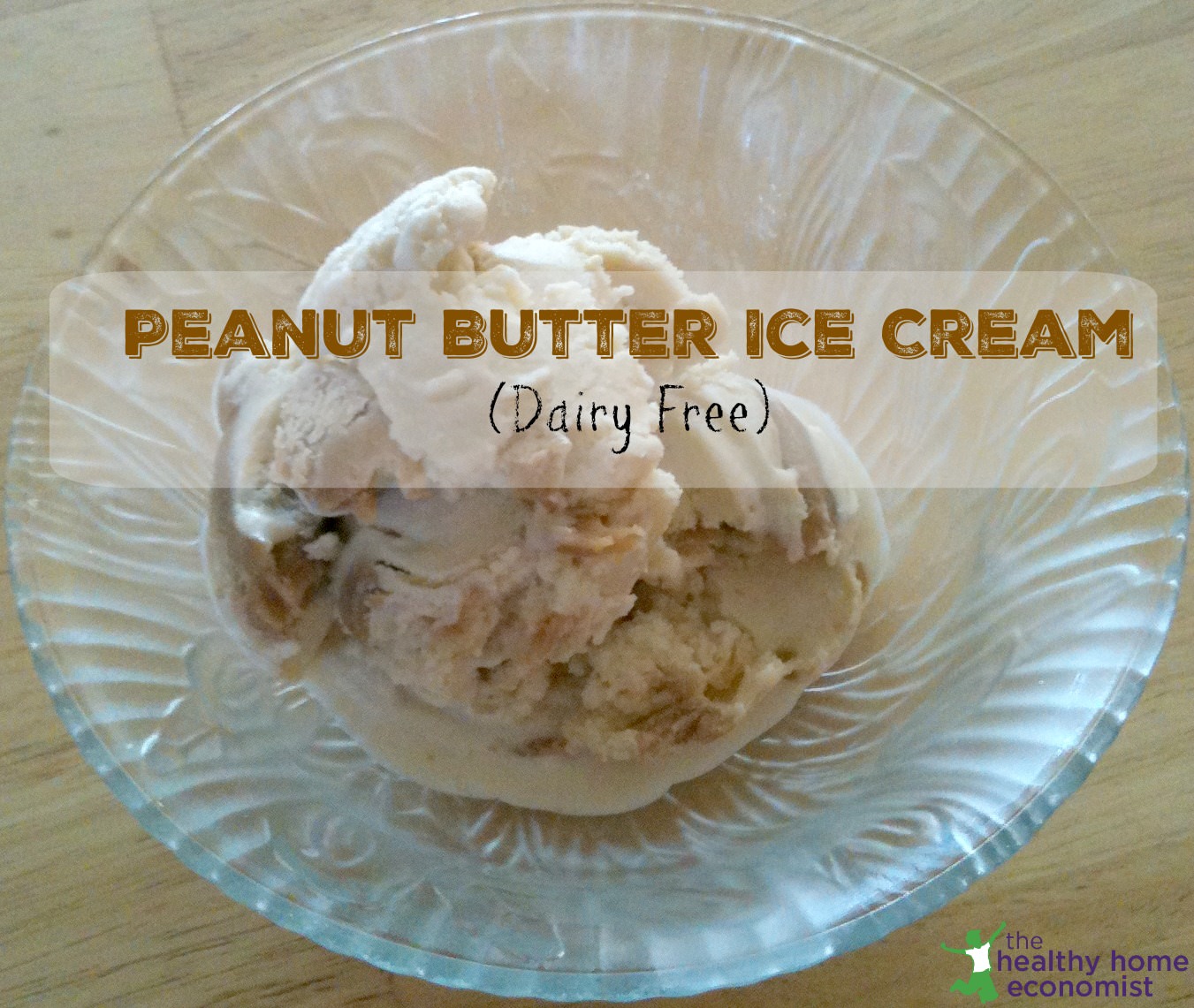 Despite its reputation, ice cream, even fancier flavors like peanut butter ice cream, can be a very healthy dessert to serve your family when you make it yourself at home with quality ingredients.
Commercial ice cream has many dangers as I've outlined in the previous post Antifreeze in Your Ice Cream.  Once you realize that store ice cream is best to avoid and you want to try making your own, be sure to check out my recipe plus video tutorial on homemade vanilla ice cream.
Once you've got the hang of the basics, you can get creative with flavors and textures to delight your family!
Homemade Peanut Butter Ice Cream
My friend Dorsey sent me this fabulous dairy free, peanut butter ice cream recipe. She just loves to experiment with Real Food in her kitchen. Dorsey shared another recipe published on this blog on how to make a delicious grain free angel food cake. It was a huge hit for readers on a grain free diet or those on a gut healing protocol such as GAPS, AIP, or SCD.
Dorsey's encore recipe below for peanut butter ice cream will prove just as popular I'm sure.
Try this sugar free chocolate syrup recipe (sweetened with fruit) drizzled on top!
Peanut Butter Ice Cream Recipe
Recipe for peanut butter ice cream using only whole ingredients that the whole family will enjoy. Any nut butter can be used. Dairy free too!
Instructions
Mix peanut butter, honey, and coconut oil together well and set aside.


Mix remaining ingredients and process in ice cream machine.

When the ice cream is finished, spoon about a quarter of it into a container. Spoon about a quarter of the peanut butter mixture into the container and swirl with a knife. Repeat until all the ice cream and peanut butter mixture are used.

Freeze your dairy free peanut butter ice cream treat and enjoy!
More Information
The Truth about Twistee Treat