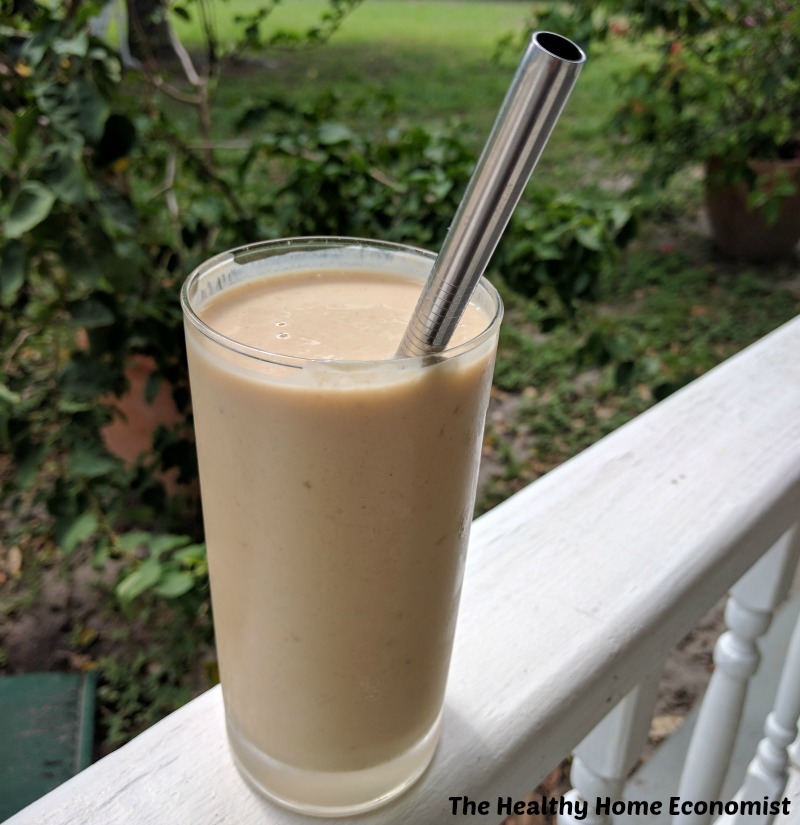 For those of you who love peanut butter and banana toast, have I got a smoothie idea for you!
This recipe for a peanut butter banana smoothie is so delicious and filling, you might not even be hungry for lunch. 
I'm serious.
This is the breakfast I make when I have so much going on that I won't be able to break for lunch until 1pm or later. It stays with me from 7am to 1pm with no tummy growls whatsoever.
This power smoothie stays with you like no other smoothie I've tried. It is delicious and tastes like a healthy version of a peanut butter banana shake.
Peanut Butter Banana Smoothies: The Key is the Peanut Butter
I have to say that the key to the fantastic taste of this smoothie is the quality of the peanut butter you choose. If you use Skip or Jif (I certainly hope not!), I think you will be disappointed.
My family and I are peanut butter aficionados. We are very picky about the brands we buy. Peanut butter in our house is serious business.
The consensus of every single member of my family is that the Maranatha organic creamy, hint of sea salt peanut butter is quite simply, the best peanut butter on Planet Earth. Don't be dissuaded by the fact that you will need to vigorously stir together the peanut butter and the unrefined peanut oil on top when you first open it. You will realize that the extra effort is worth it when you taste it.
Sprouts and Whole Foods regularly have it on sale for around $5-6 per jar.
Watch out, though. Maranatha makes an organic, creamy no stir peanut butter that looks almost exactly the same. It has sugar in it and isn't nearly as tasty. I don't know about you, but quality peanut butter made with Valencia peanuts needs no sugar to boost the flavor. Good peanut butter stands on its own – roasted peanuts only.
Avoid Raw Peanut Butter
What about raw peanut butter? I would suggest to avoid eating raw peanuts in any form as they are one of those foods that are high in lectins. Yes, it's always best to skip those buckets of raw peanuts on the table at some restaurants!
These powerful anti-nutrients are easily deactivated by heat, so stick with roasted. Boiled peanuts are safe to eat too unless there is an peanut allergy of course.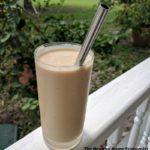 Peanut Butter and Banana Smoothie Recipe
This peanut butter banana smoothies is a must try for those that love these two foods together on toast.
Instructions
Place all ingredients in a large mason jar

Blend with a handheld blender until very smooth

Refrigerate leftovers and use within 1-2 days.
Recipe Notes
Whole milk kefir or clabbered milk may be substituted for yogurt.
If you are working on improving gut health, adding a very small amount of banana flour to this smoothie helps with insulin control and keeping gut probiotics happy. One-half teaspoon is a good amount to start with, working up to 1-3 tablespoons over time.
More Smoothie Recipes to Try
Sarah, The Healthy Home Economist