Table of Contents

[Hide]

[Show]
A traditional Ayurvedic beverage, lassi is India's answer to the modern smoothie. This easy recipe contains a choice of fruit with probiotic-rich yogurt and milk.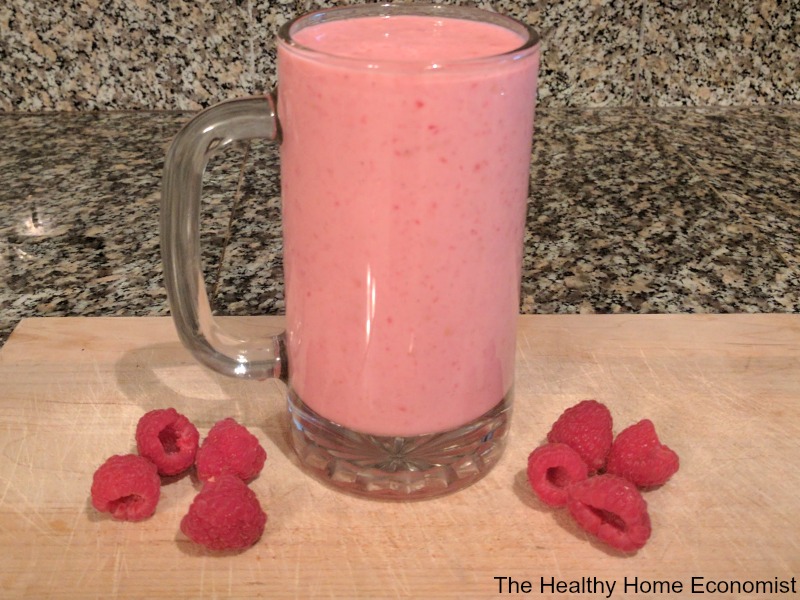 My approach to food shopping with my children is essentially to let them put anything in the cart as long as it's healthy. The positive side of this approach is that it encourages creativity and trying new and unusual foods. It also focuses the attention on saying "yes" to nutritious foods instead of a repetitive "no" to all the junkie stuff.
The flip side is that you can arrive home with large quantities of highly perishable items. This is exactly what happened the other day when I discovered that we had far too many raspberries crammed into the refrigerator than we could use before they spoiled. The answer to that problem? Make lassi – and lots of it!
Lassi is a traditional yogurt drink common in Northern India. In essence, it is Ayurveda's delicious answer to the Western smoothie or egg cream.
Made with a blend of yogurt, milk (or water/ice) and fruit, herbs or spices, lassi is consumed daily by many residents living near the banks of the Ganges river. You have to be very careful when ordering locally, however. "Special" versions of the beverage are usually spiked with bhang, or ground leaves of the cannabis or hemp plant.
Making Lassi with Fruit or Spices
The typical lassi shop in Northern India offers dozens of variants of the beverage on the menu. The mango lassi is a highly popular version made with the fruit's pulp. Papaya and apple are two other favorites.
The lassi recipe below is made with fresh raspberries. Sliced strawberries work very well too.
Savory Lassi
If you prefer a more savory drink, lassi can be made with salt and roasted cumin instead. This version of a lassi drink is particularly beneficial for those with anxiety and coldness prone Vata constitutions as it stimulates appetite and promotes warmth and intestinal calm. Kitchari porridge is another traditional Ayurvedic dish using cumin and other warm, soothing herbs.
Sweet Lassi
Sweet lassi ordered on the street in India usually contains added sugar in addition to fruit. This makes the beverage far too sweet, in my opinion. When you make sweetened lassi at home, you only need fresh fruit in my experience.
If you must add sweetener, a small amount of raw honey is best. Creamed honey works too. If you desire, you can add a couple of drops of stevia extract instead.
My recommendation is to make fruit lassi without any sweetener at first and see if you can do without anything else. My guess is that you will find it plenty sweet with fresh fruit as long as it is very ripe.
Cultured Milk Options
While traditional lassi is made with yogurt, feel free to use kefir instead if you prefer. If you are wondering which is healthier, this article that compares the benefits of yogurt vs kefir can help.
Looking to buy instead of DIY? Check out this article which ranks yogurt brands.
If you need to use up some raw grass-fed milk that is past its prime for drinking, clabbered milk is another option to yogurt. In fact, clabbered milk has a texture and taste very much like drinkable style yogurt, so this substitution works quite well for making lassi.
If you are dairy-free, coconut kefir or coconut yogurt can be substituted for the dairy yogurt portion of the recipe below. For the dairy milk, feel free to use the milk substitute of your choice. Cultured versions such as fermented almond milk are fine too.
I would not recommend mixing non-dairy alternatives. For example, steer clear of using coconut milk yogurt with almond milk. In other words, keep similar flavors together. For example, use coconut milk yogurt with plain coconut milk and almond yogurt with plain (or fermented) almond milk.
I do not recommend coconut milk or almond milk in cartons from the store. If you must buy commercial versions of these beverages, be extremely careful as synthetic vitamins, additives, and even carcinogenic carrageenan are frequently added. It really is best to make your own versions of these beverages at home if at all possible. This will make the healthiest lassi for your family.
Have you ever tried this traditional yogurt drink from India? If so, do you prefer sweet or savory versions?
Raspberry Lassi Recipe
A traditional Ayurvedic beverage, lassi is India's answer to the smoothie. This easy recipe contains choice of fruit with probiotic rich yogurt and milk.
Instructions
Add milk to the mason jar.

Add fresh fruit of choice. I used raspberries. Mango cubes, sliced peaches or strawberries work well too.

Add optional honey or stevia drops and ice if desired.

Blend for 15 seconds with a hand-held immersion blender.


Serve immediately. Refrigerate leftovers.
Recipe Notes
I know I will get a lot of emails about this, so I thought I'd mention that the mug of raspberry lassi has a stainless steel straw. I've tried glass straws (they break too easily), bamboo straws (they taste funny), and paper straws (too flimsy), and by far stainless steel is our family's favorite to replace plastic straws.
If you want to add ice to your lassi, use a regular blender instead of a handheld stick blender.
Nutrition Facts
Raspberry Lassi Recipe
Amount Per Serving
Calories 331
* Percent Daily Values are based on a 2000 calorie diet.