Table of Contents

[Hide]

[Show]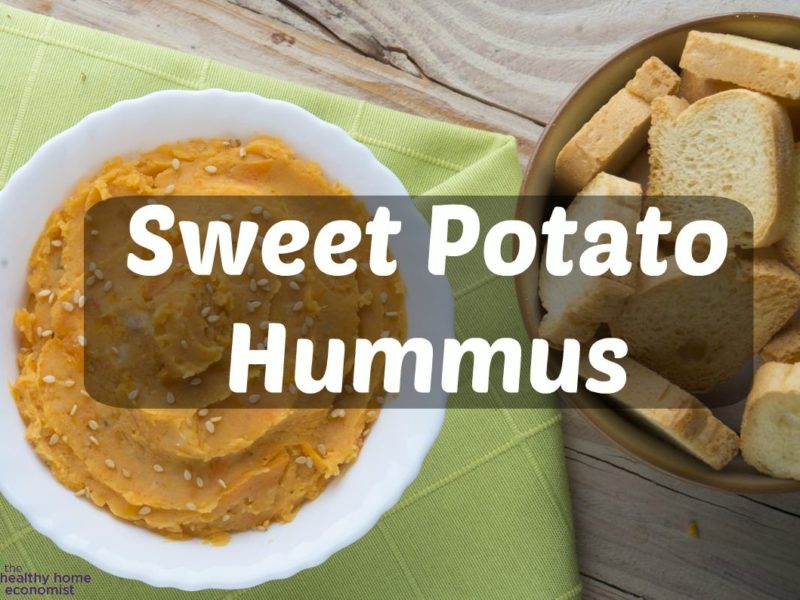 Sweet potato hummus is Real Food that fits the budget!
I first met Arabella Forge, author of the sensational book Frugavore, at the 2004 Wise Traditions Conference. We immediately hit it off as my husband is also from her hometown of Melbourne Australia, and I have visited that beautiful city on several occasions.
Free Weekly Newsletter + Report on Secrets of Strong Immunity
Arabella and I have kept in touch since then with my Melbourne residing Mother-in-Law getting to know Arabella as well through sharing of some garden extras on occasion!
I was very excited to learn that Arabella's book Frugavore had recently been released in the United States. The Australian version has already received a thumbs up book review from Sally Fallon Morell, President of the Weston A. Price Foundation.
This book is simply loaded with practical advice and recipes for those who seek to eat Real Food on a budget – wasting not and wanting not.
Homemade Hummus
One of the most unique recipes in Frugavore is this one for sweet potato hummus. It is a unique and tasty twist on the traditional Middle Eastern favorite made with chickpeas. Another awesome recipe from this book is Moroccan rabbit hot pot.
Tip: try this delicious hummus spread on these sourdough tortilla chips.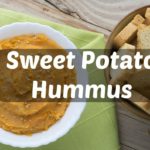 Sweet Potato Hummus Recipe
Recipe for sweet potato hummus that is a unique and delicious twist on the traditional Middle Eastern favorite using chickpeas.
Total Time
1
hour
5
minutes
Instructions
Soak the chickpeas in water with a pinch of baking soda overnight to improve digestibility and nutrient absorption considerably. Drain, rinse and re-cover with fresh filtered water, bring to a boil and simmer for 30 minutes.

Coarsely chop the carrot and sweet potato and add them to the pot along with the garlic. Simmer for an additional 20-30 minutes or until the chickpeas and vegetables are soft.

Drain the veggies and chickpeas (do not use as aquafaba) and process together in a food processor along with the paprika and lemon juice. Taste and add sea salt as necessary. Add olive oil gradually, pureeing at high speed until a very smooth paste is formed. Use more olive oil to obtain the desired consistency.

Serve sweet potato hummus immediately.

Be sure to refrigerate any sweet potato hummus leftovers in an airtight, preferably glass container (I like these).
Recipe Notes
32 oz of jarred chickpeas may be substituted for the dried chickpeas soaked overnight.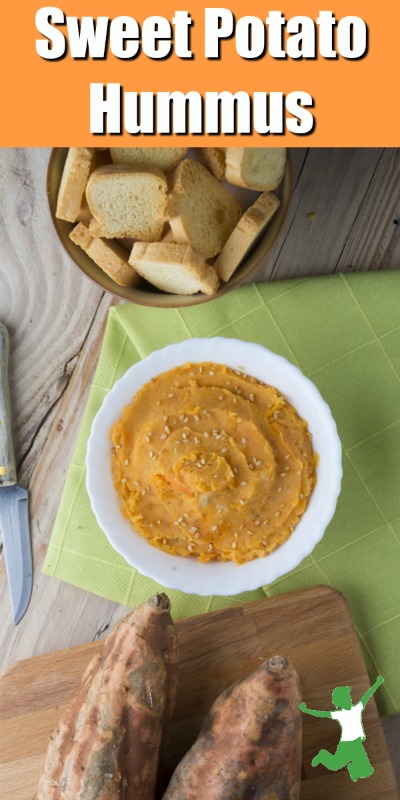 More Sweet Potato Recipes
Love this sweet potato hummus recipe? Try these other sweet potato recipes too.