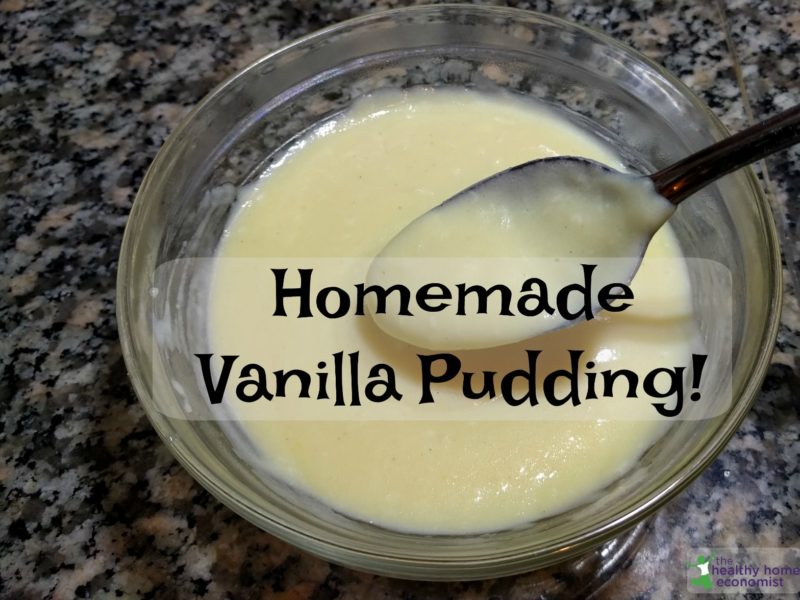 Ah, homemade vanilla pudding …. truly, one of the ultimate comfort foods especially when the weather turns cool.
Kids especially love pudding and a homemade pudding cup makes a wonderful healthy addition to the lunchbox if you make it yourself with wholesome ingredients.
Whatever you do, skip those pudding boxes from the supermarket. They are nothing but white sugar, GMO corn starch, artificial colors, and flavors plus preservatives.
Even if boxed pudding is made with good quality whole milk, the end result is not be something that would be of overall benefit. Kind of like raw milk served with a bowl of Fruit Loops, wouldn't you agree? What's the point in that?
Homemade Vanilla Pudding
It's time to ditch the pudding boxes and processed pudding snack cups and learn how to make homemade vanilla pudding the old fashioned way with nothing but wholesome ingredients.
The stovetop recipe for vanilla pudding below uses only six ingredients. Even the organic pudding boxes, while a much better choice, don't compare nutritionally! The vanilla is not real vanilla extract, for example. It is cheap vanilla flavoring. And, only milk is necessary to make it with no eggs or butter. These are important ingredients in this homemade recipe to make the pudding very filling so you don't overeat!
How to Make Vanilla Pudding [VIDEO]
In this video, I show you how my Grandma used to make vanilla pudding on the stovetop. She called it blancmange although she never bothered to set it in a mould as is sometimes done. It serves up wonderful and warm straight from the pot with no need to refrigerate first unless you prefer your pudding served cold.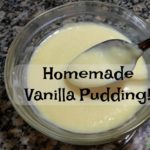 Homemade Vanilla Pudding Recipe
Easy homemade vanilla pudding recipe, the ultimate comfort food, using only whole ingredients just like Grandma used to make.
Instructions
Mix the flour and about a half cup of the milk in a small bowl and whisk until very smooth with no lumps.

In a large saucepan, combine the flour/milk mixture, sugar and the rest of the milk. Cook and stir with a whisk over medium heat until the mixture starts to slightly bubble.  Cook for 2 minutes more and remove saucepan from the heat.

In a small glass bowl, beat eggs and then gradually stir in about 1-2 cups of the cooked mixture all the while whisking vigorously. Pour egg mixture into the saucepan and return to medium heat. Cook/stir until nearly bubbly but not a boil. Reduce heat and cook/stir for 2 more minutes.

Remove pan of homemade vanilla pudding from heat. Stir in butter and vanilla.

Let vanilla pudding cool for 5 minutes and serve warm.

Refrigerate uneaten portion and use for homemade vanilla pudding cups for your children's lunches or for quick at home snacks.
Recipe Notes
You may substitute whole coconut milk (where to find) for a dairy free homemade vanilla pudding version.
Organic cornstarch may be substituted for the flour. I don't recommend arrowroot powder as the cooking of the pudding tends to reduce its thickening properties.
Love pudding? Try these other recipes!
Egg Custard Pudding
Bread and Butter Pudding
Jello Pudding
Macademia Nut Pudding
Thai Custard Pudding
Homemade Chocolate Pudding
Russian Custard
Coconut Milk Pudding