Jun tea is made with green tea and raw honey and is the lighter, faster brewing version of kombucha. Try the easy recipe below with how-to video and learn about the history and health benefits of this delightful fermented beverage also called kombucha champagne.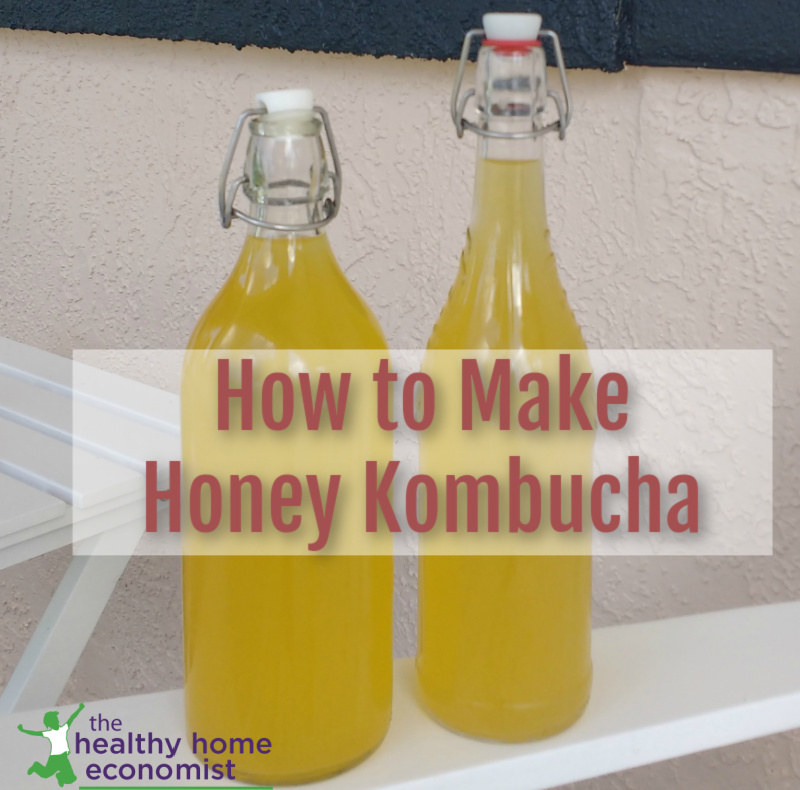 I was gifted my very first Jun tea culture from a friend who told me that he seemed to digest it even better than the fermented drink known as kombucha.
I was excited to learn of a ferment made with honey and green tea instead of black tea and sugar, which is what you use when making kombucha at home.
The reason?
In 2001, shortly after I first began brewing kombucha, a Chinese friend who came to dinner told me her mother had made a very similar drink when she was a child growing up in Guangdong Province. The difference? Her mother made the ferment with green tea and honey.
Ever since that night, I've been intrigued by this mysterious ferment. Now I know it was very likely Jun tea.
The History of Jun Tea
Jun is widely found today in western Tibet (the number one place on my bucket list to visit someday) although it's actual history is shrouded in rumor and mystery.
Some Jun dealers claim that the earliest writings about Jun tea date back to 600 B.C. in Northeast China where the elixir was valued for its ability to open energy (chi) in the body and increase circulation. Unfortunately, no source for these "earliest writings" is actually given.
Jun cultures are precious and a bit hard to find, to say the least. "Heirloom" Jun cultures are apparently so rare, in fact, that there have been robberies of Jun cultures reported by specialty fermentation dealers in recent years with the distribution of daughter cultures of the stolen originals ending up in Hawaii in Colorado.
Jun vs Kombucha
To say that I am in love with this lighter, faster brewing cousin of kombucha would be an understatement! Let's examine some of the similarities and differences between these cousin ferments.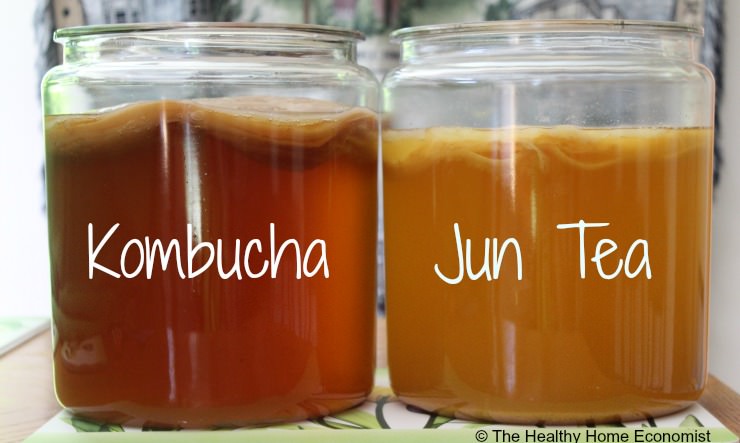 Uses slightly less tea and sweetener

Where a full gallon of kombucha typically uses 4-5 teaspoons of black tea and 1-1.5 cups sugar, a gallon of Jun requires 4 teaspoons of green tea and 1 cup of honey, ideally locally sourced and raw.
Hence, this is why Jun is sometimes called honey kombucha.
This means that Jun tea would be free of any potential disaccharide residues from the white sugar and hence friendly to those on the GAPS Diet.
Steeping and brewing times are shorter
The (loose) green tea used to make Jun is steeped for only two minutes, whereas for kombucha, steeping time is normally 10 minutes. Brew time is also shorter for Jun – 6 days versus 7 days minimum for kombucha.
This results in a lower caffeine final brew (if any is left at all) with lower potential fluoride content as well if lower quality and/or nonorganic tea is used for budget reasons.
Brews better at cooler temperatures
According to my friends at Kombucha Kamp, the ideal brewing temperature for Jun tea is between 68-77 F (20-25 C). For kombucha, the temperature range for optimal brewing is 78-85 F (25.5-29 C).
As a result, depending on the temperature of your home, either Jun tea or kombucha may make more sense depending on the seasonal effect.
More Expensive to Make

On the downside, brewing Jun tea is significantly more expensive than kombucha. However, it is still far cheaper than buying bottled kombucha from the store.
While I brew kombucha for around 25 cents per quart, the cost of a quart of home-brewed Jun tea is about $2.50, 10 times as much!
The difference in cost is primarily due to the higher price of quality honey as compared to the cane sugar used to make kombucha.
More alcoholic

In addition to the increased cost, Jun tea is more alcoholic (around 2%), with kombucha clocking in at .5% for a typical batch.
Increased alcohol content makes Jun tea inappropriate for children.
In addition, it is not advisable for consumption during pregnancy and breastfeeding. Kombucha, on the other hand, is a ferment I enjoyed all throughout pregnancy and lactation and allowed my children to sip in small amounts starting around age 2.
Should You Try Honey Kombucha?
If you have never made kombucha or other home ferments before, I suggest you start with kombucha as it is far less expensive to make and failure of a batch or two won't cost you much.
On the other hand, if you are experienced at home ferments, give Jun tea, the champagne of kombucha, a try!
Who knows? You might end up a Jun-kie!
Where to Find a Potent Culture and Starter
Unfortunately, not that many people brew Jun tea, so it is hard to find someone in your community who can share a culture and some starter with you.
Thus, I would suggest buying an authentic Jun culture and starter from Kombucha Kamp. My friends Hannah and Alex will take good care of you and guarantee a full potency culture that is always fresh, never dehydrated or frozen. This is where my culture hails from.
Included in the recipe below is a 3-minute video that overviews the Jun Tea making process. Enjoy!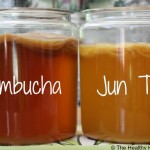 Jun Tea Recipe (Kombucha Champagne)
This recipe for Jun tea is delicious and easy to make and will delight kombucha fans.
Instructions
Heat the water to 165 F/74 C in a large pot. Use a frying or candy thermometer to check the water is not too hot (I use this one).

Hint: Do not boil the water like when making kombucha.

Remove the pot from the heat.

Place 4 tsp loose tea in a stainless steel tea mesh (I use this one) and hook to the side of the pot. Let steep for 2 minutes.

Remove tea mesh and pour hot tea into a fermentation vessel (I use these).

Stir in honey and let the mixture come to room temperature.

Stir in the starter and stir to mix. Place Jun tea culture on top. Cover with a clean, white tea towel or flour sack cloth (like these) and secure with a large rubber band.

Place in a quiet room (the top of a bureau in a guest bedroom or the top of a file cabinet in a home office is perfect). Ideally, not the top of the refrigerator or other appliances as the EMFs will weaken the Jun culture over time).

Leave undisturbed and do not move for 3-6 days.

Harvest after 3 days if you wish to bottle the Jun tea for 3 more days for additional fizziness (see this video for the how-to) or leave for 6 full days if you don't intend to bottle.

Place Jun cultures in a glass jar or bowl with sufficient brewed Jun tea to cover and reserve in the refrigerator for your next batch.

Bottled Jun tea should always be very cold and opened in the sink to prevent accidental fizzing over onto the counter and floors.

Finished Jun tea should be stored in the refrigerator in clear glass only. No plastic, no enamel, no colored glass.
Recipe Video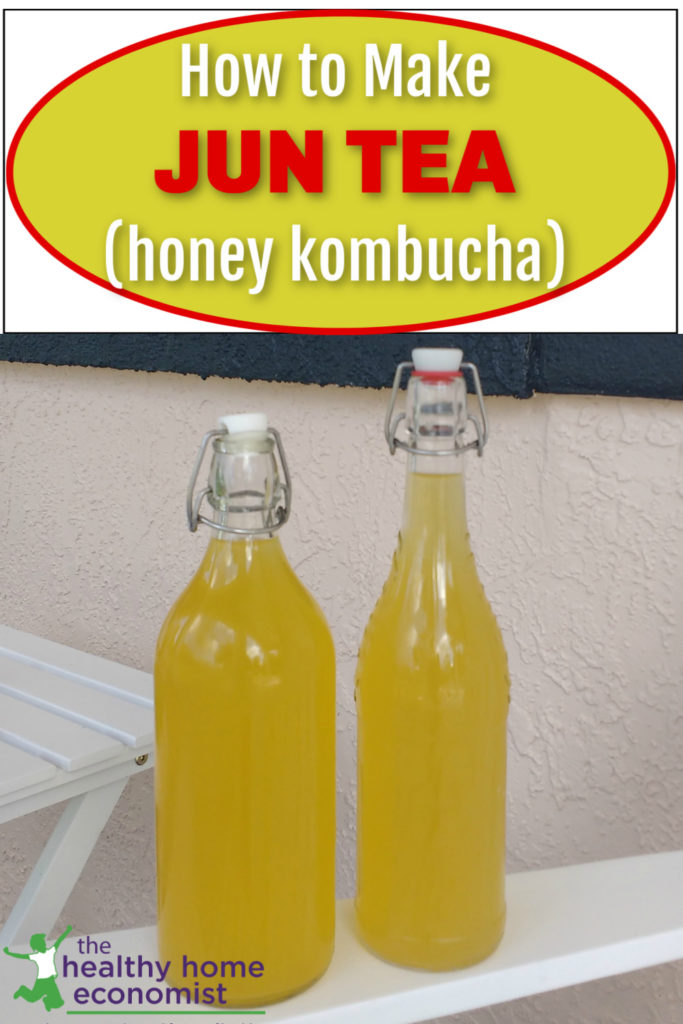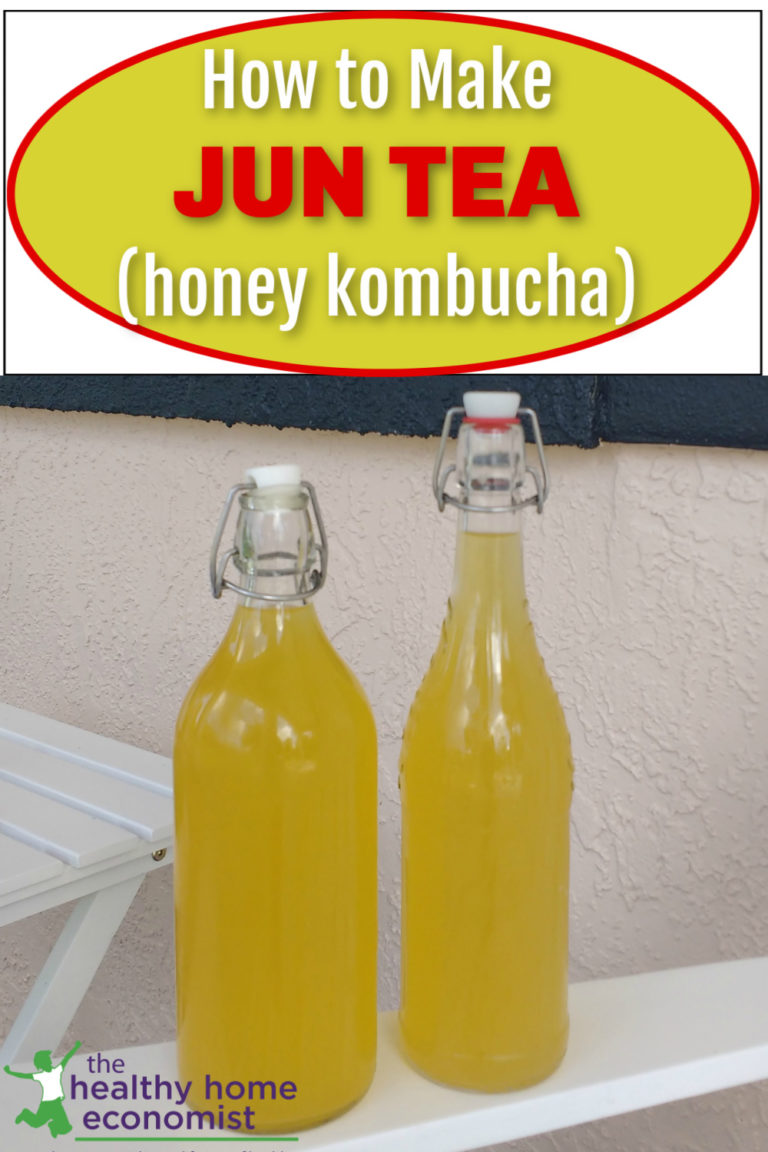 More Information
Fluoride in Kombucha: Should You Be Concerned?
Have You tried Kombucha Tea?
Switchel: Nature's Healthy Gatorade
Can Candida Sufferers Drink Kombucha?
Kombucha: What it is and How to Make it (plus video how-tos)
Does Kombucha Prevent Grey Hair?
Batch vs Continuous Brew Kombucha
Addicted to Store Kombucha? Here's Why