Easy blueberry muffins recipe using green banana flour that contains beneficial resistant starch to nourish and strengthen beneficial probiotics in the gut while enjoying a healthy breakfast or snack!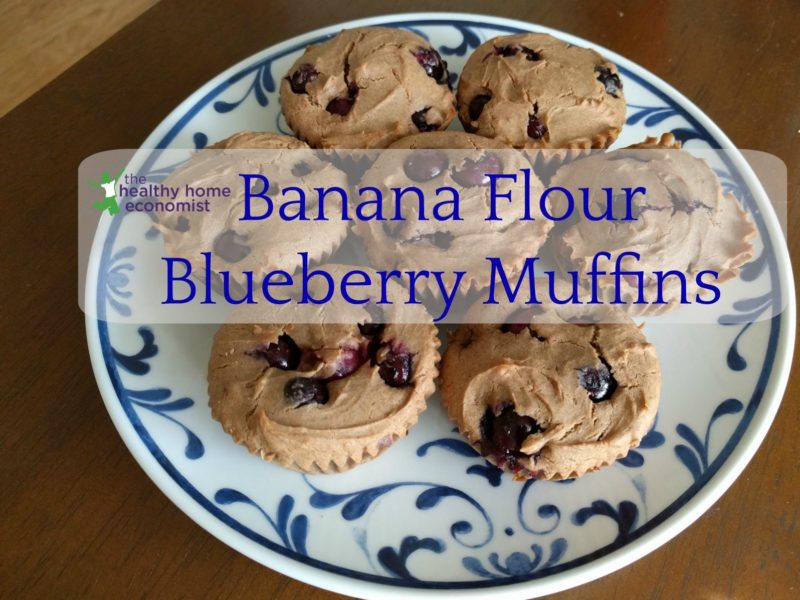 The benefits of eating starchy green bananas are making lots of waves in the health community. While some diets demonize all things starch, the truth is that it can be a very nourishing food if you get the right kind. The classic blueberry muffins recipe below uses green banana flour for a delicious and easy way to get some into your family's diet!
What is it about the starch in green bananas and banana flour that is so good? These foods contain a special type of carbohydrate called resistant starch that nourishes and strengthens beneficial gut microbes. Hence, it is an important type of food to be eating on a regular basis if a balanced gut environment is important to you.
Other foods that contain resistant starch include:
Note that gut healing diets such as the GAPS protocol exclude all starch from the diet temporarily while the intestinal wall heals and seals. This doesn't mean starch is "bad", just that it is contraindicated until healthy digestive function is restored. Once this is achieved, resistant starch in the diet can help it stay that way! This article outlines the many benefits of resistant starch (RS) to gut health if you'd like to learn more.
Green Banana Flour Muffins with Blueberries!
Green banana flour has a mild banana taste when eaten raw. When cooked or baked as in the recipe below, however, it loses all banana flavor and has a texture very similar to light wheat flour. It is a very good choice for making low to no grain baked goods.
What's more, preliminary research has shown that the type of RS in banana flour is more resistant to heat than other sources like potato starch, which is encouraging for those of us who might prefer to cook with it than eat it raw. In addition, after the muffins cool, a portion of the resistant starch becomes active again.
The most surprising thing I discovered about green banana flour is how it soaks up the moisture! It is definitely the thirstiest flour I have ever baked with requiring more than a little trial and error to get the right consistency for muffin batter.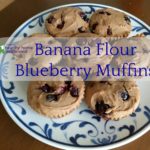 Green Banana Flour Blueberry Muffins Recipe
Easy recipe for blueberry banana flour muffins using green banana flour that contains beneficial resistant starch to nourish and strengthen beneficial probiotics in the gut.
Instructions
Preheat oven to 350 F/ 177 C. Mix banana flour, gluten free flour, sea salt and baking powder together in a mixing bowl.

In a separate bowl, beat eggs and mix in date syrup, coconut oil, and vanilla extract.

Combine the wet and dry ingredients together until well blended.

If the batter is too thick, slowly thin with whole milk until a consistency like homemade frosting is achieved.

Fill muffin cups about 3/4 full with batter.

Press about 6-7 blueberries into each batter filled cup. Leave a few blueberries poking out of the top.

Bake at 350 F/ 177 C for 20 minutes. Remove from oven, cool and then enjoy a muffin or two with a generous square of grassfed butter on top.

Keep in an airtight container on the counter for quick and easy snacking. Refrigerate muffins you will not use in 1-2 days.
Nutrition Facts
Green Banana Flour Blueberry Muffins Recipe
Amount Per Serving (1 muffin)
Calories 205
Calories from Fat 99
% Daily Value*
Fat 11g17%
Cholesterol 55mg18%
Sodium 31mg1%
Potassium 224mg6%
Carbohydrates 22g7%
Protein 4g8%
Vitamin A 100IU2%
Vitamin C 3.3mg4%
Calcium 20mg2%
Iron 0.9mg5%
* Percent Daily Values are based on a 2000 calorie diet.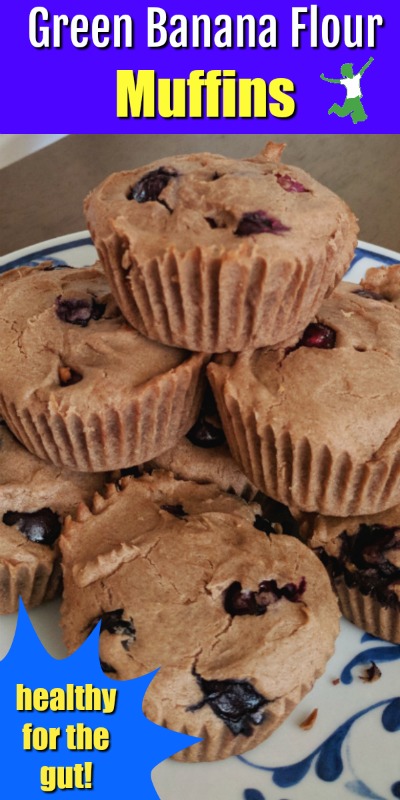 More Healthy Muffin Recipes!
Try these other muffin recipes too!