Table of Contents

[Hide]

[Show]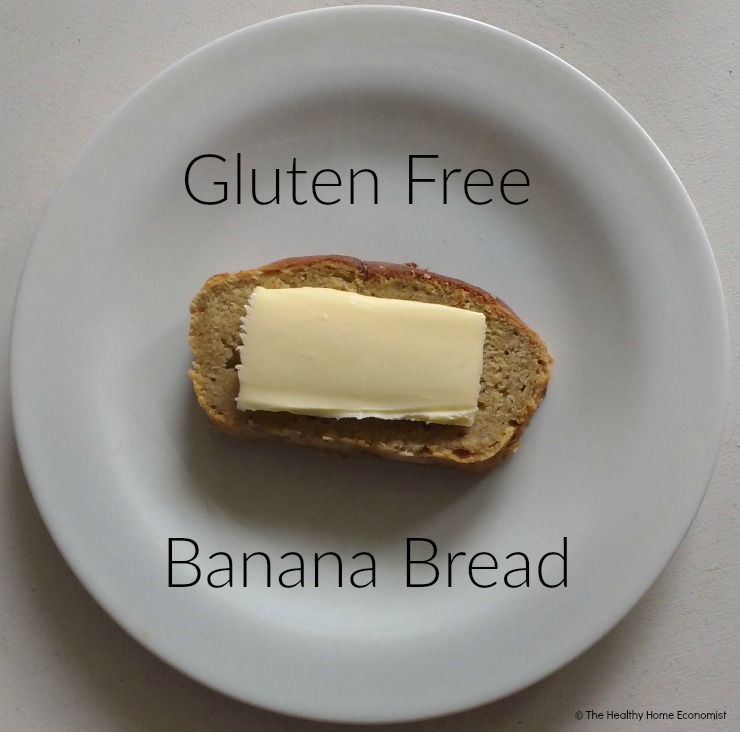 Gluten free banana bread is the latest breakfast craze around our house. Over the years, I've made banana bread and banana muffins more ways than I can count.
Usually, I use einkorn flour. Other times, I use coconut flour or almond meal/flour to mix things up and add variety.
With this recipe, I'm sharing my recipe for banana bread using a tasty whole grain gluten free flour blend made with teff, sorghum, millet, and brown rice.
Gluten Free Bread Baking
Going gluten free presents a special set of challenges when it comes to baking.
One of the biggest problems with the gluten free flours on the market is that the all-purpose ones are not at all suitable for baking bread (except for this line of healthy gluten free flour mixes).
Think about it this way ….
The texture of a slice of bread is quite different in comparison with a piece of cake. Ideally, bread is a bit chewy (more so for sourdough bread) and cake is not.
As a result, successful blending of gluten free flour for pastry making versus bread making requires different percentages of the whole grains used. This difference greatly affects the outcome of the recipe, which is why a standard gluten free all-purpose flour from the store does not work very well for making bread even when you are attempting a simple gluten free banana bread.
Another serious problem with gluten free flour from the store is that up to half its weight is refined starch (as opposed to beneficial resistant starch). This starch is just empty calories, lacking in nutrients and flavor that benefits neither you nor your baking. Starchy flour also means that you are more likely to overeat anything made with it, as a low nutrient food takes longer to satisfy and means we get hungry again faster. It can encourage sugar cravings and candida problems to flare in susceptible individuals.
Homemade Gluten Free Banana Bread
As a result, if you plan to make gluten free banana bread in the recipe below, it is best to mix it up yourself. This guide for making gluten free flour at home shows you how to do just that for a variety of baked goods. Otherwise, be sure of your flour source to ensure that no empty forms of starch are added, and that the flour blend is made specifically for bread making.
One option to try if you are working to improve your gut health – add a small amount of organic banana flour to the batter before baking. A tablespoon is what I add. This boosts the bread's nutrition using a high resistant starch powder that works to improve colon health by feeding the probiotics. Research shows that it also helps with insulin control.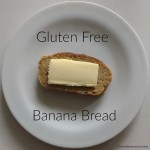 Gluten Free Banana Bread Recipe
This recipe for gluten free banana bread is made from whole grains and is nutritious, delicious and contains no empty calories in the form of refined starch.
Instructions
Preheat the oven to 325 ºF/163 ºC.


Mix the flour, salt, and baking powder together in a large bowl. Mash the ripe bananas and then blend with the beaten eggs, sugar, vanilla and coconut oil in another bowl.

Carefully blend the flour with the egg mixture until thoroughly combined into bread dough.

Grease a medium to large bread pan (I use these glass loaf pans) and pour in the batter taking care to leave an inch or so at the top to allow for expansion of the loaf while baking.

Bake for about 1 hour or until a toothpick inserted in the center of the loaf comes out clean.

If desired, remove loaf pan about 5 minutes before it is done to brush the top with melted butter. Then, put the loaf pan back into the oven for the remainder of the cooking time. This will brown the top so that the loaf resembles banana bread made with wheat flour.

Allow to loaf to cool completely before removing from the bread pan to ensure that it comes out in one piece.

Slice and serve. I recommend a healthy slab of butter on top of each slice as shown in the picture above.

Gluten free banana bread is fine to keep covered on the counter for a day or so. Warm each piece before serving or enjoy at room temperature. Be sure to refrigerate any bread that won't be used within two days.
Recipe Notes
Do not substitute honey for the evaporated cane sugar as cooking honey is not a healthy practice.
Substitute grassfed butter for coconut oil if desired.
Sarah, The Healthy Home Economist