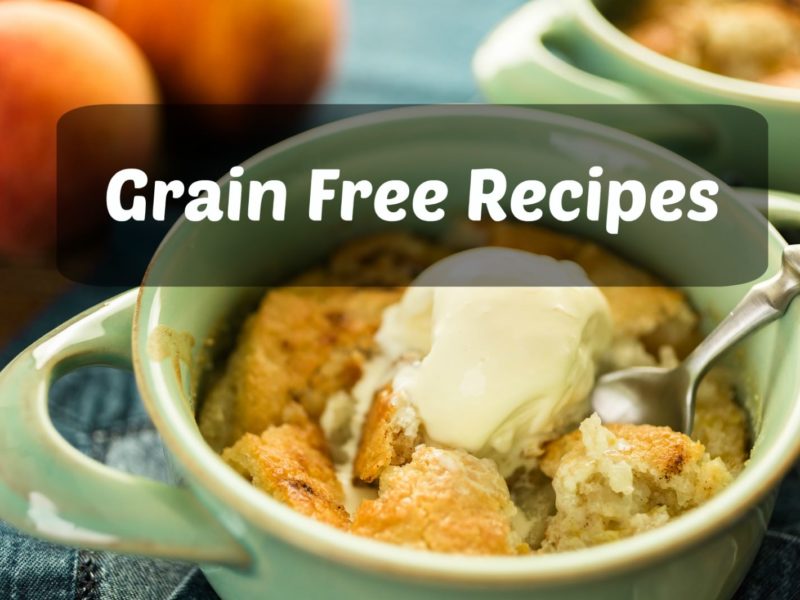 To close our month reviewing the book Gut and Psychology Syndrome by Dr. Natasha Campbell-McBride MD, I thought I would list all the grain-free and GAPS friendly recipes that I have posted over the previous few months in a single post.
Having the recipe links located in one spot is helpful for me when I am trying to find something I wrote a while back (yes, I use this blog as my personal recipe book!). I hope you find it handy too!
Grain-Free and GAPS Friendly Recipes!
Blueberry Muffins – This recipe uses almond flour and a ton of blueberries.
Blueberry Cobbler – This recipe uses pecan flour as the main carbohydrate.
Lemon Poppyseed Muffins – These are a big hit at our house.   The coconut flour flavor is masked by the lemon juice.   They are as light and fluffy as the ones made with wheat flour.
Banana Muffins –  Made using almond flour
Banana Fritters – Made using almond flour
Fudgy Brownies – Made using pecan flour
Ginger Snaps – Made using almond flour and arrowroot powder
Cold Breakfast Cereal – Cinnamon Crunch and Peanut Butter Cookie cereals!
Apple Cobbler – Made with hazelnut flour that tastes amazingly like wheat!
Angel Food Cake – The all-time favorite made with coconut flour, arrowroot powder, and eggs whites!
Thai Custard Pudding – A twist on an old favorite using coconut milk instead of cow's milk.
Russian Custard – A great treat with nuts or fruit or even as a substitute for cream in recipes.
Honey Bread – Coconut flour makes an excellent honey bread.   Texture similar to Sara Lee poundcake.
Grain-free pizza crust – This recipe is now the pizza crust of choice in our home and is made with almond flour.  It is better than any wheat crust we have tasted.
Coconut flour pizza Crust – Another grain-free pizza crust made with coconut flour.
Pancakes made with almond meal – Ever tried pancakes made with almond flour?  You sure can't eat a stack of them like if they were made of wheat!    One pancake is incredibly filling and they are delicious served with butter and honey.
Low Carb Fried Chicken – Chicken and even fish can easily be battered using coconut flour.   It was a big hit at a dinner party I had recently.
Curried Lentil Soup – Lentils are ok on the GAPS diet!  This soup is thick, hearty, and fabulous!
Bean and Bacon Soup – Most beans are too starchy for GAPS.   This soup uses navy beans which are one of the few non-starchy legumes.
Even if you are not on the GAPS diet, these recipes are a wonderful alternative to grain-based recipes if you are simply cutting carbs to lose weight or want to provide your family with more variety!