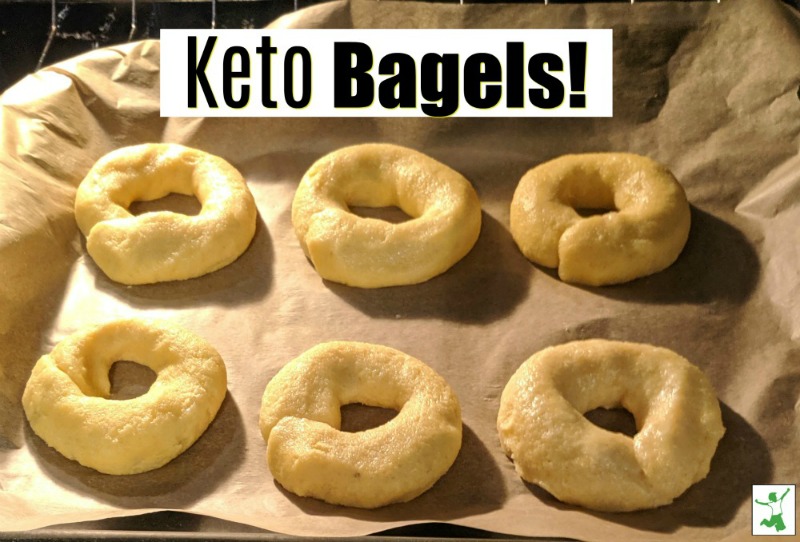 Who doesn't love bagels?
While I enjoy warm sourdough bagels topped with grass-fed butter a few times a week, I often opt for a homemade keto bagel on exercise days. They make a fantastic post-workout snack or afternoon pick-me-up.
I got the idea for low carb bagels from our locally owned cafe, which sells them freshly baked by the chef. While delicious, their version contains sugar and costs around $4 each. So, I decided to develop my own truly keto style bagel sans the sugar that I could enjoy as often as I wanted.
Easy to Make Low Carb, Grain-Free Bagels!
If you've never baked bagels before, don't be put off by the thought! This recipe is truly simple to make.
The most difficult task is shredding the mozzarella cheese! And, while I don't recommend buying pre-shredded cheese because undesirable additives are used to keep it from clumping, if you want to go that route for convenience, it would certainly still be far healthier than anything you could buy!
For example, I saw a brand of keto bagels in the health food store freezer recently. At first glance, they looked fantastic. However, I was so disappointed after closer inspection to find that they contained canola oil! So sad, because literally every single other ingredient was excellent!
What to Slather on Your Keto Bagels
Butter is by far the best spread for these keto bagels. I've tried all-fruit jam and several types of nut butter, but it seems, at least to me, that plain old grass-fed butter tastes the best!
Want More Keto Recipes?
Tried this recipe and love it? Be sure to check out all my low carb recipes that include many keto faves.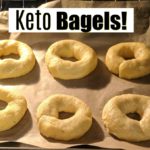 Keto Bagel Recipe
Easy keto bagel recipe made with only 6 whole food ingredients that makes a nutritious breakfast or a satisfying afternoon snack.
Instructions
Melt the cheeses together in an oven-safe dish in a convection oven (about 5 minutes). Alternatively, use a double boiler on the stovetop. A microwave is not recommended.

Remove bowl and stir the cheese. Repeat for 3-5 minutes longer.

Beat egg and then add to the bowl with the melted cheese. Use a hand mixer on low to slowly blend.

Mix almond flour, coconut flour, collagen, and baking powder together and then slowly mix into the cheese/egg mixture with the hand mixer on low.

Lightly oil hands and divide the dough into six equal balls.

Roll out each ball with your hands and wrap around to form a bagel shape.

Bake for 15 minutes on cookie sheets lined with unbleached parchment paper in a preheated 350 °F/ 177 °C oven.
Recipe Notes
If you choose to add the optional collagen powder, I recommend that you ONLY use brands that have tested it for purity. Roundup residue at unhealthy levels is showing up in these types of products, so be very choosy!  I use this brand which is the only one as of the publishing date of this recipe, to be certified glyphosate free.
Nutrition Facts
Keto Bagel Recipe
Amount Per Serving (1 bagel)
Calories 265
Calories from Fat 189
% Daily Value*
Fat 21g32%
Cholesterol 56mg19%
Sodium 195mg8%
Potassium 18mg1%
Carbohydrates 5g2%
Protein 13g26%
Vitamin A 20IU0%
Calcium 25mg3%
Iron 4.2mg23%
* Percent Daily Values are based on a 2000 calorie diet.