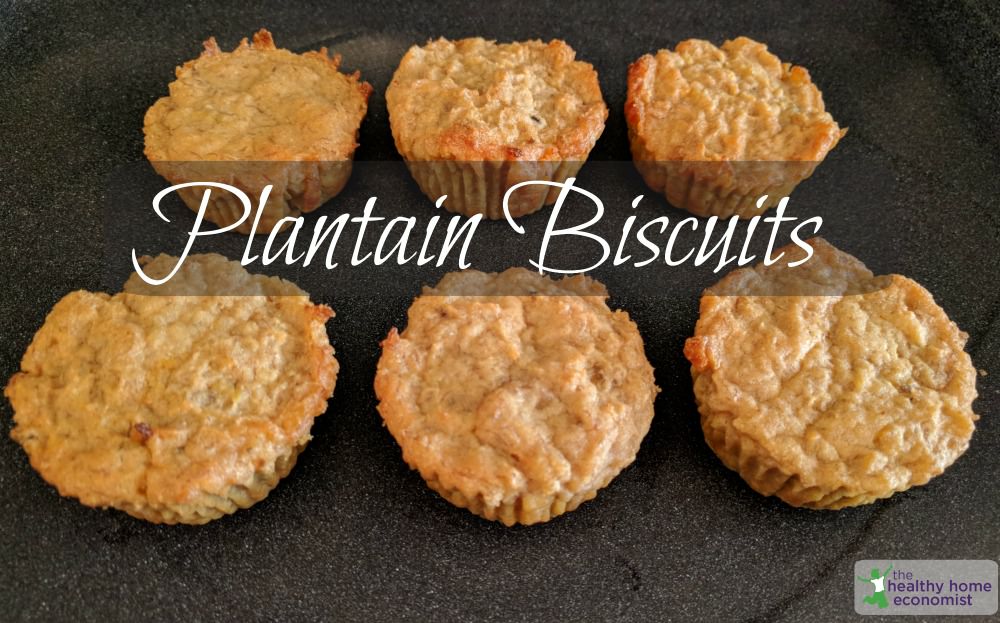 Interest in plantains is growing as people realize that they make a more digestible alternative to grains not just in savory dishes, but for baking too! The trouble is, plantain recipes are few and far between, so if you want to get started baking with plantain flour, some trial and error are likely necessary.
I've really been working to incorporate more meals high in resistant starch into my family's diet in recent months. Plantains are one of the foods richest in this nutrient, so a tasty breakfast biscuit seemed a good place to start. Plantain waffles are another tasty option.
More scientific research is showing this type of specialty carbohydrate to be extremely beneficial for maintaining gut health. While indigestible to humans, it nonetheless serves as an excellent food for beneficial bacterial colonies in the intestinal tract. Keeping these critters happy and healthy is key to a high functioning immune system and avoiding the development of auto-immune disease.
Resistant starch is also important for maintaining a trim waistline, which is a bit ironic given that popular belief is that all starch and belly fat go hand in hand. Despite being very high in carbs and starch in general, the Western diet is actually very low in resistant starch.
While resistant starch is negatively affected by the heat of baking and cooking, once a dish cools, the starch reforms. Hence, it is very important to eat these biscuits after they have cooled to room temperature to obtain the maximum prebiotic benefits.
Serve grass-fed beef stew over these biscuits for satisfying evening comfort food.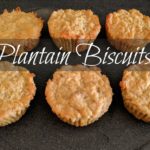 Grain Free Plantain Biscuits Recipe
Delicious grain free recipe for plantain biscuits loaded with healthy fats that are excellent served for dinner with soup or stew or slathered with butter and jam for breakfast on the go.

Instructions
Preheat oven to 350 F/ 177 C. Peel plantains, cut in half lengthwise and crosswise.

In a large skillet, add the oil, and over medium heat, fry the plantains until they are just golden — about 3-4 mins per side.

After the plantains are cooked, add them to a food processor and puree until they begin to clump together. Add the melted butter, eggs and cream and puree until smooth. Add the flour and baking powder and pulse one last time to combine everything well.

Drop onto a baking sheet lined with parchment paper or a cast iron biscuit pan. Bake for 25-30 min or until slightly brown and cooked through. Let cool to room temperature before eating.

We cut these biscuits in half and enjoy with grass-fed butter and jam on top. These biscuits would also be excellent instead of bread with soup or stew.
Nutrition Facts
Grain Free Plantain Biscuits Recipe
Amount Per Serving (1 biscuit)
Calories 142
Calories from Fat 86
% Daily Value*
Fat 9.5g15%
Carbohydrates 10g3%
Protein 4g8%
* Percent Daily Values are based on a 2000 calorie diet.