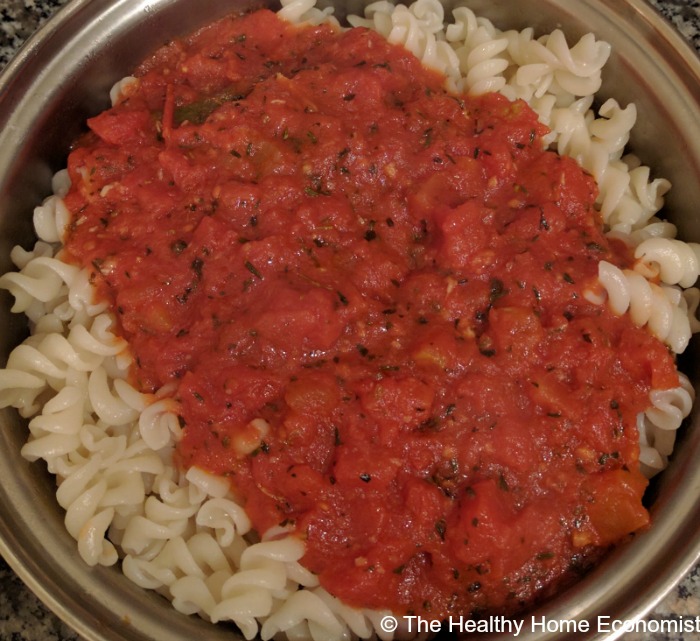 There is no doubt that making your own red sauce with fresh, preferably heirloom tomatoes is best.
What to do when fresh tomatoes are out of season? Or, you need homemade marinara in a hurry and don't have time to run to the store or farmer's market?
In those instances, you may think that organic red sauce in a jar from the store would be the next best thing. In my experience, however, a tastier and healthier alternative to mass-produced brands is still possible and only takes about 10 minutes to make. The process is a little longer than homemade pizza sauce, but is still extremely fast and won't hold up getting dinner on the table.
Are you ready to ditch jarred pasta sauces forever? Check out my go-to recipe below for a very fast, gourmet tasting red sauce that harnesses the antibiotic properties of garlic too!
The Secret of Tasty Red Sauce
Hybrid tomatoes are typically used in jarred tomato sauce products similar to the deep red tomatoes you find at the store. This occurs even in organic jarred tomato products as organic standards allow the use of hybrids, but not GMOs.
These hybrid tomatoes lack flavor, sweetness, and most importantly nutrition. Believe it or not, they were hybridized specifically to turn red all at the same time for ease of harvest! This red appearance does not mean they are truly ripe, however.
When you are making your own red sauce and fresh tomatoes are out of season, it is important to source jarred tomatoes from a company that does not use hybridized tomatoes and takes care to carefully sort out the green tomatoes that are harvested with the plant. This ensures that only tomatoes that are at the perfect stage of ripening are used.
For this reason, I use Jovial Foods crushed or diced organic tomatoes for my homemade red sauce. The tomatoes are sorted multiple times – once by hand, once in the fields, and then two more times during packing. What's more, the tomatoes are grown only by small organic local farmers. Each farm is just a few acres in size, family-owned, and a stone's throw from the jarring facility.
Preserving the Flavor of Ripened Tomatoes
Here's how the fully and naturally ripened tomatoes are processed:
The tomatoes are sorted upon arrival at the canning facility, then thoroughly washed and gently steamed to remove the peels. We take one last look at them, again sorting out the tomatoes that we do not like by hand. From there, we either crush the tomatoes, cut them in dices, or pack them whole. The process is very similar to what you would do at home, but with the help of machinery.

During the crushing and dicing, fresh juices are collected and gently cooked down to a delicious puree that is packed with the tomatoes. This puree is the key to a fantastic finished product because if we packed the whole or diced tomato pieces in the straight juice, they would be watery and you would have to cook them for a long time. Our homemade puree not only prevents waste, it gives your tomato product a wonderfully flavorful base that will save you time in the kitchen (1).
As you can see, buying just any old jarred or canned tomatoes to make a fast red sauce is not going to do. If you want to enjoy the tastiest sauce, you need to buy from a company that takes great care in how the tomatoes are grown, sorted, and processed.
With these buying tips for jarred tomato sauce in mind, here is my red sauce recipe. If you intend to serve this sauce over pasta, check out these buying tips for sourcing healthy pasta too. My favorites are (corn-free) quinoa pasta and gluten-free egg noodle pasta.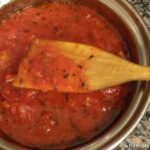 Red Sauce Recipe
A fast and healthy alternative to jarred marinara sauce when fresh tomatoes aren't available or in season.
Instructions
Drizzle the olive oil into a medium size frying pan on medium-high heat.

Crush or chop the fresh garlic cloves and mix into the olive oil in the pan. Saute for about 30 seconds to release flavor.

Add one 18 ounce jar of diced or crushed tomatoes to the pan and stir.

Add herbs and sea salt. Simmer for about 10 minutes to blend flavors.

Refrigerate leftovers. Use up within 3-4 days.
Recipe Notes
If you have fresh herbs available for this recipe, that is wonderful! Simply substitute 1 Tbl of chopped, fresh herb for each tsp of dried herb.  
Do you make your homemade marinara with different spices than I do? Share what blends you most prefer or your method of pulling this dish together quickly in as nutritious a manner as possible!