Table of Contents

[Hide]

[Show]
How to dry freshly snipped basil from your garden to preserve nutrients and flavor for all your cooking needs.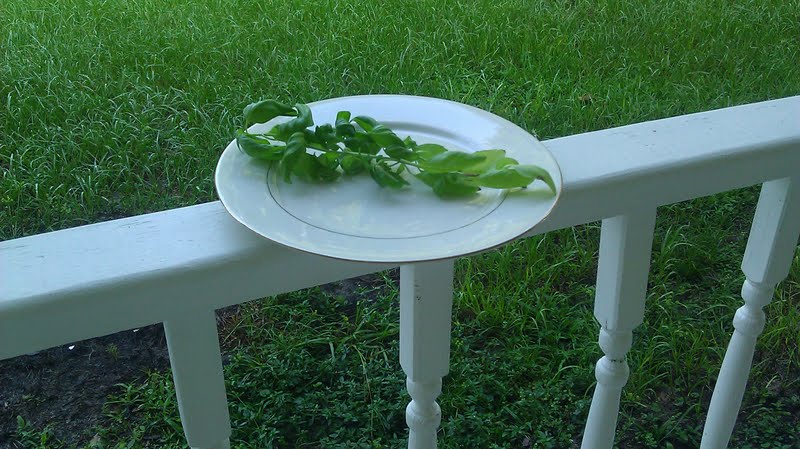 I've made some really delicious dried basil from my herbal garden window this spring/summer, and I recently snipped my first fresh stem to use in the kitchen this season.
Like many herbs, basil is originally native to India.
It is probably best known, though, as a culinary herb used pervasively throughout Italian cuisine. This made perfect sense to me as I use dried basil in all of my pizza sauce and pizza crust recipes!
In case you haven't been a reader very long, here are the links for you to check them out.
Let me just tell you that using your own dried basil and others such as freshly dried oregano really makes the flavor pop!
Here are just a few of the dishes where I use it.
Homemade Dried Basil
I decided to make dried basil so that I would have it available all year until I grow it again next season. I must admit, though, that I've never dried herbs before so I was a bit intimidated at first.
Turns out, it is quite easy to dry herbs for later use.
5 Steps to Dry Fresh Basil
Follow these easy steps and your fresh basil sprigs will be ready for drying in less than 10 minutes.
Snip the basil sprigs off the main plant before it flowers. No worries if yours is already flowering, just be aware that your basil may not be quite as full flavored.
Remove all the leaves off the stems. I like to do this by hand rather than by cutting. Discard or compost the stems.
Chop the basil leaves into small pieces. Take care not to chop too small. I do not rinse my basil leaves as I want to preserve any natural lactobacilli and beneficial yeasts on the leaves.
Place the basil pieces on a white, nonbleached cotton towel. Flour sack cloths or tea towels work great.
Put the towel in a place where it won't be disturbed for a few days away from heat and light but with plenty of air circulation.
Once the basil is dry after a few days, you will notice that it retains its beautiful green color and doesn't turn brown like it would if you tied up the basil in bunches and hung it upside down.
Place the dried basil pieces in a food processor and pulse a few times to chop into very small pieces if desired.
Store dried basil in an airtight container in a cupboard. Glass will retain the flavor the best. This article on how to properly store bulk herbs gives other tips on how to best preserve potency.
Dried basil and other home dried herbs are best used within a year.
How easy is that? Do you have special tips for drying basil or other herbs?
Please share your tips in the comments section.