Table of Contents

[Hide]

[Show]
Easy recipe plus video tutorial for homemade coconut flour which is a simple, budget-friendly, low carb, and gluten-free alternative to expensive store-bought brands. Lasts for months!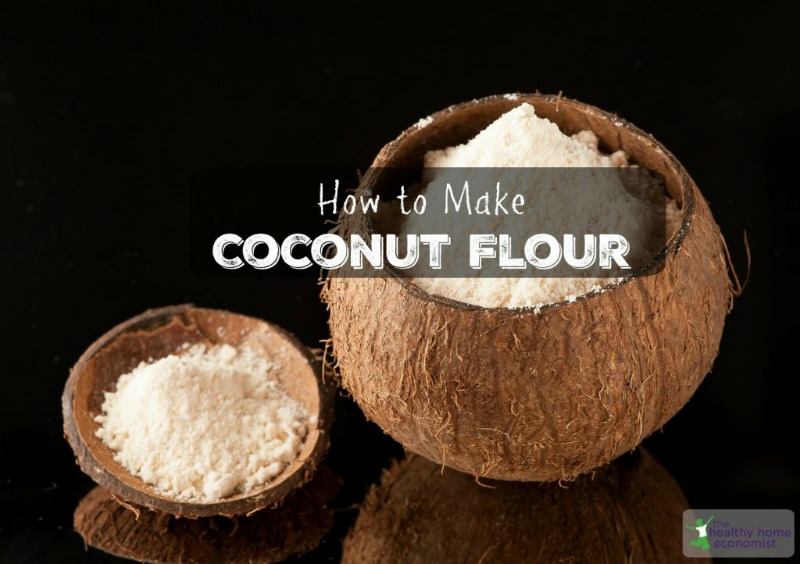 More and more people are turning to store-bought or homemade coconut flour these days. It is a delicious low carb and Keto-friendly alternative to grain-based flours.
Coconut flour is a disaccharide free food. As such, it is an acceptable flour for baking when following the GAPS, AIP or SCD healing diet.
In addition, coconut flour is Paleo and Primal friendly for those who avoid grains.
The primary problem with coconut flour is that it is rather expensive to buy. As a result, many folks are learning to make it themselves, which is incredibly budget-friendly.
Today's video plus written coconut flour recipe expands on articles and video tutorials which showed you how to make homemade coconut milk and coconut milk kefir.
Recipes Using Homemade Coconut Flour
Learning how to make homemade coconut flour is extremely easy to do and worth the effort. Buying it at the store is pricey. A small one-pound bag at my health food store costs about $6. You can go through one of these quickly if you use it a lot.
Homemade coconut flour can be used in loads of baking recipes. Popular recipes using coconut flour on this blog include:
If you are simply avoiding gluten but eat grains, this tutorial plus recipe on homemade gluten-free flour may prove helpful.
Note that you cannot substitute coconut flour for grain-based flours 1:1. Coconut flour behaves very differently when baking than grain-based flour does. It also requires more eggs. Hence, you need a specific recipe that uses coconut flour for whatever baked good you wish to make.
Remember that using soaked coconut flour is best if you are sensitive to phytates and lectins. While coconut flour is not excessively high in these anti-nutrients, it is a good idea to soak it if you eat it often.
How to Make Coconut Flour Tutorial
The video tutorial included with the recipe below provides easy instructions on how to make coconut flour yourself without the inconvenience of having to open a coconut first!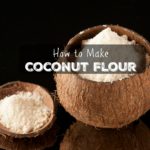 Homemade Coconut Flour Recipe
Easy recipe for homemade coconut flour which is a simple, budget friendly, and gluten free alternative to expensive store bought brands.
Instructions
If using leftover coconut fiber from making homemade coconut milk, spread out coconut fiber on a cookie sheet and dry in a warm 200 F/ 93 C oven overnight.

Place coconut fiber or desiccated coconut in food processor or blender. Blend on high for a minute or two until the coconut fiber or desiccated coconut is finely ground into coconut flour. You do not need a grain grinder.

Refrigerate in a sealed container. It will last for many months.
Recipe Video
Nutrition Facts
Homemade Coconut Flour Recipe
Amount Per Serving (0.25 cup)
Calories 152
Calories from Fat 54
% Daily Value*
Fat 6g9%
Sodium 18mg1%
Potassium 236mg7%
Carbohydrates 18g6%
Protein 6g12%
Calcium 10mg1%
Iron 1.2mg7%
* Percent Daily Values are based on a 2000 calorie diet.