Table of Contents

[Hide]

[Show]
How to soak corn for baking and cooking to ensure the deactivation of anti-nutrients and release of B vitamins for the most nutritious, tasty, and digestible maize dishes possible.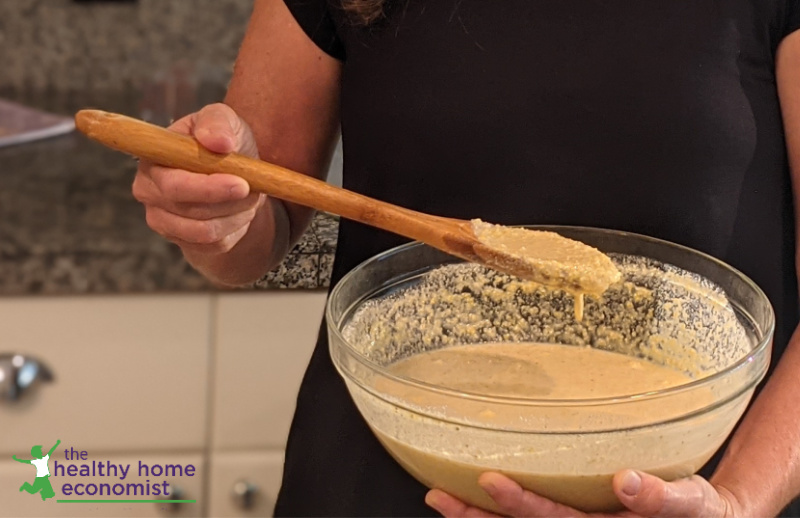 Over the last couple of decades, corn has increasingly become genetically modified. Today, most corn on the market today is GMO, with (no surprise) the boomerang effect of corn allergies becoming more widespread.
The truth is that corn or maize is a healthy, traditional food. It was a staple enjoyed by several healthy Native American tribes such as the Seminoles of Florida.
If you wish to enjoy maize in your diet, all that is needed is to source it carefully and prepare it traditionally, provided no sensitivities are present.
Sourcing Corn

When it comes to sourcing maize, it is best to insist on brands that are both organic AND nonGMO verified.
Why both?
Organic certification means that nonGMO corn seed was grown without chemical pesticides and herbicides.
It doesn't guarantee that the crop was free of cross-contamination from GMO corn that may have also grown in the vicinity.
Insisting on organic maize that is also nonGMO verified adds this additional layer of protection. This is important since over 90% of corn grown today is GMO.
Cross-contamination of organic corn crops is a very real and serious concern.
For example, Arrowhead Mills organic cornmeal is also nonGMO verified. Bob's Red Mill organic cornmeal is not. Hence, I would recommend Arrowhead Mills over Bob's Red Mill.
Soaking Overnight
Once you have a safe source of corn identified, then you can prepare your corn dishes traditionally and enjoy this wonderful food in your home.
Whether you intend to make a pan of soaked cornbread or Southern-style grits, the process is the same.
Soak the cornmeal or flour overnight in limewater and buttermilk (or lightly soured raw milk) before cooking or baking.
This recipe for making limewater is simple to do and very inexpensive. An alkaline medium like limewater is very important for soaking corn specifically because it releases B vitamins, particularly niacin (Vitamin B3).
The ratio to use is 3 cups of flour/meal to 2.5 cups of liquid (1.5 cups buttermilk and 1 cup limewater).
Non-Dairy Options
If you are dairy-free, water and a small amount of lemon juice in place of the buttermilk is the best option, although the taste of the resulting dish won't be as fluffy or tasty.
If you want to use dairy-free milk such as almond, oatmilk, or coconut, it must be fresh (with the addition of a tablespoon of lemon juice per cup of nondairy milk to achieve the proper acidity to break down antinutrients).
Commercially processed plant-based milk are toxic (with very few exceptions!) and should not be used for soaking. Using them encourages the formation of pathogens.
Masa Harina
Soaking masa harina is a little different because it has already been treated with lime by the manufacturer. This means that the B vitamins are bioavailable.
However, you will still need to soak it in a slightly acidic medium like buttermilk before cooking in order to deactivate the antinutrients.
Soaking Popcorn?
What about popcorn? Should the kernels be soaked too?
Actually, no. Soaking popcorn kernels overnight and then drying them before popping is time-intensive and unnecessary.
If you enjoy popcorn frequently, I suggest organic sprouted popcorn.
Sprouting is similar to soaking in that it deactivates antinutrients and releases nutrition.
The video included with the recipe below contains more information to consider for preparing corn traditionally for baking and cooking.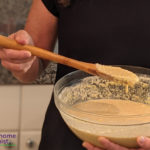 How to Soak Corn for Baking and Cooking
How to soak corn for baking and cooking to ensure the deactivation of anti-nutrients and release of B vitamins for the most nutritious, tasty, and digestible corn dishes possible.
Total Time
12
hours
5
minutes
Instructions
Mix all ingredients in a large bowl.

Cover with a cotton cloth and leave on the counter for 12-24 hours.

Mix in the remaining ingredients for the desired dish and bake or cook as directed.
Recipe Video
Recipe Notes
For dairy free soaking, substitute water or freshly made non-dairy milk and 1 tablespoon lemon juice in place of the buttermilk.