Table of Contents

[Hide]

[Show]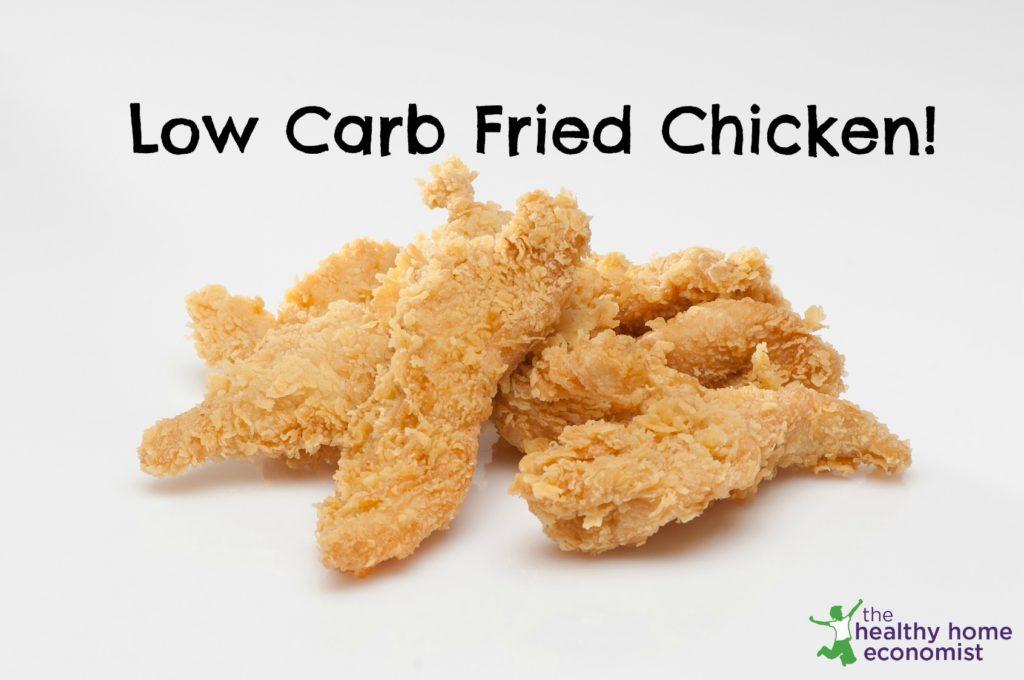 When my husband and I first eliminated grains in our diet while on GAPS a few years ago, fried chicken was one of the first dishes to go out the window.  I recently had the idea to make low carb fried chicken by battering in coconut flour instead of wheat flour. Sometimes you have to wonder why the most obvious things take so long to come to mind.
My family loved it!   They didn't notice any difference from the wheat flour believe it or not!
Free Weekly Newsletter + Report on Secrets of Strong Immunity
I prefer to do much of my frying in expeller-pressed coconut oil. It is a wonderful high heat oil that does not lose its integrity and become toxic when cooking with it.
I used big chunks of leftover chicken from the night before when I roasted a whole fryer for dinner. I seasoned the coconut flour with a few sprinkles of Herbamare and also tossed in a bit with the beaten egg as well.
We Moms all know that the main trick with leftovers is making it look like it isn't leftovers! Frying it up this way makes the chicken definitely look fresh and appealing!
The only pitfall is to make sure you don't cook it too long. The chicken is already cooked and the coconut flour is done within minutes, so watch it carefully to ensure the chicken doesn't get dried out.
Battered Chicken Keto Style

Along the same line, I had a casual dinner party for family and friends recently. We battered the chicken strips with coconut flour. The coconut overtones were very pleasant. It reminded me of a local joint I used to go to years ago that had the most fantastic coconut shrimp!
I held my breath to see everyone's reaction and heaved a sigh of relief when people starting reaching for seconds!
Using coconut flour to batter meat and frying it up in coconut oil is simply heavenly. I like to serve it with healthy homemade mayo. Mix in some onion powder to taste after you make the mayo to make the most fabulous ranch-like sauce. Delicious!
Healthier Frying!
One final plus from frying things in coconut flour instead of grain flour is that you avoid creating acrylamide. If you remember, acrylamide is a carcinogen that is formed when you cook any starch at a high temperature.
Coconut flour is much higher in fat and protein and has virtually zero carbs compared with grain flour. Hence, this problem is eliminated to a large extent.
Give it a try yourself and let me know what you think!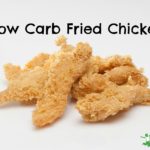 Low Carb Fried Chicken Recipe
Low carb fried chicken recipe that is as tasty as chicken breaded in wheat flour but without the carbs. Suitable for gut healing diets and Paleo friendly. Only 4 ingredients plus seasoning and 10 minutes to make!

Instructions
Cut leftover cooked chicken into finger size pieces.

Beat eggs in a small bowl.

Melt coconut oil in a large frypan and set on the stovetop at medium heat.

Sprinkle a plate with coconut oil and blend in the seasoning mix.

Dip each piece of chicken in the beaten eggs and then dredge through the coconut flour blend. Each piece of chicken should be completely breaded on both sides.

Carefully place each piece of breaded chicken in the oiled frypan and cook for 2 minutes on each side or until the breading is cooked and light brown. Do not overcook as his will dry out the chicken.

Remove chicken from the pan and serve immediately.