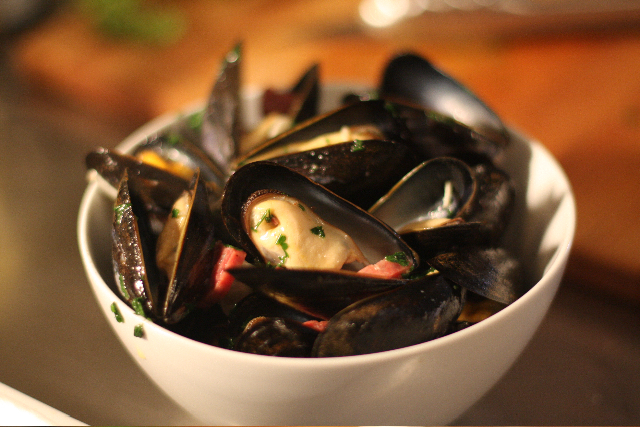 Combining fish and meat is a passion of mine. This unusual mussels recipe combine sausage with herbs and white wine is great for a quick lunch. It also makes for an impressive appetizer or even an entree when accompanied by chips fried in beef tallow or goose fat.
Oh my goodness, the homemade chips!
Mussels are a nutrient dense food that can feed you and your family nicely on a budget, all the while feeling rather fancy and elegant. In my house we call it cheap and cheerful!
If you can't stomach seafood, at least use a whole food supplement so you can enjoy the benefits. Powder made of greenshell or green lipped mussels is the most nutrient dense on the market.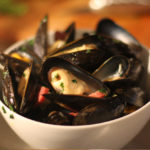 Mussels and Sausage in Garlic and Parsley Recipe
A nutrient-dense, delicious mussels recipe combined with sausage, white wine, and flavor enhancing herbs such as garlic that also boost immunity.
Ingredients
1

pound

fresh mussels

washed with beards removed, preferably locally sourced

4

slices

thick Italian sausage

or salami, cut into quarters

2

large cloves

garlic

sliced thinly

1/2

bunch

fresh parsley

roughly chopped

1/2

cup

white wine

sauvignon blanc is excellent

4

Tbl

butter

preferably grassfed
Instructions
Slice the garlic and let stand on a plate for about 15 minutes. This allows time for the maximum amount of nutritious sulfur compounds like allicin to form.

Place saute pan on a medium to high flame.

Add 1 TBS butter to pan and melt.

When butter has stopped foaming, add sausage and saute for 2 minutes.

Add 1/2 the sliced garlic and saute for 2 more minutes.

Add mussels and saute, getting the mussels coated in butter, salami and garlic (another 2 minutes or so).

When the mussels open, add the 1/2 cup of wine and cover for 3 minutes.

Uncover and check to see if all the mussels have opened (when a mussels holds tight and does not give up its shell it is not fit to eat. please do not pry it open).

Remove mussels from the pan with tongs and place in a clean bowl.

To the boiling liquid, add the rest of the garlic, 3 TBS of butter and the chopped parsley and allow to reduce for a minute or two.

Put the mussels back into the liquid to incorporate all flavors.

Using tongs put the mussels back in the bowl, pour the broth with sausage over the top and serve.

Enjoy this delicious mussels and sausage dish with a glass of the same wine you cooked the mussels in!
Recipe Notes
Delicious Variations!
1. Use bacon lardons (or pancetta or guanciale) instead of sausage.
- saute bacon lardons in medium - high pan to render fat.
- remove the cooked bacon and hold.
- add garlic to the bacon fat, then the mussels, saute and hit with wine.
- follow the above instructions but put the bacon back in when the mussels go back in before serving.
2. Use mixed fresh herbs instead of just parsley.
- roughly chop parsley, cilantro, basil and chives
3. Use coconut milk instead of butter and wine
- saute the sausage, garlic and mussels in coconut oil.
- add 1 cup coconut milk and a few thin slices of fresh ginger.
- throw in a kefir lime leaf for good measure (available at most Asian markets).
- add chopped cilantro and whole leaves of purple thai basil (if available) at the end.