Table of Contents

[Hide]

[Show]
Easy French toast casserole recipe made with sourdough bread crusts. Sprouted or soaked bread slices work too for a fast and nourishing breakfast that everyone will love!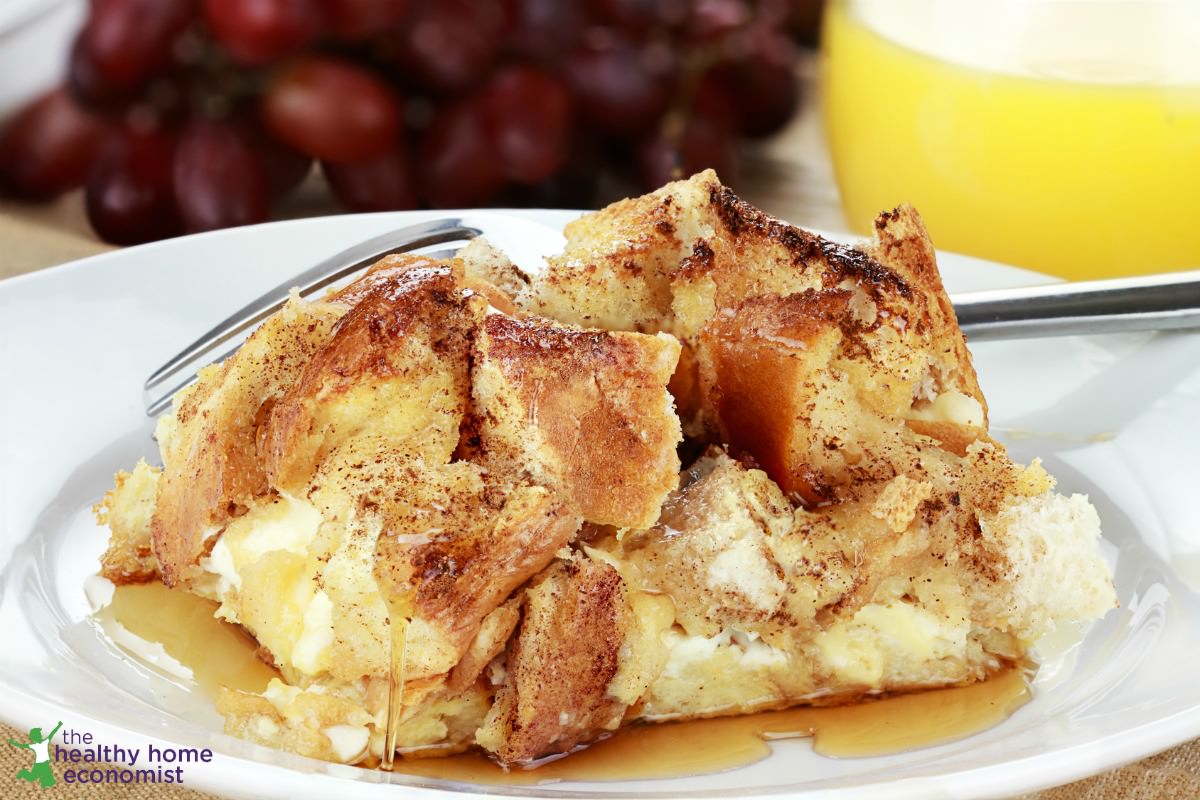 Whether you buy bread or make it yourself, a loaf of quality bread made with sprouted flour or sourdough costs a pretty penny these days.
Needless to say, I don't like to waste a single slice!
Be aware that there is plenty of fake sourdough bread out there. Also, most commercial brands of sprouted bread contain vital wheat gluten, a very unhealthy additive!
If you choose to buy, I suggest this family-owned bakery which delivers authentic sourdough bread and other baked goods to your door.
If you prefer to bake yourself, I recommend this recipe for no-knead sourdough bread.
From Crusts to Casserole!
So, what is the best way to use bread crusts from the quality loaves you use that accumulate over the span of a week or two?
Maybe you cut off the crust at the top of each slice too with those contributing to the pile of bread scraps that build up in your pantry.
Here's a tasty dish to use up all those crusts quickly and frugally.
Bonus! This sourdough French toast casserole recipe is loaded with nourishing fats. It will keep you feeling full for hours with no mid-morning carb cravings!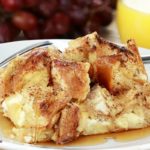 Sourdough French Toast Casserole Recipe
Whip up this easy recipe for sourdough French toast casserole with that bag of lonely sprouted or sourdough bread crusts in your bread bin. Makes a fast breakfast that everyone will love!
Instructions
Tear bread crusts into quarters and place in a large, glass bowl.

Beat eggs, cream, and pinch of sea salt together, and pour over bread crusts.

Sprinkle a generous amount of freshly ground cinnamon and whole sweetener over the mixture. Gently mix thoroughly with a large spoon.

Pour melted coconut oil into the bottom of a 9×13 casserole dish. Arrange bread mixture evenly in the casserole dish.

Bake at 350 F/177 C for 15 minutes. Remove casserole dish from the oven and drip the melted butter evenly over the top of the bread.

Place the casserole dish back in the oven and continue baking until the butter has turned the top golden brown (about 10 more minutes).

Serve sourdough French toast casserole alone or with a small amount of dark maple syrup for dipping.

Refrigerate leftovers in a glass container with tight fitting lid. Reheat and enjoy on subsequent mornings or for quick snacks.
Nutrition Facts
Sourdough French Toast Casserole Recipe
Amount Per Serving
Calories 230
Calories from Fat 126
% Daily Value*
Fat 14g22%
Carbohydrates 19g6%
Protein 7g14%
* Percent Daily Values are based on a 2000 calorie diet.