Delicious, frugal tips for using up bread crusts that save money in the food budget with nothing going to waste.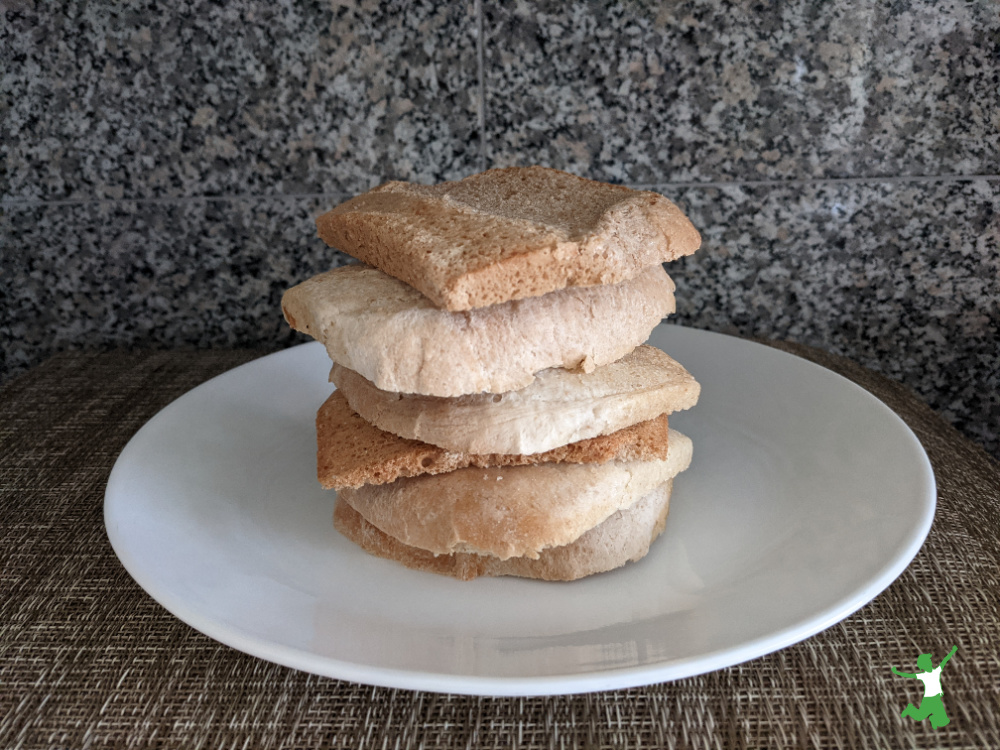 Do you find yourself wasting bread crusts time and again? While this might have been an affordable (albeit wasteful) practice in years past, food inflation is causing many people to rethink the practice.
Certainly, tossing unused crusts is not a very frugal strategy considering the high price of a quality loaf of bread these days.
A quality loaf of real sourdough bread (this is the brand I buy) or sprouted bread without added gluten or soy is going to set you back somewhere between 6-10 US$ in my area of the country.
Why don't I make my own bread? No doubt, this is certainly the thriftiest way to go!
I used to make bread for my family for many years when there weren't any quality traditional brands on the market. This is the no-knead sourdough recipe I used.
I even made my own sourdough starter!
These days, I allow myself the luxury of having it baked fresh and delivered to my house instead.
We don't eat a lot of bread, so this works for the food budget. It also helps me with managing stress, as I spend SO MUCH time in the kitchen making things from scratch.
I focus my time in the kitchen making quality foods that cannot be purchased like bone broth, liver pate, homemade soups, fermented vegetables, fruits, and drinks, and healthy snacks.
How Much are You Wasting Tossing The Crusts?
There are 14 slices of sourdough bread in each loaf I buy including the crusts. This breaks down to 43 cents each.
There are typically 2-3 bread crusts per loaf.
This translates to about $1.20 for each loaf that goes unused!
We average about 1-2 loaves per week for our family. This breaks down to just over a slice per day per person. We don't eat a ton of bread generally speaking. My husband doesn't eat any bread.
This means that roughly $2 per week gets wasted. That's over $100 per year.
This amount of money is not going to make too much of a difference to anyone's bank account. However, it's nothing to sneeze at either.
When my daughter was younger, she liked to feed the crusts to the ducks behind our house.
However, I tried to also make a practice of teaching them how to waste nothing (including the crusts which they didn't prefer) and still come up with excellent tasting dishes to boot.
7 Ways to Use Up Bread Crusts
Here are a few ideas for using bread crusts in the kitchen. Some of these are recipes from my Grandmother who raised a family during the Great Depression.
French Toast Casserole – This dish is super yummy and your kids will have no idea they are eating bread crusts.
Bread and Butter Pudding – This is a Depression Generation type of dish. It tastes so great that you really should be making it even if your budget can handle more expensive treats!
Homemade Sourdough Breadcrumbs – I hope you are not buying commercial breadcrumbs from the store! It is an easy task to learn how to make breadcrumbs at home. Just dry the crusts out on the counter or in a dehydrator, tear them into pieces and pulse a few times in the food processor. There you have it – quality breadcrumbs at a fraction of the cost with no sugar or additives! I like to use breadcrumbs or rice in my meatloaf dish, one of our family's favorite dinners.
Panata (Bread Soup) – This frugal Italian dish is made by warming the previously prepared bone broth of choice on the stove (not to a boil). Then, add breadcrumbs or small pieces of bread crusts whisked together with 1-3 eggs, a handful or two of grated cheese, and a pinch of nutmeg. Warm and stir gently on the stove and add leftover vegetables if desired. Salt and pepper to taste. Serve immediately.
Croutons – chop the crusts into small squares. Brown them in butter or ghee for a few minutes in a saucepan on medium heat. Cool and then store in a sealed container in the refrigerator. Toss a few on your salads for a healthy crunch.
Homemade Garlic Bread – Even though my family doesn't care for sandwiches or toast made with crusts, they didn't mind if I sliced the crusts diagonally and made garlic bread with them for dinner. Perhaps your crew won't mind either!
Backyard Chickens – If I run out of scratch feed temporarily between monthly Azure Standard deliveries, I pulse crusts in the food processor and feed the chunky crumbs to the chickens. They love it!
How do you use bread crusts in your home? Share your tips with all of us!