Passion fruit custard is a Brazilian-inspired delight that is a creamy, sweet, and tangy treat that is the perfect ending to any meal.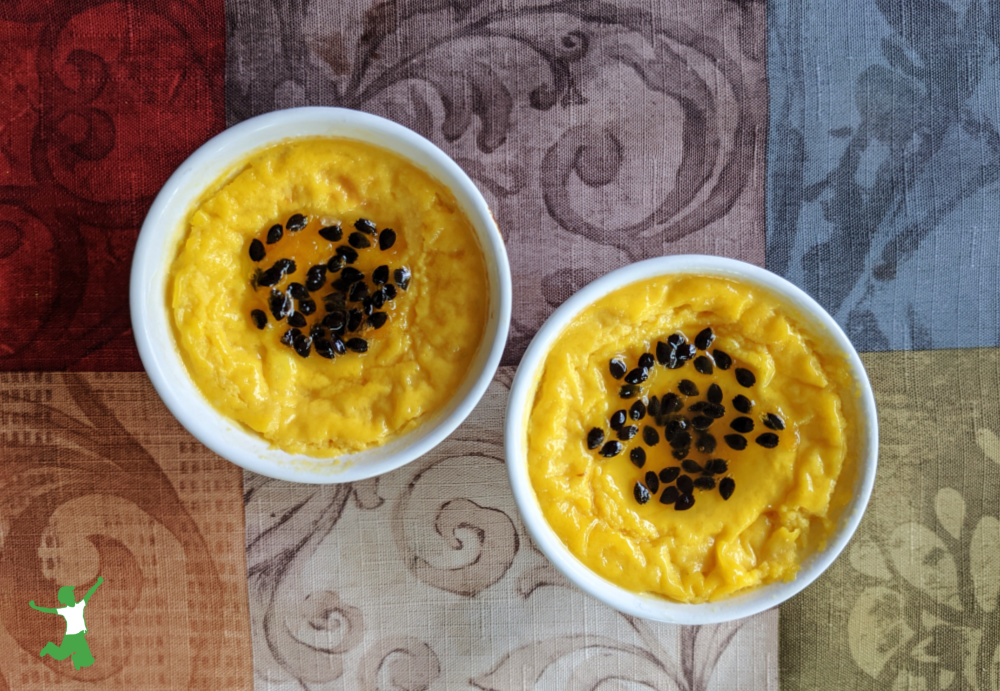 I was gifted a couple dozen passion fruits last week from the robust vine growing in a friend's backyard.
We enjoyed a few right away (cut one in half and scoop out flesh, juice, and seeds with a spoon).
However, I knew we probably wouldn't eat so many before a few went bad.
So, I baked passion fruit custard to use up a bunch at once. This variation is a tangy alternative to my basic egg custard recipe.
My method for extracting the passion fruit juice for the custard below uses a fine mesh cheesecloth.
To save you some grief, extracting passion fruit juice this way is far easier than other methods. It is similar to separating whey from clabbered milk.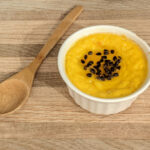 Tangy Passion Fruit Custard
Passion fruit custard is an easy-to-make, Brazilian-inspired delight that is a creamy, sweet, and tangy ending to any meal.
Instructions
Preheat the oven to 400 °F/ 200 °C

Line a medium-sized bowl with a fine mesh cheesecloth.

Slice 12-15 passion fruit in half and scoop out the seeds and pulp into the middle of the cheesecloth.

Gather up the ends of the cheesecloth and gently squeeze the end with the pulp and seeds so that the juice drizzles out into the bowl. Roughly a dozen passion fruit will produce 1/2 cup juice.

Set the remaining seeds/pulp in the cheesecloth aside for the topping.

Whisk the milk, cream, eggs, and sugar together in a medium bowl until well combined.

Slowly blend in the passion fruit juice.

Pour the mixture evenly into four 4-ounce ramekins.

Bake in preheated oven for 20 minutes or until light golden on top.

Remove ramekins from the oven and let cool for 5 minutes.

Drizzle the top of each ramekin with one or two teaspoons of (optional) topping and serve immediately.
Passion Fruit Syrup Topping
While the custard is baking, combine passion fruit seeds and pulp with sugar in a small saucepan.

Cook, over medium-low heat, until the sugar dissolves and the mixture starts boiling.

Turn the heat to low and continue cooking for another minute or two to thicken the sauce slightly.

Remove pan from heat, set aside, and let the sauce cool until custards are finished baking.
Nutrition Facts
Tangy Passion Fruit Custard
Amount Per Serving (1 ramekin)
Calories 177
Calories from Fat 72
% Daily Value*
Fat 8g12%
Cholesterol 172mg57%
Sodium 79mg3%
Potassium 134mg4%
Carbohydrates 19g6%
Protein 7g14%
Vitamin A 242IU5%
Calcium 74mg7%
* Percent Daily Values are based on a 2000 calorie diet.