by Sarah TheHealthyHomeEconomist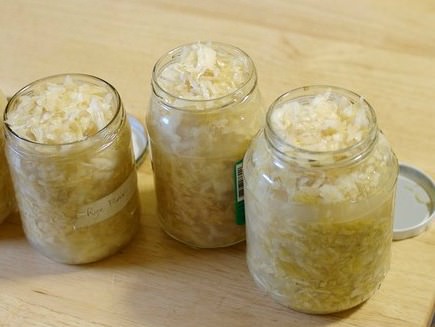 Sauerkraut won the blog poll, so by popular demand, this video covers how to make this probiotic filled, nutrient dense traditional food!
The first video covers a brief history of sauerkraut and what you need on hand to make it. The second video covers how to make sauerkraut yourself quickly and easily in your kitchen.
The sauerkraut recipe I use is straight from Nourishing Traditions Cookbook.
Probiotic Sauerkraut
Ingredients
1 organic, medium green cabbage
1 TBL sea salt
1 TBL caraway seeds
4 TBL liquid whey
Instructions
Core and chop cabbage. Mix all sauerkraut ingredients in a large bowl.
Pound the juices out of the cabbage thoroughly with a kitchen pounder of some kind (takes about 10 minutes).
Tightly pack the cabbage into a one quart mason jar leaving at least 1 inch of space at the top. Tightly seal with the lid.
Leave on the counter for 3 days and then refrigerate.
The flavor of the sauerkraut improves over time and the sauerkraut will last many months in your refrigerator or cool cellar.
How to Make Probiotic Sauerkraut Video – Lesson One
How to Make Probiotic Sauerkraut Video – Lesson Two