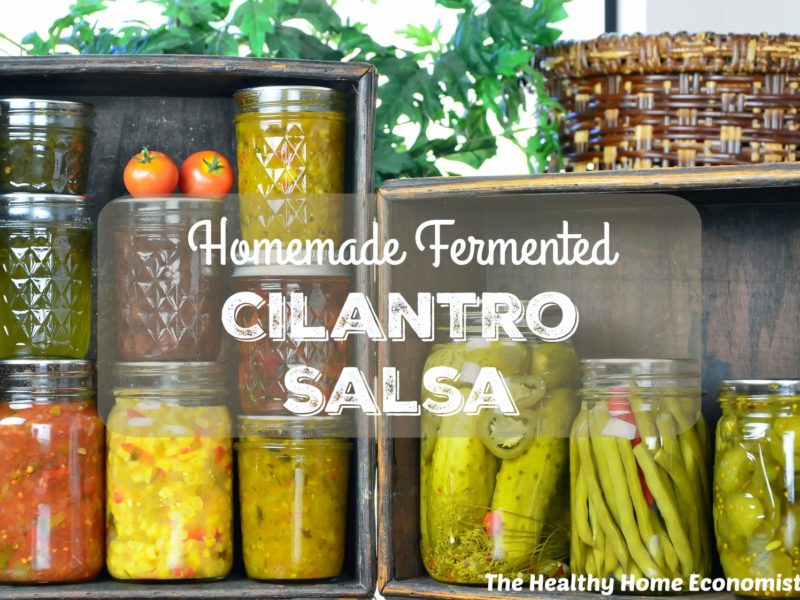 Cilantro is an ancient herb used in cooking and healing for thousands of years. Ancestral societies grew cilantro extensively in ancient Europe. It was greatly valued as both food and medicine.
In fact, ancient Britain and other traditional cultures considered cilantro so important that only doctors and priests were allowed to use it! Perhaps that is the reason European cuisine rarely includes cilantro, though it is native to the area.
In more modern times, researchers found cilantro to contain a high level of antioxidants. In addition, it provides antibacterial benefits for those that consume it. Perhaps most importantly, cilantro will remove mercury, aluminum, and other metals from the brain, spinal cord, and other organs. Hence, it is a potent food-based chelation agent. The body then moves these metals to the excretory system where they are easily eliminated by the natural functions of the body.
While not used much in European cooking, Latin American and Asian cuisine uses cilantro extensively. The combination of cilantro and tomatoes is one of the most traditional and popular condiments in Latin America.  I am convinced that food combinations become traditional because they are beneficial for both taste and health.
Homemade Cilantro Salsa
This recipe for cilantro salsa is fermented. Fermentation increases the nutrient value, besides adding beneficial probiotics and makes the fermented substances easier to digest and absorb. The fermented salsa recipe contained in Nourishing Traditions inspired this cilantro based version along with the ingredients contained in traditional Latin American condiments.
I recommend that you chop the ingredients for cilantro salsa by hand. Not only is this traditional, but it really seems to result in a better-tasting salsa.  Some food processors chop at such a high speed that it actually changes the taste of the vegetables. Since cilantro binds to metal, it is best to use a glass bowl when making this recipe. Store the finished salsa in a glass jar.  Mason jars are ideal.
The hot peppers are traditional but optional. If you do include the hot peppers, be sure to be careful, using gloves when you handle them. Never touch your eyes until carefully washing your hands. Either way, this condiment is the tastiest way to remove toxic metals that I have ever come across.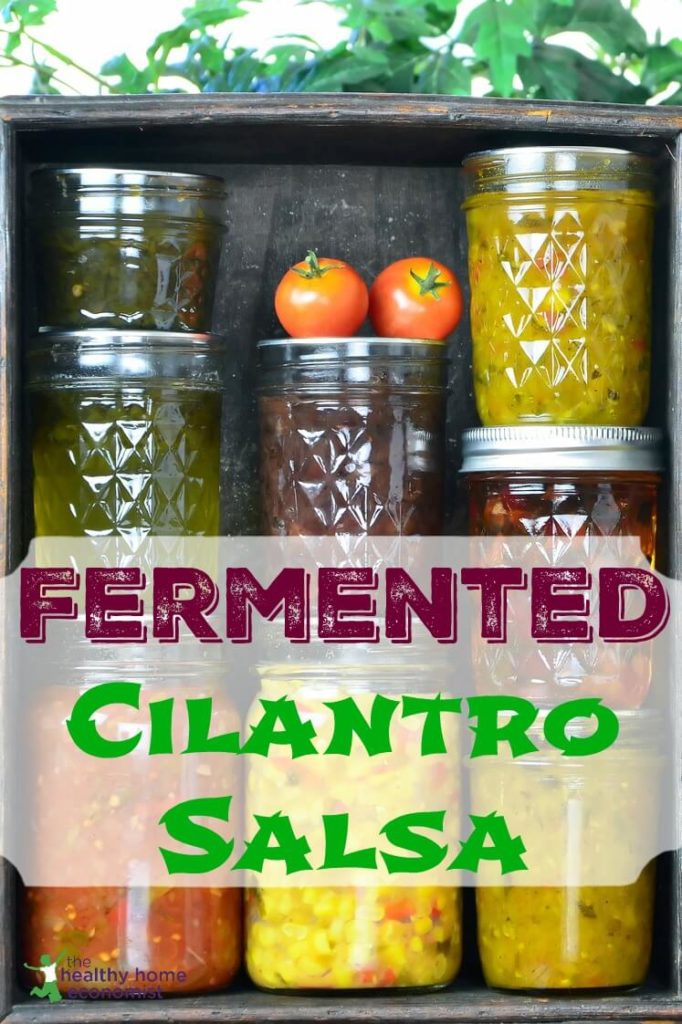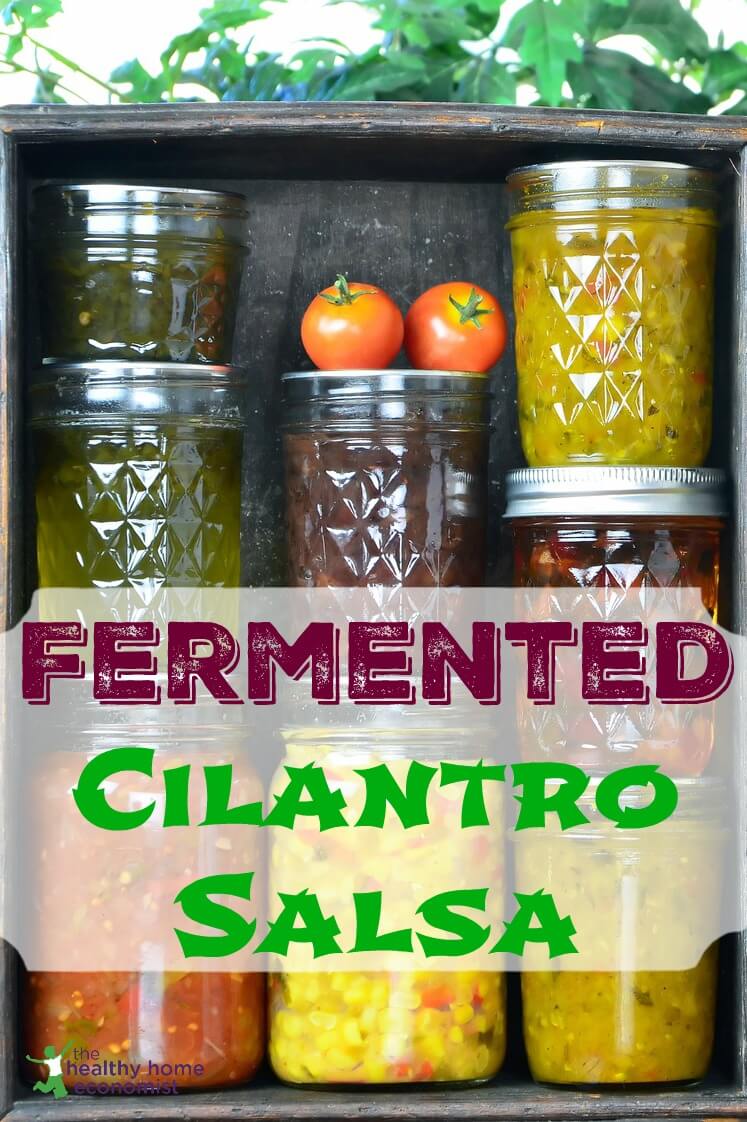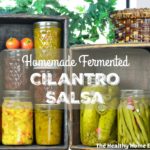 Homemade Fermented Cilantro Salsa
Delicious and therapeutic recipe for homemade cilantro salsa which is fermented to add probiotics and potency for therapeutic benefit for naturally and gently chelating metals from the body.
Ingredients
3

medium ripe

tomatoes

preferably organic and heirloom

2

green onions

preferably organic

1-2

bunches

cilantro

preferably organic

4

cloves

garlic

preferably organic

4

peppers

serrano or jalapeno, preferably organic

4

Tbl

liquid whey

do not substitute powdered whey

2

tsp

coarse sea salt
Instructions
Wash all the vegetables thoroughly, and dry them. Chop the tomatoes, green onions, cilantro, and garlic very fine. Place the chopped vegetables in a large glass bowl.

If you are using the hot peppers, protect your hands by using disposable gloves. Remove the seeds, unless you really like it hot. Slice the peppers into small circular pieces, and add to the rest of the vegetables. Be sure never to touch your eyes until you wash your hands thoroughly.

Add the whey and the salt to the vegetables, and mix well.

Pour the mixture into a quart-sized mason jar. There should be at least one inch of space between the top of the jar and the mixture. It is important that the mixture does not touch the lid.

Cover the jar, move to a dark place (I use the inside of a cupboard), and let rest for two days while the fermentation takes place, then refrigerate.

This condiment should last a few weeks in the refrigerator, though, to be honest, we always finish it within a few days.
Recipe Notes
An alternative to the peppers is to add 1-4 teaspoons of bottled hot sauce, preferably thick and organic, after the fermentation is complete. Stir well. This avoids the problem of handling fresh hot peppers.
This cilantro salsa goes great with all meats, which is the way such condiments are traditionally used in Latin America. But you can eat it with almost any main course.