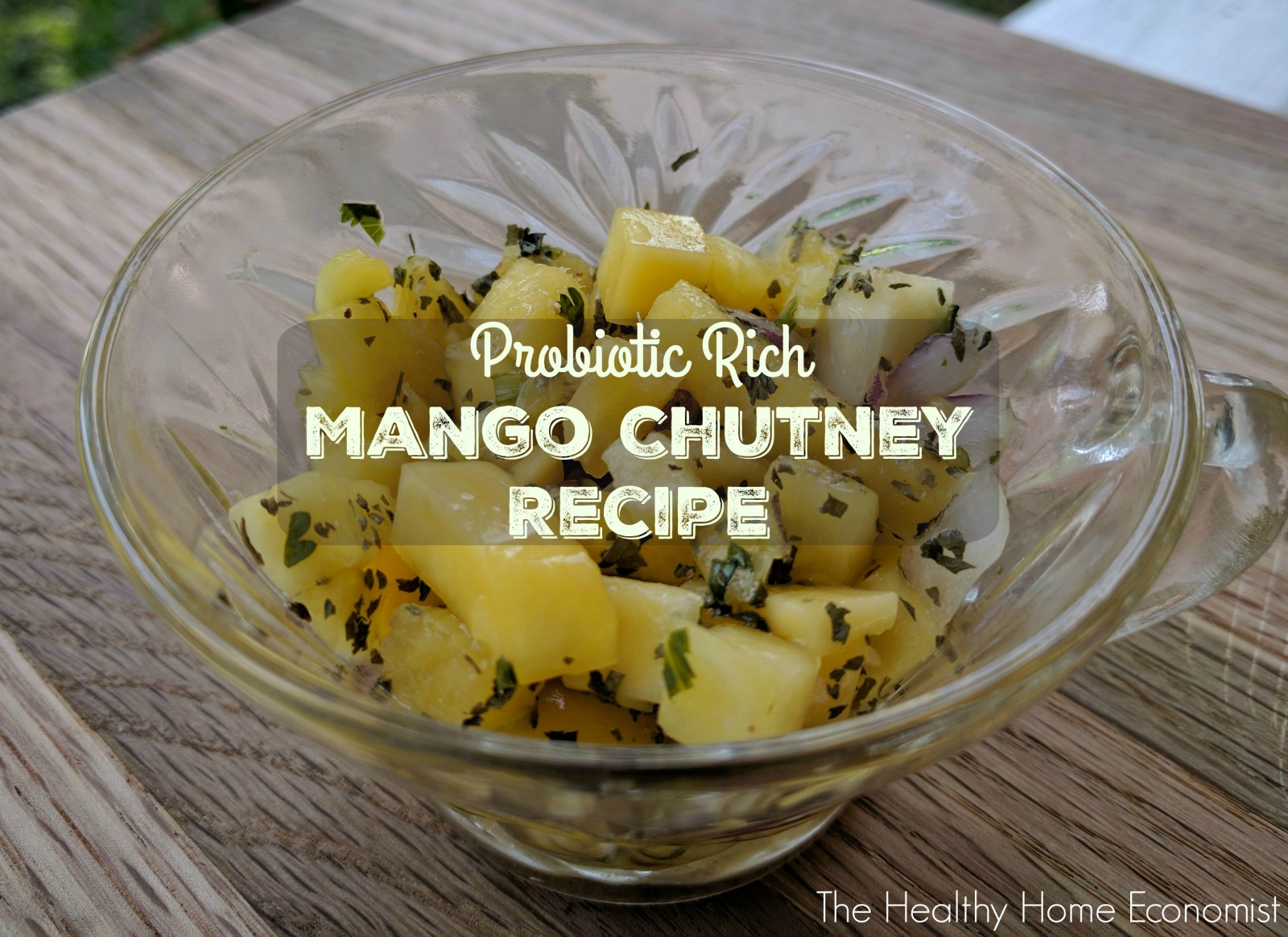 My favorite condiment to go with chicken or fish is mango chutney. The recipe below plus video demonstrates how to ferment this favorite dish so that probiotics and additional enzymes are added which boost nutrient absorption and digestibility.
Another way to serve fermented mango chutney is to spoon it directly on top of a salad of organic baby greens. The flavor is incredibly complex, both sour and sweet.
Mango chutney was the very first fermented condiment I ever tasted many years ago. My friend Della made it for a potluck at her home.
I remember nearly falling over as it was so delicious and welcome on my stomach! From that point on, I was hooked on traditionally fermented foods.
Your body literally cries out for these types of super nutrient dense, easily digested foods loaded with probiotics!
Feel free to substitute pineapple or papaya for the mango if desired. A 50-50 mix of pineapple and fresh cut mango cubes works very well together too.
If you love mango, try this recipe for raspberry or mango lassi too.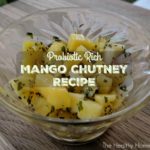 Homemade Mango Chutney Recipe
Recipe for homemade mango chutney that is fermented to add probiotics and enzymes for a big boost to nutrient absorption.
Ingredients
3

cups

fresh mango

peeled and cubed

1

Tbl

fresh ginger

grated

1

red pepper

seeded, chopped, optional

1

small onion

chopped

1

jalapeno pepper

chopped, optional

1/2

cup

fresh mint leaves

chopped

1

cup

fresh cilantro

chopped

1/8

cup

sucanat

optional

1/2

cup

fresh lime juice

2

tsp

sea salt

1/4

cup

liquid whey

1/2

cup

filtered water
Instructions
Press down lightly with a meat hammer or other kitchen pounder.

Mix remaining ingredients well and pour over ingredients in the bowl.

Transfer to a quart and pint size mason jars leaving at least an inch at the top.

Leave on the counter for 2 days and then transfer to the refrigerator. Use up within about 2 months.
Recipe Video